Whether by Poison or Bullet, Death is Our Reality, Say Mandsaur Farmers
Events of June 6 continue to haunt Piplya Mandi in Mandsaur district of Madhya Pradesh. The death of six people in police firing during farmers' agitation and the subsequent protests have gripped the Malwa region, bringing to the fore a simmering crisis.
Pipliya Mandi (MP): The events of June 6 continue to haunt Piplya Mandi in Mandsaur district of Madhya Pradesh. The death of six people in police firing during farmers' agitation and the subsequent protests have gripped the Malwa region, bringing to the fore a simmering crisis.
As Bhagwant Singh, a 55-year-old wheat farmer in Sokdi Village, puts it, farmers' fate is sealed. "A farmer gets no price for his produce. When he tries to demand what is rightfully his, the administration kills him. Whether by poison or police bullet – the farmer's fate is sealed with death."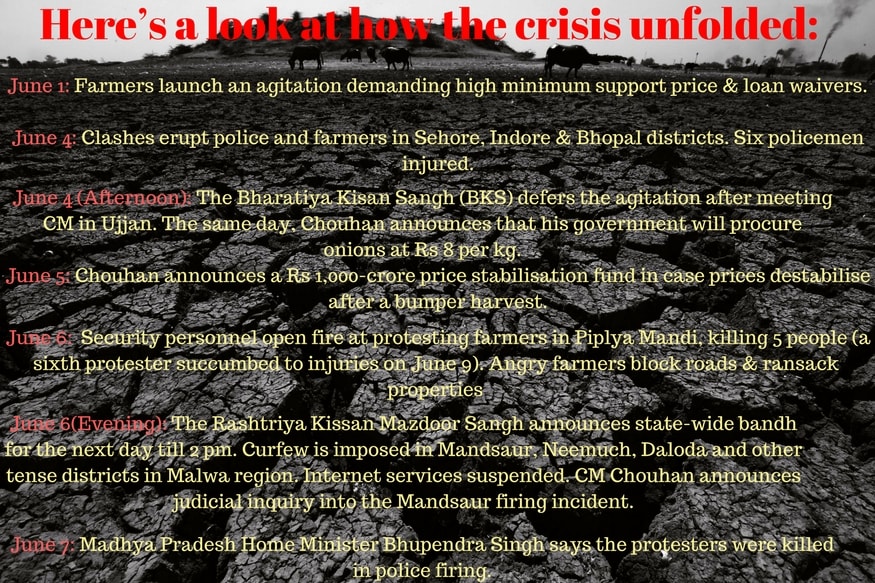 Survival on Do Beega Zameen
Bhagwant Singh is a wheat farmer. His family of five survives, quite literally, on do beegha zameen. It's difficult to make ends meet. This season, Singh could manage a meagre price of Rs 1,300 per quintal as against the maximum retail price of Rs 4,000 per quintal.
"Do beegha zameen hai meri aur 25 quintal gehu hota hai. Rs 1,300 se 1,500 tak ka bhaav mil raha hai. Abhi tak 20 quintal becha hai maine, sirf Rs 30,000 mile. Utne toh maine lagaye the. Kisan ko kuch toh mile. Mere bacche hai, unko khilana aur padhana hai. Bahot mushkil se guzara hota hai. Sarkar ko humein acha daam dilana chahiye (I have a small land and raise 25 quintal wheat. I get between Rs 1,300 to Rs 1,500 a quintal. Till now, I have sold 20 quintals and got only Rs 30,000. This is the amount I had invested. Farmers should get something.... I have children. I have to feed them, educate them. The government should get us better prices for our produce)," Singh says.
A visit to his humble home is a window to the life of a poor farmer.
Singh has two children and takes care of his elderly mother. His family depends on farm produce. The irony is that while he barely breaks even, he has to buy whatever little pulses or vegetables he can at high prices. Also looming large is the fear that a bad monsoon would spell doom for his family.
"Phasal daam toh aadha hi milta hai. Aur dal, anaaj Ka daam itna zyada. Humara hi guzara nahi hota. Jab pani nahi hota tab kayi din humare ghar choolha nahi jalta. Modi sarkar kisano ke liye kuch nahi kar rahi (We get paid half the worth of our produce. But we have to get pulses and rice at high prices. When there is no rain, we have nothing to eat. The Modi government is not doing anything for farmers)."
It's the same story in every farmer's house in this village — the harvest has been good but farmers are struggling to break even.
Narendra Singh Saktawat points out that every time there is a bumper crop, the farmers are left empty-handed. Saktawat grows garlic, methi and soybeans. More than 15 unsold quintals of garlic taunt him every day. He managed to sell 80 quintals of garlic at Rs 16 per kg, but says the produce fetches as high as Rs 150 per kg in metro cities.
"Paanch beegha zameen mein kheti karta hun. Abhi itna saara lassan ghar par rakha hai. Inka uchit daam nahi mila. Mandi mein Rs 15-18 kilo humein milta hai. Aapke bade-bade sheheron mein yahi lassan Rs 150-200/kilo bikta hai. Kisan ko kuch nahi milta. Humko agli fasal bone ke liye paise nahi bachte, bank se karza lena padta hai. Insurance karwana compulsory hai. Hum insurance bhi lete hai. Rs 10,000 premium hai (I have 5 beegha land. There is so much garlic sitting at home. I didn't get the right price for them, just Rs 15-18. In big cities, the same fetches Rs 150-200 a kilo. We don't have money left for the next sowing season. We have to take loans from banks and get the crop insured. The premium amounts to Rs 10,000)."
Despite regularly paying the premium, Saktawat is yet to see the compensation for the severe losses he endured last year due to unseasonal rains.
An aggrieved farmer has no option but to protest, he says. "Humein sahi dhang se fasal ka uchit daam mile, khaad mein subsidy mile, pura insurance mile toh humari koi progress ho (Farmers can progress only when we get fair prices, subsidy in fertilizers and full insurance)."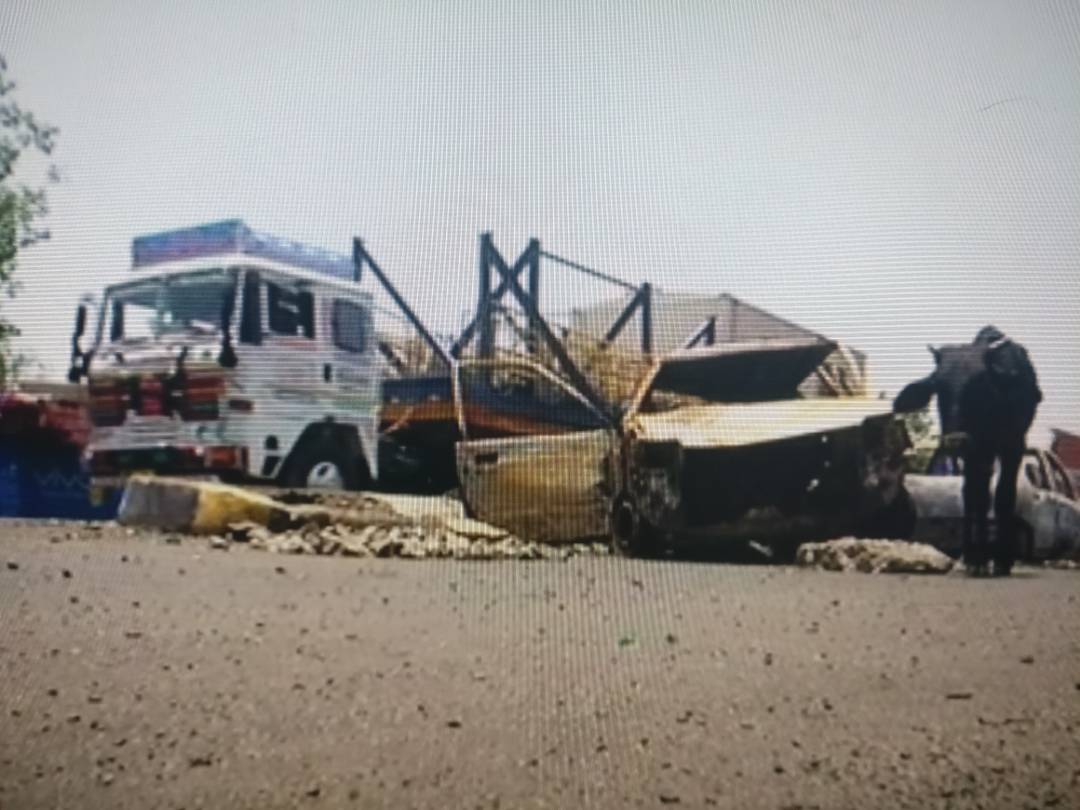 The destruction left in the wake of the violent protests in Mandsaur.
Six people died as a result of police firing on protesting farmers on June 6.
On June 7, MP Home Minister Bhupendra Singh said the people had died in police firing.
Not Enough Income
In a field as big as Sakhtawat's, 125 labourers work on garlic harvest. Each labourer is paid Rs 200 a day. The total cost of labour amounts to Rs 50,000 for ploughing, sowing and harvesting. Garlic seeds are relatively more expensive and have to be procured at Rs 40,000. Fetilizers worth Rs 20,000 are used. Additional overheads come up to Rs 20,000. Hence, the total cost of producing 100 quintals of garlic comes to Rs 1,30,000. What he gets for the produce is up to Rs 1,80,000. He makes Rs 60,000 on the produce — this he has to spend on the up-keep of his family and field and to prepare for the next cycle of sowing and harvesting.
Jai Kisan?
Voices like those of Bhagwan Singh and Shektawat have been drowned in the political noise. The anger has now erupted in the form of violence protests and is fueling farmer agitations in several other agrarian states. CM Shivraj Singh Chouhan has painted a golden picture of agricultural growth in the state — a jump of over 20% in 2014-15. But it is also true that over 1,600 farmers have committed suicide in the last year alone.
Will the government make Kisan the King again?
Get the best of News18 delivered to your inbox - subscribe to News18 Daybreak. Follow News18.com on Twitter, Instagram, Facebook, Telegram, TikTok and on YouTube, and stay in the know with what's happening in the world around you – in real time.
| Edited by: Nitya Thirumalai
Read full article