QS World University Rankings is a yearly publication of university and college rankings by Quacquarelli Symonds (QS). The QS framework involves the worldwide general and subject rankings closed by five autonomous local tables viz Asia, Latin America, Emerging Europe and Central Asia, the Arab Region, and BRICS. It is the main global positioning to have gotten International Ranking Expert Group (IREG) approval, and is seen as a standout amongst the most broadly read of its kind, alongside Academic Ranking of World Universities and Times Higher Education World University Rankings.
However, designating undue weight to subjective pointers and having exceptionally fluctuating outcomes are its significant reactions.
India has been a part of QS rankings for quite a while now; however for the first time in 14 Years, three Indian Universities have made it to the Top 200 in the QS World University Rankings – 2018. And it is none other than IIT Delhi which tops the chart for Indian Varsities followed closely by IIT Bombay and IIT Bangalore.
Let us take you through the List of Indian Universities based on the Merit from QS World University Rankings - 2018.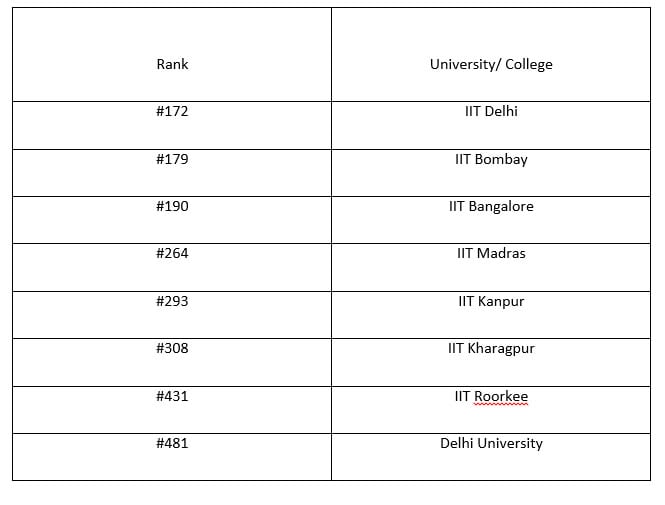 Talking about International Universities, MIT's position remains status quo like in the past five years. Similarly, Harvard and Stanford Universities too have hardly fallen from their previous year ranks.
Ranking of Indian Universities on the basis of the field or subjects that they offer-
Arts and Humanities


Life Sciences and Medicines
Delhi University is ranked at #451
Social Sciences
Delhi University ranked at #295
The results above show that there's a long way for the Indian Universities to make a global feat however these rankings are helpful in deciding which University to opt as 'Where You Study' helps you to accomplish 'What You Want to Achieve' in life.