White House gatecrashers named political losers of '09
The duo had strolled uninvited into Obama's state dinner for the PM.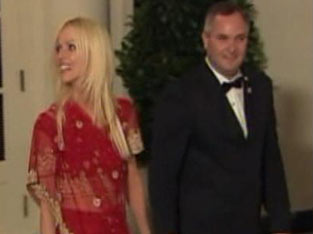 The duo had strolled uninvited into Obama's state dinner for the PM.
Washington: The White House gatecrashers who strolled uninvited into President Barack Obama's state dinner for Prime Minister Manmohan Singh have been named the biggest political losers of 2009 in a Gallup poll.
The poll named "Tareq and Michaele Salahi, whose last name became a verb after the two crashed a White House State Dinner last month," just two weeks after their caper earned them the seventh spot on Time's "Top 10 Fleeting Celebrities" list.
Seventy percent of 1,025 Americans surveyed in the Gallup poll on December 11-13 said the Salahi's were losers while only 16 per cent identified them as winners.
At the November 24 event, the Salahis rubbed "elbows with the likes of President Obama, Vice President (Joe) Biden and Indian Prime Minister Manmohan Singh, and later triumphantly posted photos of their coup on Facebook," Time had noted.
Among the year's winners, Michelle Obama gets the highest marks with 73 per cent of Americans giving the first lady high marks. Secretary of State Hillary Clinton comes in a close second with 70 per cent of those surveyed giving her the thumbs up.
Rounding out the list is President Obama with 58 per cent, and newly confirmed Supreme Court Justice Sonia Sotomayor with 57 per cent.
As for other political losers of the year, 61 per cent identified South Carolina Rep. Joe Wilson - who earned fame after his "You Lie!" outburst at President Obama - and 63 percent named South Carolina Governor Mark Sanford, whose exploits with an Argentinean woman were well documented last summer.
Americans also don't believe House Speaker Nancy Pelosi or Congressional Republicans had a particularly good 2009: Both were labeled "losers" in the Gallup poll.
About half of those surveyed in the new poll thought Pelosi is among the "losers" of the year while 52 per cent said the same for Republicans in Congress. Conversely, only 39 per cent think Pelosi is a "winner" while 38 per cent gave positive marks to Republican members of Congress.
Americans were less decided on four other political figures of 2009: Federal Reserve Chairman Ben Bernanke, 2008 Republican vice presidential candidate Sarah Palin, radio talk-show host Glenn Beck, and Senate Majority Leader Harry Reid.
None received more than 50 per cent as either a "winner" or a "loser." Former Alaska Governor Palin came close though: 49 per cent of those surveyed thought she was a loser; 46 per cent said she was a winner.
Get the best of News18 delivered to your inbox - subscribe to News18 Daybreak. Follow News18.com on Twitter, Instagram, Facebook, Telegram, TikTok and on YouTube, and stay in the know with what's happening in the world around you – in real time.
Read full article