Who is Christian Michel, What is His Link to Gandhis and How His Extradition May Impact Run Up to 2019
News18 here answers a few key questions about who is Christian Michel and what ramifications his extradition might have on India's political scenario ahead of the crucial 2019 general elections.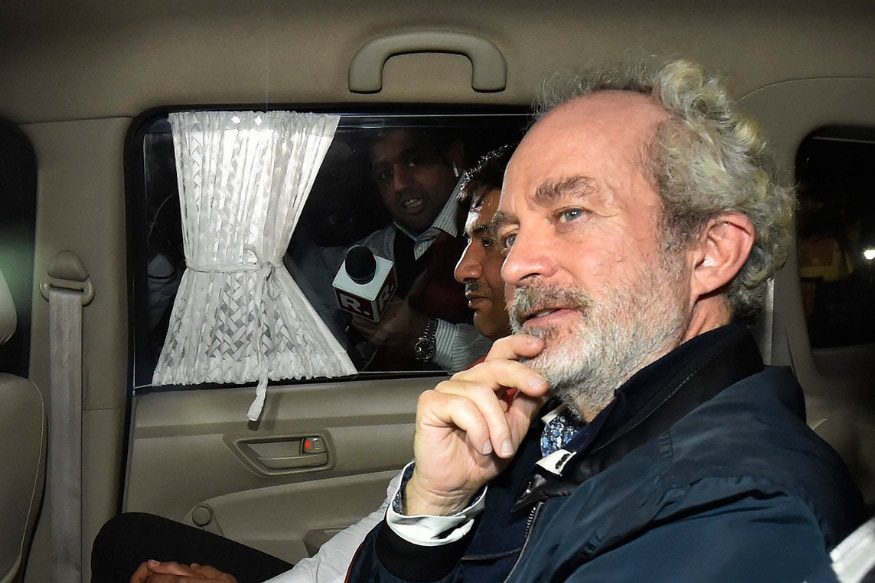 Agusta Westland scam accused middleman Michel Christian at CBI headquarters in New Delhi on Dec 5, 2018.
New Delhi: Christian James Michel, the alleged British middleman wanted by investigative agencies in connection with the politically sensitive AgustaWestland VVIP chopper scam, was extradited to India on Tuesday night in a big win for the Narendra Modi government.
He was brought back from UAE in operation 'Unicorn' under the guidance of National Security Advisor Ajit Doval. The operation was coordinated by interim CBI Director M Nageswar Rao.
The UAE government had cleared the extradition of 57-year-old Michel after his appeal against the move was turned down by a court there. He was taken to the CBI headquarters for questioning and will be produced before a court on Wednesday.
News18 here answers a few key questions about who is Christian Michel and what ramifications his extradition might have on India's political scenario ahead of the crucial 2019 general elections.
Who is Christian Michel?
Christian Michel James is the key accused in the VVIP chopper deal case. Michel is a popular British consultant who was allegedly hired by AgustaWestland to influence top ranking officials in Indian Airforce and the UPA government to help secure the Rs 3,600 crore deal for the company.
Is Christen Michel the only middleman in the case?
Michel is one of the three main accused fixers in the case. The others are Guido Haschke and Carlo Gerosa who are also being probed by the CBI and Enforcement Directorate (ED).
How and when was Michel arrested?
According to CBI, Michel was arrested in February 2017 by UAE authorities after the agency sent an extradition request.
Later, however, his lawyer and sister made some revelations that created a political slugfest in India.
Through his lawyer, Michel had stated that CBI had pressured him to sign a confession that said he had met former Congress president Sonia Gandhi when the deal was being negotiated in 2010.
He also said that he refused to sign the confession as he had never met Sonia Gandhi in his life. He also alleged that the CBI had promised him a clean-chit in the case if he signed.
How has the Indian agency pursued the case?
The Enforcement Directorate had filed a prosecution complaint last year where it was alleged that Michel had paid several people in cash.
In June, 2018, the ED submitted before a Delhi special court that Michel allegedly received Euro 30 million (Rs 225 crore) as kickbacks and sent cash packets to various people through his driver and regularly met Indian individuals, including cousins of former Air Force chief SP Tyagi, while brokering the deal.
ED also claimed that Michel had helped in setting up a maze of shell companies to move illegal money outside India. While Michel set up Global Services FZE in Dubai, Haschke set up IDS Tunisia, IDS Mauritius, and Aeromatrix. Michel was supposed to get Euro 42 million while Haschke was to be given Euro 28 million, investigators claimed.
How important was the Milan Court of Appeals judgement in this case?
In December 2016, the Italian Supreme Court had ordered a re-trial of this case, after former AgustaWestland head Bruno Spagnolini and former Finmeccanica (now Leornado) chief executive Giuseppe Orsi, were found guilty on corruption charges related to the contract. Both the accused had moved the Milan Court of Appeal.
The appeal judgement stated that a "large portion of the money paid by AgustaWestland to Michel is "completely disproportionate" to the work he did for the company".
The court, which has held that the Agusta sale involved corruption, has devoted a full chapter to Michel in its judgement. Italian prosecutors alleged Michel was a key player in the VVIP chopper deal.
Italian prosecutors had argued that Michel and Guido Hashke, a Swiss-Italian national, worked together to influence Indian officials to pick Agusta's choppers. Michel got plenty of attention in the court judgement, although Italian authorities had not cross-examined him.
The Milan court has noted that Michel was paid over 44 million euros by AgustaWestland for various contracts, which included a deal to supply spare parts for Indian naval helicopters and a post-contract service deal for the VVIP chopper contract.
How did Congress and BJP come into the Christian Michel case?
Gandhi's were brought into the case after a handwritten note was recovered from the possession of the other middleman Guido Haschke, where certain payment was mentioned against the word "family".
Michel has termed this note to be fake and Congress blamed the BJP-led central government of using the central probe agencies to "target the Gandhis and tarnish the image of the opposition".
Congress spokesperson Randeep Surjewala said that Michel's advocate Rosemary Patrizi Dos Anjos and his sister Sasha Ozemen have told a television channel that the "Modi government and its agencies were forcing him to sign a false confessional statement naming Gandhi in return for complete exoneration from any charge whatsoever in the AgustaWestland case".
Now what happens in India after his extradition?
Michel's extradition will now prove to be a big political opportunity for the BJP and Prime Minister Narendra Modi and it has already asserted that the development was an unequivocal affirmation of the government's "seriousness in fighting corruption".
In the scenario where the opposition keeps on raking up the Nirav Modi and the Vijay Mallya cases as failures of the government in holding absconders to account, Michel's extradition will be a positive for the government.
To top it all, Michel's alleged links to the Congress party will give the BJP enough ammunition to keep the issue alive for months and keep the Congress on the defensive.
Get the best of News18 delivered to your inbox - subscribe to News18 Daybreak. Follow News18.com on Twitter, Instagram, Facebook, TikTok and on YouTube, and stay in the know with what's happening in the world around you – in real time.
Read full article