GET Stock

Quotes


Who is Dineshwar Sharma, PM Narendra Modi's Peace Talks Mascot for Kashmir
Former IB chief Dineshwar Sharma's latest assignment in Jammu and Kashmir is bound to resemble the role of an interlocutor.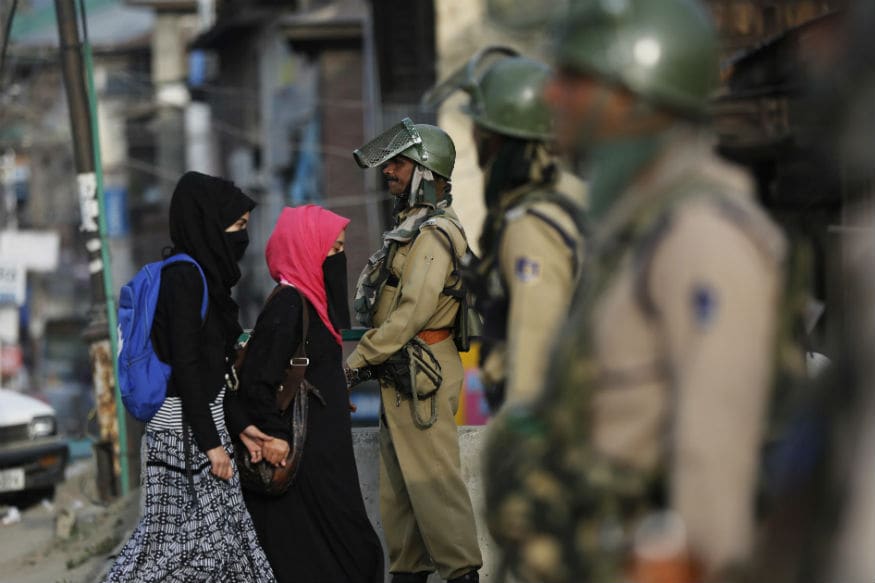 Paramilitary personnel stand guard as Kashmiris walk past them at a market area in Srinagar on September 13, 2017. (AP Photo/Mukhtar Khan)
New Delhi:
Union Home Minister Rajnath Singh on Monday announced former chief of Intelligence Bureau and 1979 batch IPS officer Dineshwar Sharma as Government of India's representative to Jammu and Kashmir.
Addressing a press conference, Singh said Sharma would lead a "sustained dialogue" in Jammu and Kashmir and recalled Prime Minister Narendra Modi's Independence Day speech in which he had said that 'Kashmir's solution was neither in abuse nor in bullets, but in embracing Kashmiris'.
Dineshwar Sharma will talk to all stakeholders in Kashmir, Singh said.
"He will have full rights to decide his course of action and talk to whoever he wants to," Singh said in reply to a question on whether Hurriyat will be among the stakeholders that the Centre's representative will talk to.
Speaking to CNN-News18, Dineshwar Sharma said he has not yet made up his mind on who to talk to. "This is a big responsibility, I am thankful. Will try and live up to the expectations of this government and of Kashmiris," he said.
While Singh avoided use of the word 'interlocutor' and did not specify Sharma's brief or the timeframe in which he will work, the former IB chief's latest assignment is bound to be close to that of an interlocutor.
Sharma was earlier made the interlocutor for peace talks with Assam's insurgent groups, including the United Liberation Front of Assam (ULFA) in June this year. It's not clear at the moment whether Sharma will be relieved of his assignment in Assam or will he carry out his duties at both places.
Sharma, a Kerala batch IPS officer, took over from Syed Ibrahim as the IB chief on December 31, 2014. He served as the chief of IB till December 2016 and at the end of the fixed two-year tenure, reportedly refused an offer of extension by the government.
Sharma served as the chief of IB during very tumultuous period when strong links between ISIS recruiters and Kerala first came to light and when Kashmir was on boil since the encounter of Hizbul Mujahideen commander Burhan Wani in September last year.
And it was during his tenure that the Indian government reached a settlement with North East-based insurgent group NSCN (IM).
The former IB chief is known to keep a very low profile. He is also known for his unique policy of reforming potential ISIS recruits, instead of arresting them when the news first broke out.
As the then head of IB, Sharma had made a policy of observing the online activity of ISIS sympathisers and engaging community and religious elders in getting the youth back to mainstream, instead of arresting them. This strategy is believed to have prevented, to a large extent, popularization of the terror group's influence.
Sharma is also known to have kept a close watch of developments in Kashmir and played a role in keeping terror incidents at a minimum during his tenure from the end of '14 to the end of '16.
Monday's development is bound to be looked at with a measure of cynicism considering that the recommendations of the last group of interlocutors appointed by the government of India, under UPA II, were never taken seriously.
Journalist Dileep Padgaonkar, academician Radha Kumar and former Information Commissioner MM Ansari were appointed as India's interlocutors to Kashmir following the massive 2010 unrest in which over a 100 Kashmiris had died.
Among their recommendations was a proposal to review the Armed Forces Special Powers Act (AFSPA), urgently address human rights violations, reducing army's visibility, and lift the Disturbed Areas Act. None of these recommendations were implemented by the UPA II government.
National Conference leader and former J&K chief minister Farooq Abdullah echoed these fears soon after Rajnath Singh's press conference. "I am his (Dineshwar Sharma's) report will also gather dust," he told CNN-News18.
Taking to Twitter, his son and former CM Omar Abdullah questioned whether the NIA investigation in J&K would be suspended.
What does this mean for the NIA investigation in J&K? Will investigation be suspended to facilitate dialogue with detained Hurriyat leaders? https://t.co/zcNYVu7lso

— Omar Abdullah (@OmarAbdullah) October 23, 2017
The acceptance of the political nature of the #Kashmir issue is a resounding defeat of those who could only see use of force as a solution.

— Omar Abdullah (@OmarAbdullah) October 23, 2017
Also Watch
| Edited by: Nitya Thirumalai
Read full article