Why Bengaluru Police is Shutting Down Hundreds of Pubs and Restaurants
A Supreme Court order from January 2018 is finally being put to action by the Bengaluru Police, which is issuing notices to restaurants and pubs found violating the 'Licensing and Controlling of Places of Public Entertainment (Bangalore City) Order, 2005'.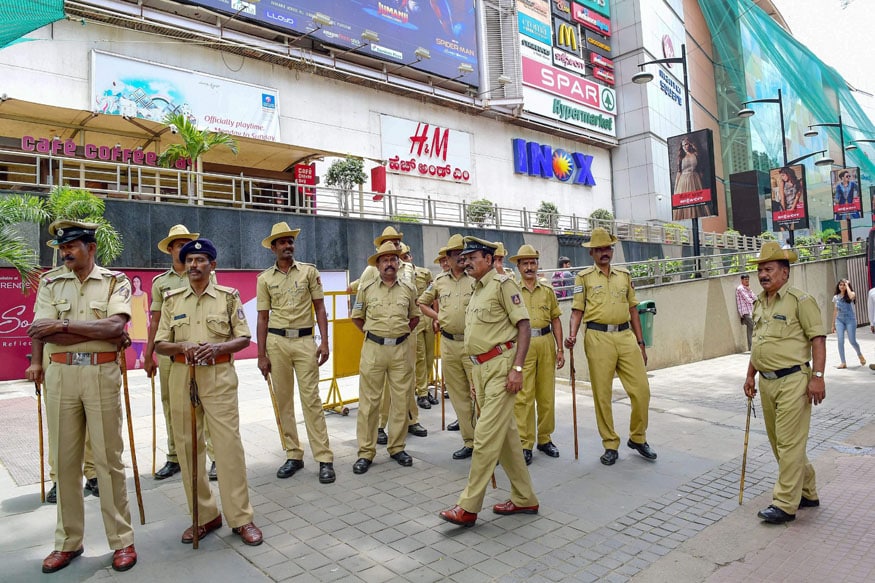 File photo of police personnel in Bengaluru. (Image: PTI)
Bengaluru: Once known as the pub capital of India, Bengaluru may soon lose this moniker. A ban on live music, as some are calling it, could mean that the city's many pubs and restaurants may soon have to shut shop. As many as 393 restaurants and pubs have been sent notices while 326 have already been given closure notices by the city police.
But why this sudden crackdown on Bengaluru's pubs? A Supreme Court order from January 2018 is finally being put to action by the city cops who are issuing these notices to those restaurants found violating the 'Licensing and Controlling of Places of Public Entertainment (Bangalore City) Order, 2005'. So what does this Act imply? It simply says that a 'license' is a must, in order for one to play music (live or recorded) in all places of public entertainment.
The law stipulates that in order to get a license, the pub-owner must submit 7 documents, namely: An approved building plan by the city authority, a partnership deed, a lease or title deed, a certificate from the electrical contractor, a fire safety compliance certificate, a copy of Memorandum of Association if applicable, and most importantly, an occupancy certificate (OC). Failing to produce these within a reasonable time has pushed the police to act against the pubs and restaurants.
"We are only putting the Supreme Court's order into action, the Bangalore Police is not against live music or pubs, we want these people to become compliant so that no untoward incident occurs," said T Suneel Kumar, Bengaluru city police commissioner.
With barely 54 establishments going ahead to seek a license, business has come to a grinding halt for many others who do not have the necessary documents. Pub owners have also started raising their voices saying that there is confusion over implementation of the law and that they are being targeted in an unfair manner. Eighteen applications have already been rejected so far while the rest are still under scrutiny.
"We want to be compliant and believe that 6 out of the 7 documents being asked of us are necessary. The bone of contention is the Occupation Certificate (OC) as these are given to building owners and pub-owners are merely tenants," claimed Nikhil Barua, co-founder of the Humming Tree, a popular event venue that has remained shut since it was served the notice. Nikhil argues that 90% of the buildings in Bengaluru do not have occupation certificates then why should pubs and restaurants alone be targeted.
Showing solidarity with the pub owners are musicians who claim that this move has affected their livelihood. An online petition addressed to the state home minister to #SaveMusicInBlr has garnered over 17,500 signatures and has seen the support of many DJs and artistes across the country.
Caught in this crossfire between city police and pub owners are residents who live around these establishments. They claim that they are not party to the issue but find themselves unnecessarily dragged into the fight.
"This is an order dating back to 2005, which the Supreme Court has upheld. We were not the petitioners then, neither now, all that we have been asking for is these restaurants should comply with the law," said Ashok Sarath, a resident of Indira Nagar.
Residents have often raised their voices against over commercialization, increasing noise pollution. Many have also come out in protest against these pubs but with the implementation of this law, they now hope for a good night's sleep.
| Edited by: Sanchari Chatterjee
Read full article