GET Stock

Quotes


Why Bhim Army's Growth Mirrors the Early Years of the RSS
The Bhim Army is attempting to change the image of the average Dalit by appropriating symbols that have been associated with the upper castes.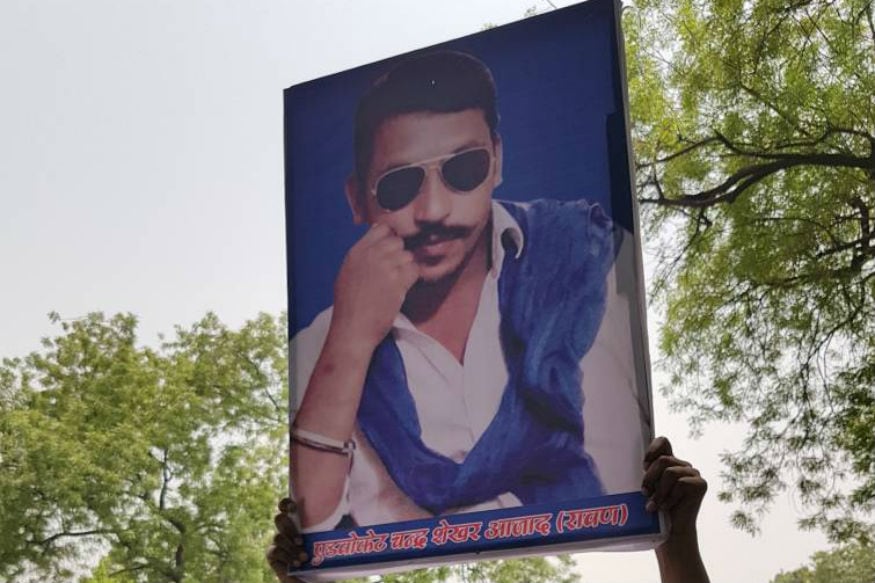 Bhim Army and its founder Chandrashekhar shot to national prominence last year after a caste conflict broke out in Saharanpur.
Saharanpur:
"If protesting against the RSS makes me a Naxalite, then I am a Naxalite," Bhim Army's founder Chandrashekhar Azad 'Raavan' thundered at his last public appearance at New Delhi's Jantar Mantar, adding that he will continue to fight 'Bhagwa Aatankwaad' (Saffron terror).
At every opportunity it has got, the Bhim Army has made no secret of who its enemy no. 1 is – the Hindu-Nationalist Rashtriya Swayamsevak Sangh (RSS). But as it goes from being a Saharanpur-centric organisation to one with a national base, the growth pattern of the Bhim Army has ended up mirroring that of the same "Manuwaadi" RSS that it fights.
It was the need to re-assert Dalit identity that gave birth to the Bhim Army in 2015. Vinay Ratan Singh, the National President of the Bhim Army, said, "In 2015, our founder Chandrashekhar Azad Raavan erected a board outside his native village Ghadkauli that said 'The Great Chamar Dr. Bhimrao Ambedkar Gram'. Thakurs objected to the board and said Chamars, a caste of Dalits, cannot be great."
This was not unlike the "Hindu awakening" that the RSS was attempting to push for in the late 1920s. KB Hedgewar, founder of the RSS and its first Sarsanghachalak, felt Hindus were "disunited" and lacked "parakram" (valour). RSS gave its members uniforms that resembled those of the British Police and trained its cadre to wield lathis.
In similar fashion, the Bhim Army is attempting to change the image of the average Dalit by appropriating symbols that have been associated with the upper castes. That is why all members of the Bhim Army are encouraged to sport sunglasses and big moustaches that they twirl like a stereotypical Thakur would. As the RSS once asked Hindus to be united, the Bhim Army is now encouraging Dalits to band together to prevent exploitation.
Senior leaders of the Bhim Army admit that their growth mirrors that of the RSS. This, they say, is not by chance.
"The RSS began in 1925. Nobody would have thought in those days that in 90 years, they would end up becoming the rulers of the country. We are not looking at 10 years or 20 years, but we are looking at the next 100 years. For all its faults, there are many lessons to be learnt from the RSS. Key among them is their discipline. Only when we are disciplined can the oppressed sections of society end up as its rulers," said Kamal Walia, the Bhim Army's Saharanpur unit chief who spent eight months in jail with the outfit's founder.
Certainly, the Bhim Army has made no secret of its desire for 'Bahujan Raj' (rule of the oppressed masses) in India. "Mere saath kaho! Hum is desh ke shasak hain! (Repeat after me! We are the rulers of this country!)," Chandrashekhar had said in his speech at Jantar Mantar on May 21, 2017.
In 1927, two years after he founded the RSS, Hedgewar started organising training camps for pracharaks. Members were told about India's Hindu history and Hindu nationalist icons such as Shivaji and Maharana Pratap. To instill this discipline, Bhim Army's model seems like an early-prototype of the RSS's Shakha system.
Walia said, "We hold weekly meetings. At these meetings, not only do we discuss the work of the organisation but we also have discussions on Dalit history, Dalit icons such as Baba Saheb BR Ambedkar and discuss how we have been subjugated for centuries."
But discussing historical perspectives with adults may not be as lasting as discussing it with children. Here, too, the Bhim Army and the RSS appear as mirror images of each other. In 1946, RSS chief MS Golwalkar opened a 'Gita School' in Kurukshetra, Haryana. In 1952, the first ever Saraswati Shishu Mandir came up in Gorakhpur. Since then, nearly 15,000 Saraswati Shishu Mandirs have come up across India.
It was the need to know their own history and the glaring lack of facilities in government schools that gave birth to Bhim Army's 'Bhim Pathshalas' in 2015. Now, for two hours a day, after school hours, Dalit children of all ages from across Western Uttar Pradesh gather under the shade of a tree or the courtyard of a Ravidas Temple or sometimes, even the house of a Bhim Army operative to learn. "Most of the lesson focuses on what they learn in school. But we also focus on telling Dalit kids about their own history. They learn about Baba Saheb, Jyotiba Phule, Savitribai Phule and Sant Valmiki Ji. There is very little mention of these people and their lives in mainstream education," said Sarita Ambedkar, a teacher at one such Bhim Pathshala
Bhim Army and its founder Chandrashekhar shot to national prominence last year after a caste conflict broke out in Saharanpur. It was after the riots and the subsequent arrest of Chandrashekhar that the outfit began to grab national headlines.
Since then, Bhim Army claims it has seen exponential growth. Pradeep Narwal, 26, a JNU research scholar who left the RSS student wing ABVP to become a member of the Bhim Army Defence Committee, said, "Earlier, the Bhim Army was limited to two or three districts in Western UP and Uttarakhand, today, they have state units coming up in Maharashtra, Bihar, Karnataka, Rajasthan, Haryana, Delhi, Punjab, MP, Chattisgarh, Jharkhand and even Jammu. Any state which has a significant Dalit population is ripe ground for the Bhim Army. I think we have Modi and Yogi to thank for this. If they had not unfairly targeted Bhim Army, Dalits all over the country would not have known that there is an organisation that will stand with them."
| Edited by: Huma Tabassum
Read full article
Countdown To
Elections Results
To Assembly Elections 2018 Results