Why Bollywood actors can't quite imitate the 'swag' of their South Indian counterparts in Hindi remakes
Try as he may, Akshay Kumar comes nowhere close to the natural debonair air that Tamil actor Vijay exudes. Why?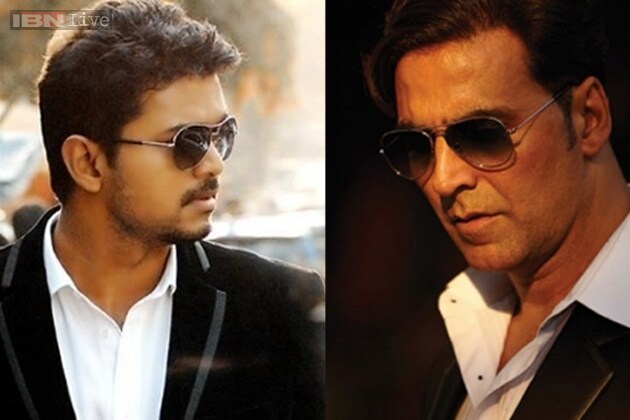 Try as he may, Akshay Kumar comes nowhere close to the natural debonair air that Tamil actor Vijay exudes. Why?
New Delhi: If you are a fan of south Indian films, you will understand when I argue that while Hindi films adapt the script, locations and situations from the original movies well, they are unable to do so when it comes to the personal "draw" of the actors.
Take the latest film 'Holiday: A Soldier Is Never Off Duty' for example. It has been adapted from the super-hit Tamil film 'Thuppakki' starring Vijay and Kajal Agarwal. While 'Holiday' looks and feels like a super-hit already, we thought that there was a slight difference between the way both the heroes -- Vijay and Akshay Kumar exuded their aura.
Akshay Kumar's looks are just what they ought to be in 'Holiday' -- rippling muscles, well-cut suits, perfect hair and just enough beard to be called rugged, and not shabby. The heroes from action-packed Hindi movies adapted from South Indian films definitely flaunt the looks.
But that's about it.
Try as hard as he may, Akshay Kumar comes nowhere close to the natural debonair air that Tamil actor Vijay exudes. I mean, it is more than just chiseled looks and well-cut suits, right?
If you look at both Kumar and Vijay individually, Kumar is has more classic looks, a chiseled jawline, and a toned body. Vijay, on the other hand, looks like an average South Indian male -- but in a good way. But then why does he look so much better on screen? Especially in action-packed movies? It is the swag.
Here's an example. Remember the 2009 blockbuster hit 'Wanted'? It was adapted from 2006 cult Telugu film 'Pokiri', starring Mahesh Babu, and 2007 Tamil film 'Pokkiri', starring Vijay. While all the three films did superbly well in their respective times, I thought that Salman Khan looked way better in 'Dabangg' than in 'Wanted', simply because he was not trying to be someone else -- be it Vijay or Mahesh Babu.
Because when it comes to the reckless, raw and debonair charm, no one can do it as well as the South Indian actors. I think it comes from years and years surviving on Tollywood diet, the culture as well as their hero-worship.
To end this piece, I'd like give a personal example. Fighting over auto-rickshaw fares is a common occurrence, be it Delhi, Mumbai, Bangalore or Chennai. This one time in Bangalore, I was arguing with my auto-rickshaw driver about him overcharging me. I refused to pay extra, and insisted that he take the amount displayed on the meter, or nothing. Frustrated, he finally agreed. But when I tried to hand him over the money, he pointed at the meter, and asked me to keep the money on it. As I looked confused, he removed a handkerchief that was tucked under his shirt collar, whisked it around his fist and spat out of the vehicle loudly.
I quietly kept the money ON the meter, and walked away.
Swag. There's no other word for it.
Get the best of News18 delivered to your inbox - subscribe to News18 Daybreak. Follow News18.com on Twitter, Instagram, Facebook, Telegram, TikTok and on YouTube, and stay in the know with what's happening in the world around you – in real time.
Read full article