GET Stock

Quotes


Dilution Of SC/ST Act Will Make it Tougher For 'Low Caste' Women to Get Justice in Sexual Violence Cases
"First the dowry law, now this. It seems the SC only wants to change laws that protect marginalized women like us."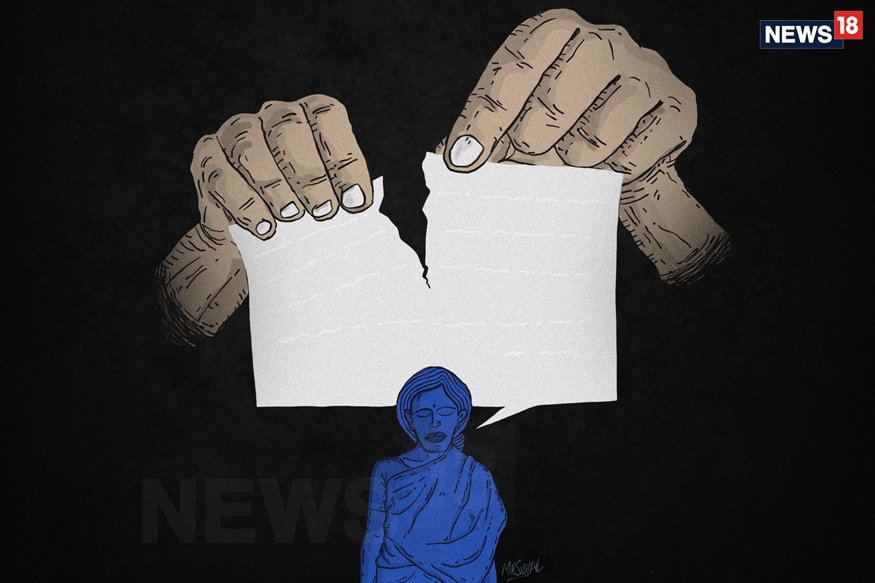 The POA amendment is reminiscent of the proposed guidelines an SC Bench issued last year to dilute the dowry law. (News18 Creatives/ Mir Suhail)
In November 2016, 40-year-old Dalit woman Asha Devi* was brutally raped and assaulted by an upper caste man in Sujanpur village near Kanpur, Uttar Pradesh.

As she was struggling to recover in a district hospital for days after the incident, her family members tried to register a case of rape and assault under the Scheduled Caste and Scheduled Tribe (Prevention of Atrocities) Act also known as POA or SC/ST Act.

"He (the accused) had a problem with my growing influence as an outspoken Dalit rights activist. I have been working locally as an advocate for minority women for some years now and was gaining popularity. I even contested the Panchayati election. He (the accused) was an upper caste man and could not tolerate a lower caste woman do well. So he raped me," Asha Devi states in a dry, matter-of-fact voice as she speaks to News18 over the phone.

At the police station in Sajethi where Asha's family had gone to file an FIR, the officer-in-charge was reluctant to file charges. When he did, after much perusal, the case was not lodged under the SC/ST Act. "They did not even register it as a rape case. The police filed an FIR for harassment and assault," Asha said. The 40-year-old believes that had the case been filed it correctly under the SC/ST Act, her rapist "would not be roaming free".

Asha happens to be one of the countless women from the 'low caste' who have survived sexual harassment, abuse, violence and rape from members of upper caste families in Uttar Pradesh. Like Asha, most of these women are still waiting for justice. To these women, the Supreme Court's decision to amend the SC/ST Act to 'safeguard innocents' doesn't make all that much sense.

"Who exactly is the SC trying to protect here? The upper castes? Does the SC not know the ground realities of India?" Dr VA Ramesh Nath, General Secretary of the National Dalit Movement for Justice (NDMJ)-NCDHR told News 18.

Nath feels that the SC's decision may be guided by ulterior biases of the judges who were heading the SC bench that decided on it. "It appears that the judges that passed the decision have caste biases since this amendment will only protect criminals," he said.

"If you look at National Crime Records data for 2016, an average of 9 SC/ST women and girls are victims of sexual crimes, every day. Are they all isolated incidents of sexual crime? Does their caste identity not play a role in their exploitation?" an agitated Nath asked.

In 2016 alone, 2541 Dalit women were reportedly raped and a further 3,172 cases of assault were registered against SC women. And 973 cases of rape were reported in 2016 against ST women. According to the National Crime Records Bureau's (NCRB) 2016 data, the largest chunk of atrocities against SC/STs (13.9 percent for SC and 14.8 percent for ST) constitute of sexual crimes against the women of both communities. And these are only the reported cases. According to activists, a majority of them go unreported.

"The SC/ST Atrocities Act was seen by SC/ST women as a shield, something that ensured or at least gave the survivors hope that justice will be done and their perpetrators brought to book. I myself have worked with several victims to file complaints against perpetrators of sexual crimes. Now that the SC has decided to weaken the act, I wonder what the plight of these women will be," said women's rights activist Kavita, who works as the Digital Head of Khabar Lahariya, an all-women news organization that reports on Dalit rights in Bundelkhand.

Kavita reiterates the case of an underage Dalit girl who was raped in Bundelkhand's Banda district in 2016 and could manage to get her perpetrator arrested immediately after filing charges against the accused under the SC/SCT Act. In yet another instance, a Dalit woman in Chitrakoot was raped, killed and then her chopped up body was discarded in a gunny bag. At first, the police refused to file any FIRs against the accused. However, several protests and mobilization among the SC community forced the police to arrest the accused under the SC/ST Act.

"Had it not been for the immediate arrest provision of the Act, the accused could have escaped the law, as so often happens in such cases when the accused have money and influence," Kavita said, though she admitted that the accused is now out on bail. Kavita also added that in her experience, police officers often come from upper caste families themselves and thus end up protecting only their 'caste-brothers'. She said that many police officers refuse to even lodge POA cases, omitting details of casteist discrimination or slurs from FIR of victims.

A resident of Bundelkhand herself, Kavita said that instances of upper class discriminating against SC/ST was common in her hometown.

"Some shopkeepers don't serve SC/STs cold drink. If they do, they are asked to wash the bottles and bring back. Casteist slurs like 'chamarin', 'bhangi' are as common as anything. In such situations, how can SC/ST women who are doubly vulnerable, both in terms of being women and belonging to lower caste, defend themselves against sexual crimes which are contextualized in their caste identities?"

Beena Pallical, of the National Campaign For Dalit Human Rights, agrees that the sexual crimes against SC/ST women cannot be treated as standalone cases of sexual violence against women.

"Look at the numbers. The most number of women who face sexual crimes and abuse belong to SC/ST communities. These are not sexual crimes but caste crimes," Pallical said.

Pallical said that even today, SC/ST women in a lot of Indian villages are "not allowed to file complaints against upper caste perpetrators of crime". "They are not even allowed to enter police stations or given chairs to sit on," she added.

"If they are not even able to file complaints because they are Dalit, how can they be misusing the SC/ST Act to frame innocents?" an irate Pallical asked. "And by diluting the POA, we make these women even more vulnerable to being targeted as well as obstruct them from obtaining justice," the activist said.

The POA amendment is reminiscent of the proposed guidelines an SC Bench issued last year to dilute the dowry law. The bench had cited protecting 'innocents' against 'frivolous' complained that were allegedly being registered by women.

The bench was headed by Justices Justices AK Goel and UU Lalit. Incidentally, they happen to be the judges presiding on the bench that passed the POA amendment.

"First the dowry law... now, this. It seems the SC only wants to change laws that protect marginalized women like us," rape survivor Asha Devi said. But Asha Devi isn't giving up her fight. She said that though the judiciary is not with her anymore, she would continue to fight for her justice till her last penny.

*Name has been changed to protect the identity of the victim.
Read full article