GET Stock

Quotes


Amid Kathua Outrage, J&K Lawyers Demand POCSO-Like Act to Punish Child Rapists
The chargesheet filed in the case has revealed horrifying details. It has again brought the issue of paucity of stringent provisions to protect children of Jammu and Kashmir.
New Delhi:
When the National Commission for Protection of Child Rights got a complaint from a citizen to look into the horrific rape case of an eight-year-old girl in Kathua, the Commission immediately forwarded it to the Chief Secretary of Jammu and Kashmir on Wednesday.
The reason? In the state of Jammu and Kashmir, Protection of Children from Sexual Offences (POCSO) Act 2012 is not applicable.
The chargesheet filed in the case has revealed horrifying details. It has again brought the issue of paucity of stringent provisions to protect children of Jammu and Kashmir.
"POCSO is a law for preventing sexual abuse of children and it has been implemented in all states except Jammu and Kashmir, making it difficult for the judiciary to deal with the offenders. Hence, when we got the complaint, and we forwarded it to the state," said Yashwant Jain, member POCSO, NCPCR.
The POCSO Act aims to provide protection to children from violence, including sexual assault, sexual harassment, and the inclusion of children in pornography. The Act also provides for establishment of special courts for trials of such offenders and for related matters.
The clause (3) of article 15 of the Constitution, inter alia, empowers the state to make special provisions for children.
Under this provision, the state parties are required to undertake all appropriate national, bilateral and multilateral measures to prevent – the inducement or coercion of a child to engage in any unlawful sexual activity, the exploitative use of children in prostitution, in pornographic performance or other unlawful sexual practices.
The Act enables the sentencing of the offenders between three and 10 years depending upon the nature of the crime.
A petition was filed by activist Musab Omer on change.org for the enactment of a POCSO-like law to address Child Sexual Abuse in Jammu & Kashmir. It mentioned some cases of child sexual abuse where the victims had to fight with no stringent laws to protect them – like, in February 2016, a teacher was convicted for 10 years in prison after he was proven guilty of having raped a class 9 student.
In another case related to mass child sexual abuse, a self-proclaimed faith healer, who is currently facing a trial in the Chief Judicial Magistrate's Court of Sopore, District Baramulla, is out on bail. "He is continuing abuse under the disguise of faith healing," said the petition.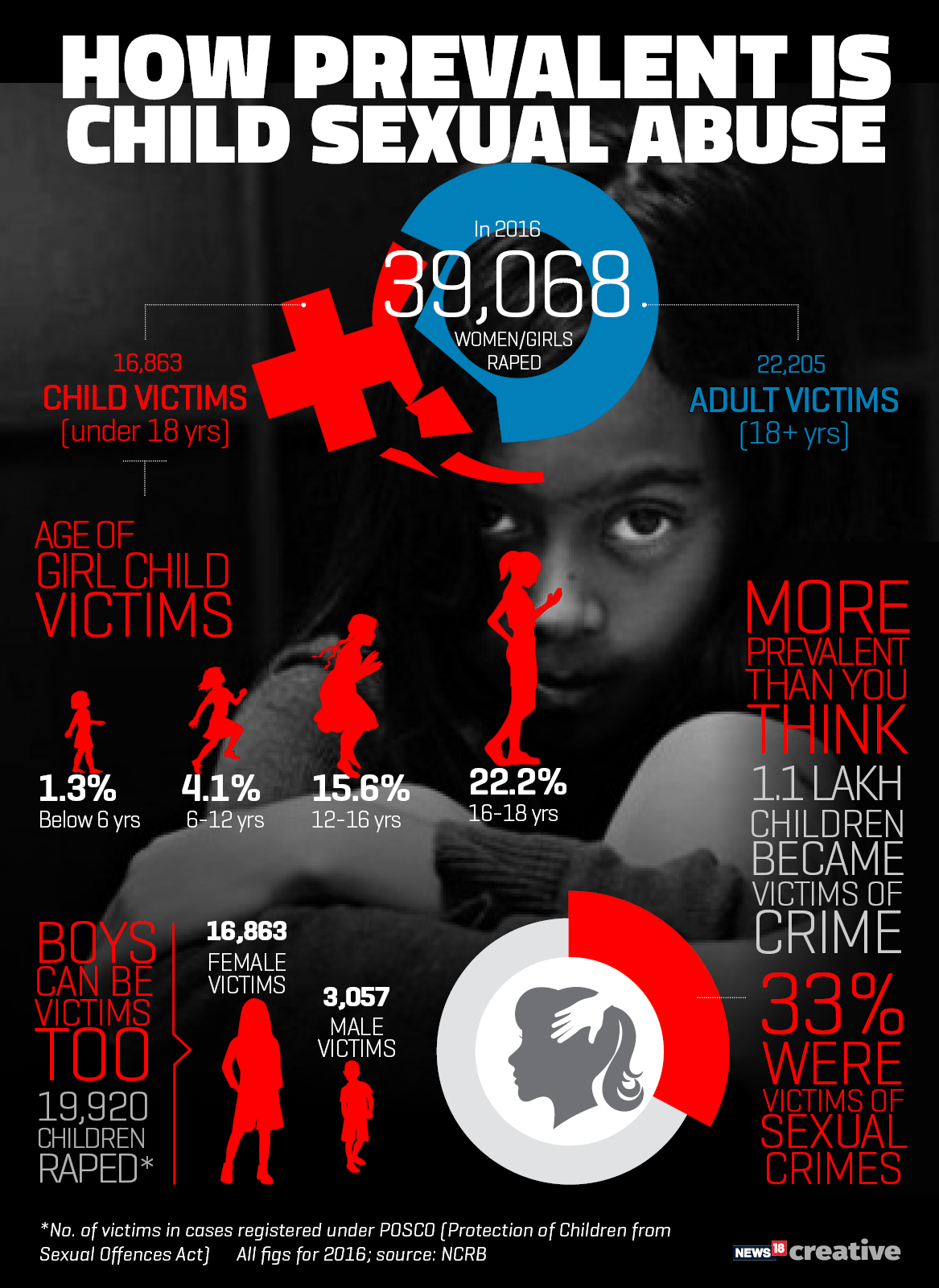 Further in his petition, Omer said, "Child Sexual Abuse (CSA) is the least spoken subject in a conservative society like Jammu & Kashmir (J&K). CSA is spreading like an epidemic in J&K; hence, there has been a consolidated effort by a group of victims and survivors to raise awareness about CSA and the role of parents and schools in preventing CSA, via social media, for almost 2 years."
He mentioned the study conducted by the Ministry of Women and Child Development in 2007, where it revealed that "1 in every 2 children is subjected to sexual abuse in one or more forms, before they reach the age of 18." Though there are no reliable statistics available on Child Sexual Abuse in Jammu & Kashmir, there is enough evidence that abuse happens in our homes, schools and religious institutions. However, Omer said, in his petition, that most people deny the occurrence of child abuse in J&K.
The fraternity of legal activists believe that a strong POCSO-like law in J&K will not only encourage the victims of sexual abuse to come forward and seek help but also ensure speedy trial in such cases.
Khurram Pervez, human rights activist said, "This is a very centrist argument that central laws are not applicable in Jammu and Kashmir. In this particular Kathua rape case there is no need also. Agreed, that in child rape cases we do not have NCPCR kind of protection but in reality, in this case when it was observed that police was doing a bad job, the case was shifted to crime branch. And they did their job well."
He added that if the government wishes then it can assure justice with the existing CRPC laws. In Jammu and Kashmir state, there is Ranbir Penal Code or RPC, which is a criminal code applicable in the state. Indian Penal Code is not applicable here under Article 370 of the Indian constitution.
Read full article