Why PM Modi's Bold Gambit on Balochistan May Boomerang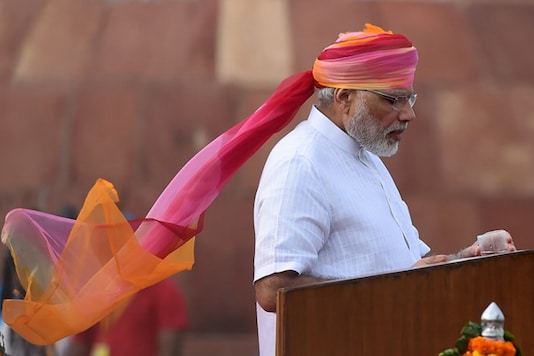 Prime Minister Narendra Modi delivering his Independence Day speech from The Red Fort in New Delhi on August 15, 2016 (AFP)
Modi's attempt to draw parallels between Kashmir and Balochistan may be a gamble, but is both historically flawed and could end up back-firing. By invoking Balochistan from the ramparts of the Red Fort, Modi has thrown out of the window a long standing principle in diplomacy.
Last Updated: August 23, 2016, 11:42 IST
FOLLOW US ON:
In statecraft, especially in that fine craft called espionage, there is a term which is very commonly used. Plausible deniability. It was first used back in the fifties by the CIA's legendary Director Allen Dulles, after whose family the Dulles Airport in Washington is named. Back then the US used to run a series of covert operations, many of them were geared towards assassinating Fidel Castro. It also included regime changes in countries whose rulers were not favourable to America, like Iran and Guatemala and culminating in the Bay of Pigs fiasco.
Some of these operations were successful, others were not. But the important thing was the US President had no direct knowledge of any of these covert goings on. And it was deliberately kept so by the top dogs at the CIA. The reason was simple. Plausible deniability. If it got to a stage where the US President had to testify before Congress or before the courts or before the American public, then he or she could plead innocence citing no direct knowledge.
India's involvement in Balochistan always fell in that grey area called plausible denial. Up until Prime Minister Narendra Modi's Independence Day speech.
Although India's covert operations in Pakistan had officially been called off back in 1997 when IK Gujral was prime minister, no one quite took it to be the gospel truth. Certainly no one in Pakistan did. Look no further than the August 7 attack at Quetta's civil hospital which wiped away almost all of that city's legal fraternity. Quetta is the capital of Balochistan.
Although official responsibility for the attack was claimed by the terror group Jamaat-al-Ahrar, a splinter of the Tehreek-e-Taliban Pakistan, you wouldn't get that impression looking at Pakistani TV channels or listening to their politicians. From the Chief Minister of Balochistan to the so-called talking heads who package and market vitriol on TV, everyone was convinced that the attack was the handiwork of India's spy agency RAW.
Just like our reflex reaction to every attack in Kashmir or other parts of India is to blame the ISI, today in Pakistan every attack, particularly those in Balochistan are blamed on RAW.
Which is why the Pakistanis saw the capture of alleged Indian spy Kulbhushan Yadav earlier this year from Balochistan as a god-sent. The government of India could conveniently cite plausible deniability all these months but Modi's speech blew away that cloak in RAW's covert operations in a region which has had Pakistan's longest running insurgency.
Modi's attempt to draw parallels between Kashmir and Balochistan may be a gamble, but is both historically flawed and could end up back-firing.
For one, unlike Kashmir, Balochistan's accession to Pakistan has never been in dispute, at least not by another country. The Khan of Kalat who used to rule large tracts of Balochistan was forced to give away his territory under dubious circumstances in 1948, with a little help from the British High Commissioner, but it was never contested by a third party like Afghanistan or Iran both of whom share a contiguous border with Balochistan.
Notice the strategic silence of both the Afghans and the Iranians to Modi's speech. With a contiguous border these two countries have more of a stake than India in what's going on in Balochistan. Only Hamid Karzai, the former Afghan President has openly backed Modi's assertions. But he doesn't have the burden of power stifling him. In other words, he doesn't have to worry about plausible deniability.
By invoking Balochistan from the ramparts of the Red Fort, Modi has thrown out of the window a long standing principle in diplomacy. That sovereign countries do not admit to meddling in the internal affairs of another country. Now the Pakistanis could turn around and start needling India on the Maoist insurgency or on Irom Sharmila's long struggle against AFSPA in Manipur. None of these things concern Pakistan directly, so they have no locus standi. But if Modi can bring in Balochistan, then why can't Islamabad bring in Manipur? The established rules of the great game no longer apply.
But there's another fundamental reason why Modi's bold gambit on Balochistan may end up as a boomerang. Kashmir.
Last year at the UNGA, Pakistan couldn't find enough countries to bring a resolution against India on alleged human rights violations in Kashmir. It was an indication of the fading interest among the countries of the world, including those who are Pakistan's brother countries in the OIC, vis-a-vis the Kashmir issue. Contrast that with the recent OIC Secretary General's statement on Kashmir calling on the international community to be more vocal on alleged human rights violations.
Admittedly, some of this is because of India's own mishandling of the recent unrest in the Valley which has been on the boil for the last month and a half. But if Pakistan were to bring that same resolution against India this year at the UN, it would certainly find more takers. And the blame for it, at least some part of it, would be on us.
For years now, India has been seeking to de-hyphenate itself from Pakistan. We are a much bigger economy, a much bigger global player and a country whom the world is trying to covet. By using the B-word as a response to Islamabad using the K-word, the Prime Minister may have unwittingly tied us back at the hip with Pakistan. As former home minister P Chidambaram put it rather eloquently: there's a fire in our backyard in Kashmir. Instead of putting it out we seem to be happy at the fire in our neighbour's backyard, Balochistan.
Let's hope India and Pakistan don't end up burning the house down.
First Published: August 23, 2016, 11:18 IST
Next Story