GET Stock

Quotes


Why the 6-day India Visit is Crucial for Embattled Israeli Prime Minister Netanyahu
What he is able to take back from India for Israel will be crucial to showcase his leadership.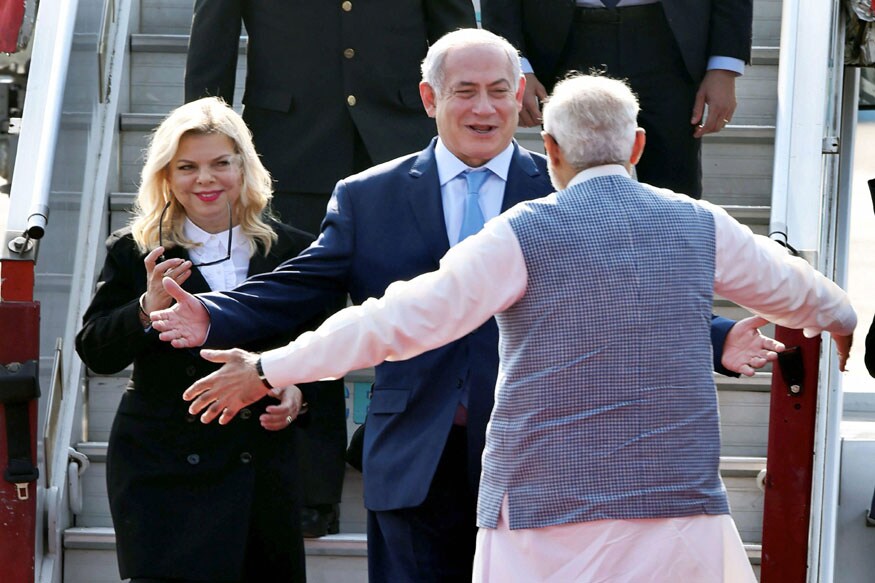 Prime Minister Narendra Modi welcomes Israeli PM Benjamin Netanyahu and his wife Sarah on their arrival at Air Force station Palam in New Delhi on Sunday. (PTI Photo)
New Delhi:
Benjamin Netanyahu is the first Israeli Prime Minister in 15 years to visit India but he comes at a time when his political standing is at the weakest in his three-decade long career.
The grand welcome accorded to him by Prime Minister Narendra Modi in New Delhi may not signal this, but observers in Tel Aviv would be closely watching the takeaways from the visit beyond the optics.
Just a few days ago, the Israeli PM had found himself embroiled in a fresh scandal as an explosive audio recording of his son Yair Netanyahu leaked. In the clip, he was boasting about how his father pushed through a $20 billion gas deal to the benefit of gas tycoon Kobi Maimon.
Netanyahu is already under investigation in two unrelated criminal cases, which involve allegations of bribery, fraud and breach of trust.
Netanyahu denied any wrongdoing. In a statement, the family said Yair was only joking "The PM has no connection with Kobi Maimon, whom he met only once about 10 years ago. The PM brought about the gas protocols because he wanted to encourage competition to the Tamar gas field under the ownership of Kobi Maimon," the family spokesperson said.
What was equally embarrassing for the PM was the manner in which his son was heard talking of women in the tape while being drunk outside a strip club. Yair apologised for the drunken banter, saying "it does not reflect who he is".
It is during this troubled phase of his career that Netanyahu has landed in India for a 6-day visit. Already hobbled by a razor-thin parliamentary majority, the controversies have further pegged him back. What he is able to take back from India for Israel will be crucial to showcase his leadership.
In the run-up to the visit, India scrapped a $500-million-dollar deal with state contractor Rafael Advanced Defense Systems Limited for 8,000 anti-tank guided missiles.
What should however, come as some sort of relief to PM Netanyahu is the fact that the Army Chief Gen Bipin Rawat has said there is a move afoot to revive the deal partially as DRDO has said it can make similar missiles but only by 2022. To fill in the gaps till then, an order lower than the original is possible.
The Israeli side has also tried to downplay India's stand in UNSC against America's move to relocate its embassy from Tel Aviv to Jerusalem. The Israeli ambassador to India, Daniel Carmon, said this will continue to be a matter of diplomatic discussion but will not mar bilateral relations.
For Israel, India also remains an important trade destination. The export-driven Israeli economy is on the lookout for newer emerging markets to tap into. Apart from the tradition defence cooperation and water management and conservation areas, the idea is to expand the opportunities for Israel in India. So, we will also witness PM Netanyahu participate in an event titled Shalom Bollywood where he will meet significant entities from the entertainment industry to draw their attention to Israel as a destination for film shooting.
Before leaving for India, Netanyahu said "This evening I am leaving on an historic visit to India. I will meet with the PM, my friend Narendra Modi, with the Indian President and with many other leaders. We will sign very many agreements."
"We are strengthening ties between Israel and this important global power. This serves our security, economic, trade and tourism interests, as well as many other areas. This is a great blessing for the State of Israel," he added.
Also Watch
| Edited by: Aakarshuk Sarna
Read full article