GET Stock

Quotes


Wiggling ears, dropping pants, urinating in public: 10 times 'PK' reminds us of '3 Idiots'
'PK' explores the life of an alien (played Aamir Khan), and reflects on friendships, and the course of his life.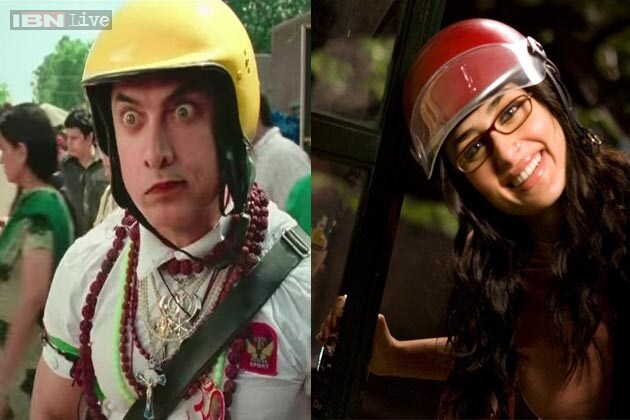 'PK' explores the life of an alien (played Aamir Khan), and reflects on friendships, and the course of his life.
While Aamir Khan's next 'PK' is expected to be lauded for its mood, humour, theme and performances, the film has several elements that are arguably its most impressive aspects, and quite obviously similar to what was featured in '3 Idiots'. For the uninitiated, 'PK' teaser, which was released recently, explores the life of an alien (played Aamir Khan), and reflects on friendships, and the course of his life. This is done to both entertain and surprise the viewers. But does its idea and concept sound familiar? Well that's because we've seen something similar before! We list out the most obvious concepts which prove why 'PK' reminds us of '3 Idiots'.
####
From funky headgears to stylish cowboy hats, we have seen Bollywood stars wear both. But it was Kareena Kapoor who made helmets look chic after she wore them to zoom around on her scooty in a few scenes in '3 Idiots'. While Kareena looked like a pro as she whizzed down Pangong Lake, we are still to see Aamir do the same in 'PK'. But the similarities between the two are hard to ignore, right?


If Aamir Khan managed to leave many shocked with his nude 'PK' poster, his wide eyes and funny expressions make his character a lot more intriguing. While it is too early to predict if his role will leave the viewers wide-eyed and surprised, doesn't this remind you of '3 Idiots'?


Whether it is Kareena Kapoor swaying her 'tooh', Sunny Leone shaking her 'booty' or Salman Khan and Aamir Khan doing butt slapping/butt scratching steps in their songs, Bollywood has often proved its obsession with butts. Agreed, cinegoers love songs that are loaded with such innuendos and puns, but actors too show no inhibitions in using their butt to make headlines. If Aamir Khan was seen scratching his butt in '3 Idiots', 'PK' has a sequence featuring him being hit for pulling out a man's dhoti stuck in his butt crack.


Everybody appreciated Aamir Khan when he rocked a sling bag in '3 Idiots'. The actor may not be carrying a bag, but the look of his medieval-looking radio strap, worn across his torso, reminds us of his previous film.


Oh, he has got really huge ears! Yes, that's what most of his fans said when they saw the first poster of 'PK'. While his detractors take jabs at him for the shape of his ears, the actor remains unaffected. If he made us laugh by wiggling his ears in '3 Idiots', he tries to use the same tactic in his upcoming film too.


Weren't we shocked, and a tad upset when almost everyone was seen removing their pants in '3 Idiots'? Boman Irani is inspired by his onscreen students Sharman Joshi and R Madhavan, it seems. He repeats the act in 'PK'.


Yes, we know pissing in public is unacceptable. But there are several films that haven't seen urinating in public as a nuisance. And that's what 'PK' seems to suggest. Again, another idea which has been lifted from '3 Idiots'! Remember director Rajkumar Hirani included a sequences where Sharman Joshi and R Madhavan urinate outside their principal's office? And how can we forget the epic scene when Omi Vaidya is punished by a couple of school kids for urinating in the open.


Simple steps, soft setting and the actors' dress code! Aww, they are just so similar to what we saw in popular song 'Zoobi Doobi'.


If Aamir Khan uses a medieval-looking radio to hide his modesty in 'PK', he used a water drum to do exactly the same in '3 Idiots'.


And how can we miss the concept of friendship? The manner in which friendship blossoms in '3 idiots' rings true to anyone who has stayed in a hostel. We fells for our 3 idiots for the manner in which they let initial differences turn into life-along alliance. We expect some cool moments between Anushka Sharma and her cool pal Aamir Khan in 'PK' too.
Also Watch

CNN-News18 Exclusive With Nandan Nilekani
Read full article