Will Keep Quiet, Says Manipur University V-C as Students Threaten to Intensify Protests
The protesting students have threatened to 'surrender' their certificates issued under the Manipur University if the government fails to take action against the vice-chancellor.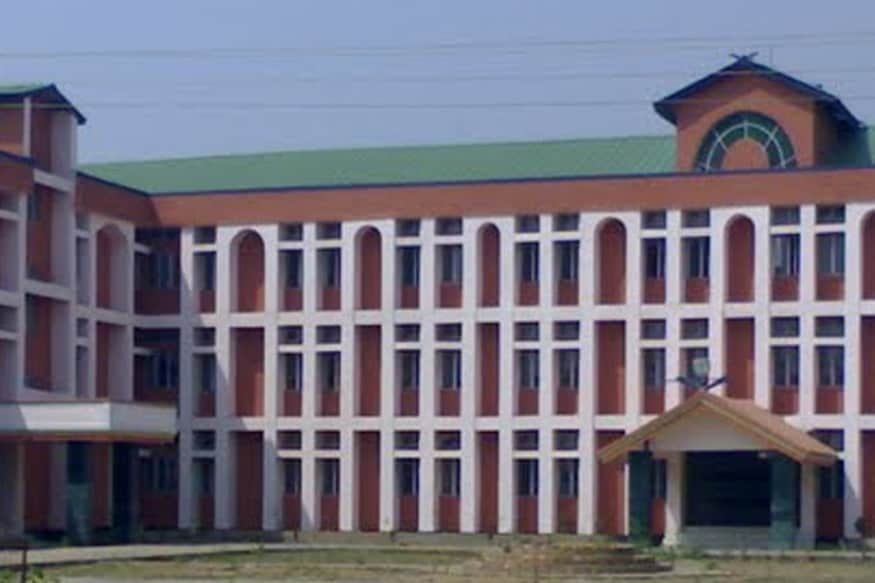 Manipur University (University Website)
Guwahati: The impasse between the students of Manipur University and vice-chancellor Adya Prasad Pandey, which has been going on for over 50 days, showed no sign of abatement on Friday.
Speaking to News18, the vice-chancellor praised the people of Manipur and spoke about his services to the university but said it was better to "keep quiet" on the demands for his dismissal raised by various student organisations.
"People in Manipur are really nice. I don't know if I will get the chance to serve again, but it feels good to be here. No one believes me, so it's better to keep quiet. I have done the best I could for the university. I was not here to make money. Some of my old students have called, expressing astonishment at the negative things being said about me," said Pandey.
The students have been protesting since May 30, demanding a probe led by a judge against the V-C over allegations of administrative negligence and financial irregularities.
Students have alleged that the V-C skips his official duties at the university for several days at a stretch and is mostly out on unofficial tours. They say no convocation was held for the students since 2014.
They also said there were gross irregularities in managing the funds of the university and the institution's funds were given to politically motivated outfits.
The protests against the V-C have now spread to schools and colleges, even as mobile internet services remained suspended in Manipur for five days after a government order.
On Friday, most of the academic institutions in Imphal city were closed, with the Democratic Students' Alliance of Manipur (DESAM) calling it a step to show solidarity with protesting student groups. The Reformist Student's Front (RSF) had recently decided to boycott all educational institutions of Manipur, including medical and engineering colleges.
"The schools and colleges have suspended classes as a mark of solidarity with the agitators, though I think it is not right to involve all educational institutes. The HRD ministry is not listening to us. We have decided to file a petition demanding that the V-C be removed from the chair. We want a good administrator and an honest person. If the need arises, we will protest in front of Manipur assembly," said S Akash, DESAM president.
The Manipur University Students Union (MUSU) has threatened to 'surrender' all graduation certificates issued by the university if the government fails to take action against Pandey.
"It's a genuine demand. The V-C must be removed. There are 15 allegations against him and he is guilty in 70% of the charges. We don't want any committee to probe into the allegations but positive action. Or else, in 1-2 days, we will surrender all certificates. There are 36 colleges affiliated to the university," said Robindro Laishram, MUSU cultural secretary.
The fact-finding committee formed by the Centre to probe into the allegations is headed by T Nandakumar Singh, former acting Chief Justice of the Meghalaya high court, and includes JK Tripathi, joint secretary of University Grants Commission; and Surat Singh, deputy secretary of department of higher education, HRD ministry, as committee members.
Defending himself, Pandey said he only took some teachers to task for not doing their job properly. "I think I made a mistake when I directed some teachers to take classes properly. Once it so happened that a teacher who was supposed to be in class went off shopping and I had to call him back," he said.
Pandey also spoke about the achievements of the university under his leadership. "I sat all night to draft the PhD ordinance with help from a few collegaues. PhD registration happened only after my arrival. With this, college teachers also got a chance to pursue PhD. There is no file pending clearance in my office. Only a few that have raised objections are left to be reviewed. The Indian Science Congress was held in Imphal after Osmania University could not host the event in Hyderabad. I personally visited offices in New Delhi for grant," he said.
However, DESAM leader Akash called the vice-chancellor's comments a 'propaganda'. "I have never heard of a vice-chancellor blowing his own trumpet. No former student of Manipur University supports him. It is all a propaganda. In reality, he misused funds, neglected court meetings, enjoys Y security, and remains out of station for the better part of the month," said Akash.
Meanwhile, the Manipur government suspended a sub-inspector and a constable for manhandling DESAM protesters on Monday. DESAM secretary general Oinam Sital Singh was injured in the scuffle between police and protesters outside the BJP office at Neityaipat Chuthek in Imphal. The student organisation said Sital fractured his hand after being deliberately pushed by cops towards a moving truck.
Chief minister N Biren Singh visited the injured students in hospital on Thursday and informed them of the decision. Singh told the media that the cost of treating the injured students would be borne by the state government, adding that the decision was taken after analysing video clips.
Security has been tightened across Imphal city in the wake of protests and shutdowns. Heavy security presence was witnessed near Raj Bhawan, at the BJP headquarters in Keisampat, in front of the chief minister's secretariat and at Canchipur area where the university campus is located.
(With inputs from Noren Ningombam)
Read full article
Countdown To
Elections Results
To Assembly Elections 2018 Results