Will Make Uttarakhand River Revival Project a Mass Movement: CM Trivendra Singh Rawat
Years of misuse, garbage dumping, deforestation and soil erosion have crippled these rain-fed perennial rivers, has turned them into seasonal ones. In November, the Uttarakhand government launched a campaign for the revival of Rispana and Kosi rivers of the hill state.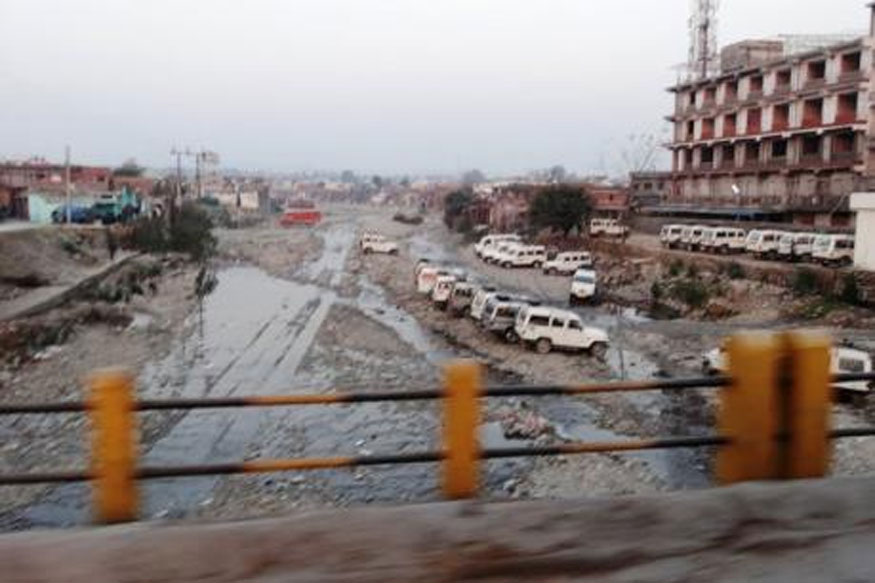 Image for representation.
New Delhi: As summer dawns on the Himalayas, Uttarakhand is about to wake up to their hills being contoured with trenches, holes dug at great heights and handmade check dams in high-altitude streams; all with the aim to save two of the dying rivers of the state — Rispana that runs through the state capital Dehradun and Kosi, that sustains all of Almora district and its surrounding villages.
Years of misuse, garbage dumping, deforestation and soil erosion have crippled these rain-fed perennial rivers and turned them into seasonal ones. In November, the Uttarakhand government launched a campaign for the revival of these two quintessential rivers of the hill state. Now, the administration plans to build it into a mass movement.
While Kosi's 'lean flow' — a measure of its flow during summer months — is one-tenth of what it used to be in the 1990s, it was ultimately declared seasonal in 2003. Rispana, on the other hand, has eight sources of water and yet it has almost dried up in the middle of its course.
"Rispana starts from somewhere beyond Mussoorie, a place three kilometres upstream of Landour," state Chief Minister Trivendra Singh Rawat told News18, adding, "that's where we're looking for more of its sources."
The chief minister also added that some of this work will be taken up under the MGNREGA scheme, while others will be overseen by the department of irrigation.
THE GRAND PLANS
The Rispana or Rishipana – its "pracheen" (ancient) name as the CM pointed out – mission started in November 2017. A series of trenches will be dug up in the mountains along the course of the river, which will serve as water storage units for the drying river. These trenches will be made deep enough to keep them safe from animals looking for water holes and can potentially hold thousands of gallons of water, Rawat estimated.
These trenches would hold rainwater through the year to feed the rivers in their leaner months. These will also enable the stored water to percolate into the ground and thus rejuvenate the water tables.
Apart from the trenches, the project would also include a day of cleaning up the 23 kilometres stretch of Rispana before it merges into the Song River outside Dehradun. This, Rawat said, would also involve the public with an aim to make cleaning silt and plastic a people's movement.
Though the date for the cleaning drive is yet to be decided, preparations are afoot. A battalion of an Ecological Task Force of ex-servicemen has been brought onboard and the government would also involve all sorts of non-government organizations, religious organizations and people living in the affected villages.
The chief minister added that there are plans to plant grasses such as lemon grass along the river in order to prevent soil erosion.
KOSI, THE LIFELINE
Not just Rispana, similar initiatives would also be taken up for Kosi, said Eva Ashish Srivastava, Almora District Magistrate.
Srivastava had earlier inaugurated the project to revive Kosi in a longer and more complex plan that befits the even bigger and crucial river. However, reviving Kosi will need more than just a day.
Both CM Rawar and Srivastava agree that Kosi is called the lifeline of Kumaon for a reason. Nearly 350 villages depend on it for water and sustenance.
However, according to a research by Professor JS Rawat of the Kumaon University, the present condition of Kosi is alarming.
WHAT WENT WRONG
Over a 25-year period, Kosi's 'lean flow' capacity dropped 700 percent from 790 litre/second in 1992 to 48 litre/second in 2017 and over 40 years, the river has shrunk from 225 km in length to 41 km.
Kosi used to have 28 sources of water at one point, but there are only 8 left as of now. Some of its streams, said Srivastava, have already become seasonal.
The river, which originates in the Almora-Bageshwar border, sustains not just the 350 villages in this area, but also parts of the Corbett National Park.
"Fortunately, Rawat has identified 14 recharge zones," said Srivastava, who is now in-charge of a Rs 17 crore project that kicks off with the digging of trenches and recharge holes in April, May and June. As they move downstream, they will build handmade check dams and larger dams on the river to store water at every stage.
In July, Srivastava said she will also oversee large scale plantation in the area to improve its green cover. The trees will be protected with stone trenches dug around to protect the new trees from animals and forest fires.
OAK, PINES OR GRASS?
Both the CM Rawat and Srivastava pointed out that the hills of Uttarakhand need banjh oak trees. This evergreen oak, with large leaves holds the soil, captures rainwater and helps it percolate into the ground. It lets grass – critical to bind the soil and prevent erosion — grow underneath its canopies.
Earlier, banjh oaks used to populate these terrains, but have been felled for timber in the past decades, said Srivastava. What's left now are large number of cheed or pine trees. This archetypal image of the Uttarakhand hills covered in deciduous pine is not only deceptive, but also dangerous. The pine, said Srivastava, leaves the soil barren and acidic. It does not let grass grow. Also, the rain water, instead of percolating, trickles away thus causing further erosion.
The pines also spreads faster than other species and quickly takes over large swathes of land. Moreover, the trees cannot be culled as they are protected under environment laws.
In June, however, the state will plant napier grass or elephant grass, which the local GB Pant Institute of Himalayan Environment and Development says, can grow under the pine. Not only will these grass provide fodder for cattle, but also help prevent water to run-off.
"We have to make this into a jan andolan (people's movement) and it will take at least 5-7 years of work by the people involved, only then do the rivers stand a chance," Srivastava said.
BEYOND THE RIVERS
It is not just the two rivers of Rispana and Kosi that are threatened in the state. CM Rawat said that the Uttarakhand government has earmarked Rs 200 crore for the development of water bodies in seven to eight spots and another Rs 1,100 crore for a dam on River Song.
Read full article