GET Stock

Quotes


Will Never Forget Hima's Excitement When She Got Her First Set of Spikes, Says Father of Golden Girl
Hima's former coach, Nipon Das, revealed that she initially wanted to play football but later switched to track and field.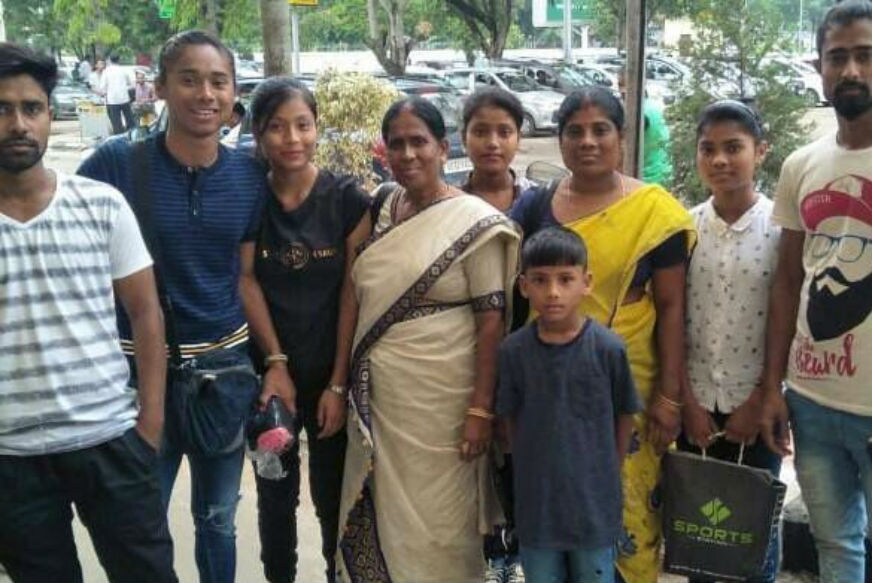 File photo of Hima Das (second from L) along with her family.
Kolkata:
Their daughter has scripted history and achieved what no Indian has achieved so far. Overnight, she has won the hearts of millions of Indians, including the President and the Prime Minister, who have publicly acknowledged her feat and extended their congratulations.
Yet the parents of India's golden girl, Hima Das, are grappling to get a sense of exactly how big her achievement is.
Speaking to News18 over telephone from Assam's remote Dhing village in Nagaon district, Hima's father Ronjit Das said: "One of Hima's friend told us that she won something which no one has won so far. We are poor people and live in a remote village. We don't really understand these achievements or awards. Then Hima called up from Finland and said that she won the gold medal. Things became clear when she said that she stood first in the race."
A peasant by profession, Ronjit added: "We are happy that despite facing so many obstacles she was able to do what she had resolved… to make her country proud one day."
Eighteen-year-old Hima's journey, from a modest peasant background at an obscure village in Assam to winning the gold at 400 meter finals at the World U20 Championships at Tampere, Finland, on Wednesday and becoming the country's most celebrated athlete at present, is nothing short of overcoming near-insurmountable challenges that are scripted in Bollywood blockbusters.
Narrating her story, Ronjit said: "Two years ago when she got her first professional running shoes she was so excited and happy. She was in Patiala then and undergoing her training. She called and I will never forget the excitement and happiness she shared over the new pair of spikes. We will keep praying for her success in future."
Hima's mother, Jomali Das, could hardly hold back her tears. "I thank God for giving her so much strength to win the gold medal. She left home at a young age for her training. She called me to say she made it to the top. We all are so excited and are eagerly awaiting her return," she said.
Hima clocked 51.46 seconds to snatch the gold medal at Tampere. But that isn't her best performance. She timed 51.13 seconds at the recently held National Inter-State Championships in Guwahati. She also timed better with 51.32 seconds at the 400m finals at Gold Coast Commonwealth Games where she finished sixth.
Hima's former coach, Nipon Das, revealed that she initially wanted to play football but later switched to track and field.
"Hima was a very good football player but later developed interest towards athletics. I trained her initially and she used to tell me that one day she will bring gold for the country. She was disciplined and dedicated. I was confident that she will make it to the finish line before others."
Das said that before going to Finland, Hima trained under Elina, her coach in Patiala camp, who accompanied her to Finland. "This is best ever gift I ever received in my whole life. God bless her," he said, fighting his emotions.
Speaking to News18 over telephone from Patiala, Athletic Federation of India (AFI) chief coach Bahadur Singh said, "Throughout her training she performed well. Her confidence level is very high and we are hopeful of her gold at the upcoming Asian Games in August. We will provide all kind of assistance to her. She is our star."
Pabitra Ram Khaund, Director, Directorate of Sports & Youth Welfare, Assam, said, "Our daughter has made us proud. We will give her a grand welcome once she returns. I thank her parents for supporting her."
Also Watch
Read full article