Will Not Call Her My Sister Again, Says Sasikala's Brother After Legal Notice
Two days after Sasikala, who is lodged in a Bengaluru jail in a disproportionate assets case, slapped a legal notice on him, Dhivakaran accused her of using "blackmail politics".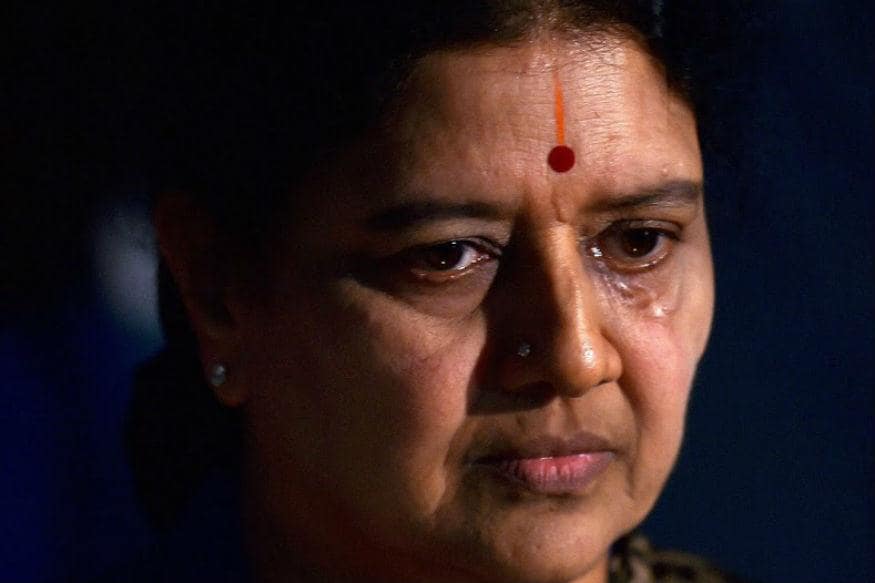 File image of VK Sasikala.
Chennai:
Sidelined AIADMK leader Sasikala's family feud escalated on Monday with her estranged brother V Dhivakaran saying he would not call her his sister again.
Two days after Sasikala, who is lodged in a Bengaluru jail in a disproportionate assets case, slapped a legal notice on him, Dhivakaran accused her of using "blackmail politics".
"I will not call Sasikala my sister again. What Sasikala did was blackmail politics. My political journey will not end because of the legal notice issued to me by Sasikala. It was TTV Dinakaran who is responsible for creating a rift between Sasikala and O Panneerselvam. He is trying to avenge Sasikala through me," Dhivakaran said.
In the legal notice, Sasikala, who was a long-time confidante the late chief minister J Jayalalithaa, asked Dhivakaran to desist from taking her name in his public utterances.
Sasikala issued the notice through her advocate, where she charged her sibling with speaking in support of AIADMK leaders, Chief Minister K Palaniswami and his deputy O Panneerselvam, who have fallen out of favour with her.
In the notice, her lawyer N Raja Senthoor Pandian said she had "great affection" towards her brother, but was taking this step with a "heavy heart."
Dhivakaran and his nephew and AMMK leader TTV Dhinakaran have been at loggerheads of late, with the feud spilling over in public with both lashing out at each other. This had prompted Dhivakaran to float an outfit called 'Amma ani,' meaning 'Amma faction,' named after Jayalalithaa.
In the notice dated May 9, Pandian said his client (Sasikala) was "pushed to a situation" where she was "forced to issue it with a "heavy heart" due to Dhivakaran's "present contradictory behaviour."
Recalling Sasiakala's 'contribution' and 'assistance' to Jayalalithaa in leading AIADMK, he said following the death of the then Chief Minister in December 2016, there was a "politics of betrayal," an apparent reference to Panneerselvam's revolt. Panneerselvam later not only merged his led faction with that of Palaniswami last year, but the duo also sidelined Sasikala and annulled all appointments made by her as AIADMK interim general secretary.
Pandian claimed that true AIADMK workers rallied around Sasikala and that it was evident from Dhinakaran's victory in last year's RK Nagar bypoll. He said Dhinakaran was spearheading protests against the Central and state governments to protect the rights of Tamil Nadu.
"While you are very much aware of all of these, you have been speaking in support of and praising the anti-people government, led by Palaniswami and Panneerselvam," he said, citing reports. This had made it clear what his political stand was, he added.
Further, Divakaran was making public statements against Sasikala, which was uncalled for and did not befit his age and family background, he said.
Dhinakaran often consults Sasikala and manages the party affairs, Pandian said.
Further, he had floated the Amma Makkal Munnetra Kazhagam recently as a 'temporary measure' to face polls till the time a court battle for the name AIADMK Amma Ani ended. Pandian told Dhivakaran he was making certain public comments about Sasikala, which were contrary to facts and 'my client states you are doing this with an intention to satisfy someone."
"My client states that you should stop using (terms) like my elder sister in the media. In the event of you continuing to air lies even after receiving this notice, my client will be compelled to initiate legal action against you, keeping aside the fact that you are a blood relation," he added.
(With PTI inputs)
| Edited by: Nitya Thirumalai
Read full article
Countdown To
Elections Results
To Assembly Elections 2018 Results