Will Shinzo Abe Replace Xi Jinping as PM Narendra Modi's Ally Along Sabarmati?
Prime Minister Narendra Modi and Japanese PM Shinzo Abe would lay the foundation stone for the ambitious Mumbai-Ahmedabad bullet train project.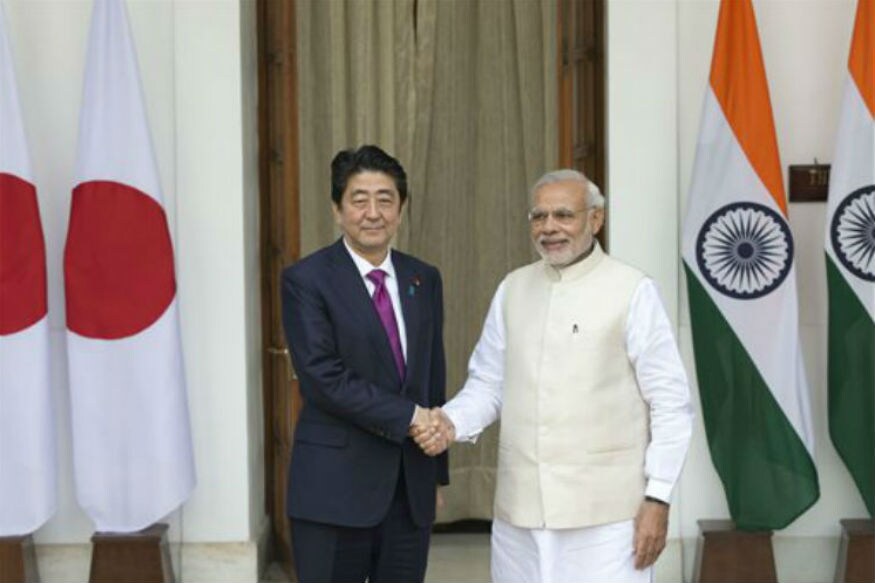 Japanese PM Shinzo Abe and Prime Minister Narendra Modi
New Delhi: Amid India-China standoff, Japanese Prime Minister Shinzo Abe is likely to visit New Delhi in the first half of September. According to sources, Abe and Prime Minister Narendra Modi could hold bilateral talks in Ahmedabad on the banks of Sabarmati River.

The two leaders would lay the foundation stone for the ambitious Mumbai-Ahmedabad bullet train project.

Modi and Abe have shared a special rapport with the former describing Indian PM as a 'true friend'. Japan was one of the first countries Modi visited after taking over in 2014. This was seen by many as a clear sign that an India-Japan alliance could balance China's rising influence in the region.

The power tiff between Japan and China is decades old with the two countries often flexing their military might in East China Sea, particularly around Senkaku Islands.

If indeed Abe and Modi meet on Sabarmati riverfront, it would be a reminder of September 2014 when Chinese President Xi Jinping and Indian PM took a stroll along the river before sitting down on a traditional Gujarati swing chair, making for photos that went viral on Internet.

A lot of water has flown down the Sabarmati since then and Doklam tri-junction is the new point where China is creating trouble for India. In a sign of things to come, Japanese ambassador Kenji Hiramatsu has expressed support for India in the Doklam stand-off.

Hiramatsu said his country understood India's concern over the Chinese army building a road on Bhutanese territory.

"We recognize Doklam is a disputed area between Bhutan and China and two countries are engaged in border talks… We also understand that the India has a treaty understanding with Bhutan that's why Indian troops got involved in the area," the Japanese envoy to India told an English daily.

A senior Japanese Embassy official told News18 that a lot of progress has been made in India-Japan ties in the past one year, including security and defense matters.

A photo, they say, can speak a thousand words. In this context, if Modi and Abe walk on the same stretch, where once Jinping did, those in diplomatic corridors could see something more than a coincidence.

For beginners, bullet train project itself holds a lot of significance as Chinese firms had tried hard to sell their technology to India. But India chose Japan for a project which is expected to cost Rs 1 lakh crore, of which about 80 per cent will be loaned from Japan International Cooperation Agency (JICA). The project is slated to be completed by 2023.

During his last visit to India, Abe had offered $12 billion of soft loans at an interest rate of 0.1 per cent with repayment over 50 years and a moratorium for 15 years.

Beyond the technicalities of projects, Abe and Modi's multiple hugs for the cameras didn't go unnoticed. Icing on the cake was Abe's visit to Varanasi, PM Modi's constituency, and performing Ganga Aarti (worship of the Ganges) alongside Modi in sync with hundreds of Indian devotees.
Read full article
Countdown To
Elections Results
To Assembly Elections 2018 Results