The Supreme Court will have an open-court hearing on Section 377 of the Indian Penal Code (IPC) today. A bench headed by Chief Justice TS Thakur will hear the
curative petition, filed by Naz Foundation
, against SC's December 11, 2013 judgement upholding validity of section 377 and January 2014 order.
Recently 8 cities, including Delhi, Mumbai and Kolkata, held vigils in solidarity and to remind the Supreme Court that the petition isn't merely a document. The vigils aimed to remind the apex court that the petition contains the hopes and aspirations of people who are fighting for basic human rights. They were held to remind everyone that even if its the right of just one individual, it needs to be protected.
Activist Gautam Bhan had rightly said at Delhi's vigil that it is a matter of 'when' and not 'if'. He went on to say, "We go to Tuesday with pride, not fear. The most important thing that has changed is we have started to realize we have the right to happiness."
In a few hours, this day will turn out to be a historic one, irrespective of the judgement. If there's a positive outcome, we will be among several countries which have done away with similar archaic laws. There will be hope for those who are harassed on a daily basis because of their sexuality. There will be hope for those who have been coerced into "therapy to cure their homosexuality." There will be hope for those fighting for respect, dignity and acceptance from the society every single day. There will be hope for those who have been disowned by their family because of their sexuality.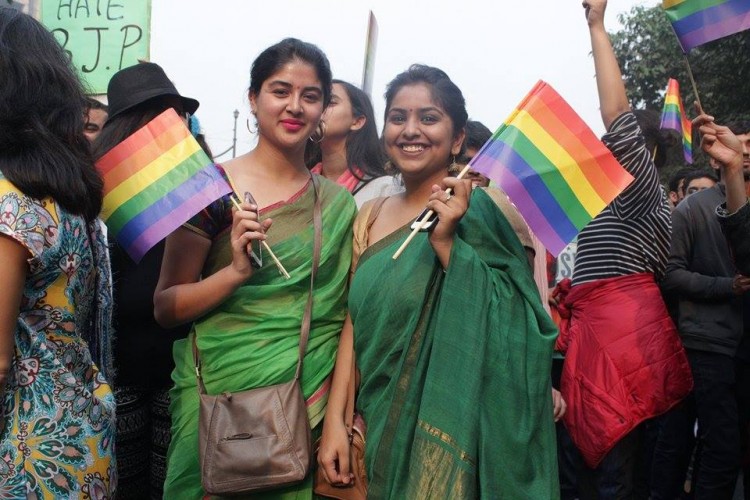 Participants at the Delhi Queer Pride Parade 2015
If the outcome is negative, the fight will be bigger and stronger, because there is no going back from this. The curative petition maybe the last legal battle against the 2013 hearing, but its not the end of the battle. The LGBTQ* community has come a long way, fighting for their rights. There will be many cases that the community will present again, and the legal battle will begin from scratch.
There is no going back to the closet. The closet is a scary place to be, and it's called a closet because it's suffocating inside. What we need to understand is that it is not just about gay sex, and that Section 377 affects heterosexual couples too, as it covers all non-penile-vaginal sexual intercourse.
Sunil Gupta, an equal rights activist, said "I believe its high time that the SC uses its power and guarantees statutory protection to sexual minorities. They should have equal rights to love and live their lives happily and with dignity". He added, "Section 377 legitimizes discrimination and abuse, propagates injustice, inequality and homophobia, which is why it needs to be scrapped. I'll be present in the court today, eagerly waiting for a verdict, which I hope is inclusive and progressive."
The fight is about not forgetting those who face discrimination and still keep on going; this fight is for Aligrah Muslim University's Professor Shiras; this fight is for the teenager in Agra who had to kill himself because he was bullied for being gay. This fight is for equality, for all of us.