With 7 Wives and 56 Kids, Kerala's Legendary Sexologist Proved he Lived What he Preached
Any Malayalee who grew up in the 70s and 80s could have never missed the single-column ad in newspapers that featured a stocky face and announced that his magical wares could cure diseases a child could hardly understand.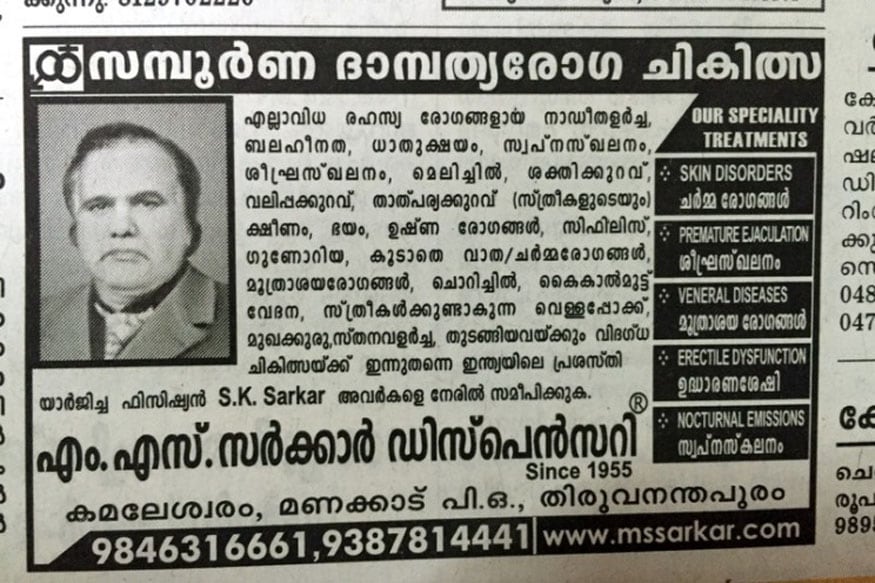 In the laid-back city of Thiruvananthapuram, MS Sarkar grew to become a legend with ads like the one above.
There was a definite ring of irony when the news of the demise of a man whose photographs had been regularly appearing in major newspapers for the last forty years struggled to find a little footing.
Any Malayalee who grew up in the 70s and 80s could have never missed the single-column ad that appeared in the corner of newspapers that featured a stocky face and announced that his magical wares could cure diseases a child could hardly understand.
Some of us made a mental note of expressions like erectile dysfunction and premature ejaculation in the ad and decided to check them once we grew up adequately. Eventually, we grew up and out of our innocence, but always ageing against the timeless and unflinching expression of that man and the format of the advertisement.
The space MS Sarkar took in newspapers may be single-column, but the journey he undertook from his homeland, Pakistan, to become Kerala's first sexologist spans the entire length of our country.
Little did Syed Ali (later MS Sarkar) know that Kerala was waiting for him in the far corner of Peninsular India when he was a young lad in Jalandhar, Pakistan, in the early half of 20th century.
He fell madly in love with a girl. But Syed's grandfather, the royal physician Haji Nawab Ali Khan, could not see any fine prospects in the relationship and so he hid the girl. The repeated pleas of the boy fell on deaf ears. The charm of Jalandhar withered before his eyes, and he could not live where the air is suffused with sad and bitter memories of his girl, now vanished.
Syed left Paksitan and came down to Uttar Pradesh along with his family of eight - Syed's father, Abdul Wahid, his two wives (One Pakistani and the other Indian), and their children, including Syed. But they did not come to the new country empty-handed.
Traditional unani medicine was hugely popular during the time, and Syed's relatives being practitioners for many generations, with some of them serving royal houses, hit the right chord. Moreover, they also had a deadly combination when they tinkered unani to address sexual problems.
Syed could have settled in UP for the rest of his life and forget all about a destiny waiting for him in a south Indian state had it not been for the troubles that started fomenting on the eve of partition. At a time when religious harmony was at its worst, a Pakistani family treating sexual problems in the heart of India was not a rosy scenario.
People suspected that the physicians amped the libidinal energy of only those who belonged to his community - a grave accusation at that time. Syed was hurt, he now wanted to prove his secular spirit, and he thought he found the way. He grew out of his name, Syed Ali, and assumed a new title - Sarkar, something every layman can relate to without any fear.
The young man could have emerged out of his name, but to come out of his past was not as easy. The girl who disappeared at Jalandhar still haunted his life. The remote village in Uttar Pradesh could hardly assuage the embers smoldering inside his heart.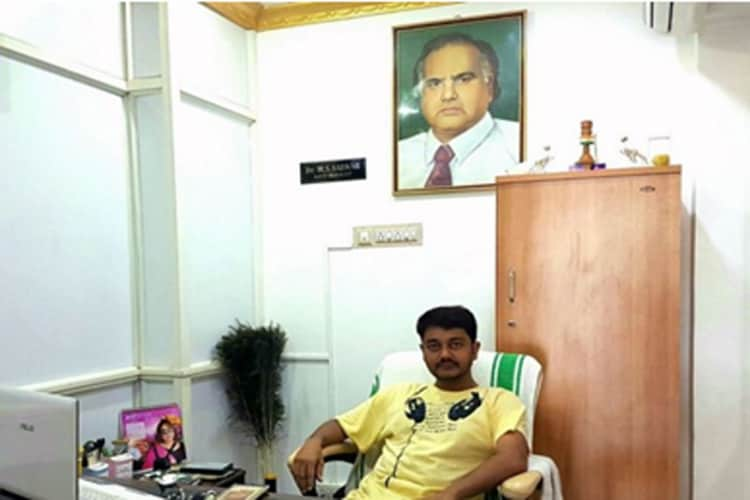 A view of MS Sarkar's clinic in Thiruvananthapuram. His son SK Sarkar also specializes in the same field. (Photo: Facebook)

Soon, Sarkar found himself packing up for a journey further south. It was a pilgrimage of sorts, with the physician finding patients everywhere he settled for stopovers, with the lover searching for his lost love in the many girls he married on his way down south.
Marrying could also be his protest against parental tyrannies he faced as a boy. When his quest was finally stopped by the vast expanse of the Arabian Sea, Sarkar had married 7 women and begetted 56 children. He lived out what he preached. His marital life stood erect as testimony before his customers with flaccid spirits.
Once in Kerala, he set up a clinic in Ernakulam but soon found Trivandrum, pulling him further south. He found in the capital city some solace that he lost at a faraway place in Pakistan.
In the 70s, people in Trivandrum had no idea what Sarkar was talking about. Is erectile dysfunction a disease? With a cure? Can weak libidos be re-energised with medicines? Can I be manlier? A physician who stood up to such challenges that affect many people was unheard of during the time. That hit a nerve.
Sarkar didn't know Malayalam, so they could speak to him about their sexual inadequacies only through an interlocutor. That also could have helped. They found it comfortable to open up before a man who looked into their secret lives through a strange language that didn't strip them naked.
After the initial baulking, patients began to come in large numbers. His business flourished.
The ads he regularly gave in newspapers seethed not only in one corner of the page but also in many a worried mind who now desperately wanted to meet him personally. Eventually in the laid-back city of the south, a physician from Pakistan grew to become a legend.
His son SK Sarkar, who also specializes in the field, remembered that his father had a wrestler's body in his youth. Even after 40 years of practice in the city, he did not have a single friend. Perhaps, the patients who came to see him secretly didn't want to acknowledge the relationship elsewhere.
Sarkar lived lion-like, with a confidence that bordered on arrogance. Back in those days when he roamed around his city with his many wives and children in his Mark 3 Ambassador or Contessa, "he could buy half the city with the money he earned" just by inspiring confidence, instilling courage and upping libidos.
Sarkar was in the grips of Azheimer's for more than a decade before he died early this week. The places he saw in his long journey to Kerala from Pakistan, the problems his patients brought to him, the women he married along the way, the children he fathered, and his life in Trivandrum with his big family that hardly fit in to his Mark 3 Ambassador, all floated around like figments in his mind.
As the world moved on with new sex gurus popping up every minute in the virtual world, Sarkar lay in his bed oblivious to everything. Perhaps deep within him, an innocent boy, named Syed Ali, could have been wandering around the alleys of a town called Jalandhar in search of a girl he thought he once loved and perhaps lost.
| Edited by: Aakarshuk Sarna
Read full article
Countdown To
Elections Results
To Assembly Elections 2018 Results