With Mehbooba Mufti Out, Will Next Governor Implement Modi's Kashmir Doctrine?
While it looks like NN Vohra will get an extension for at least three months till the Amarnath Yatra ends, the speculations around a new Governor are also rife.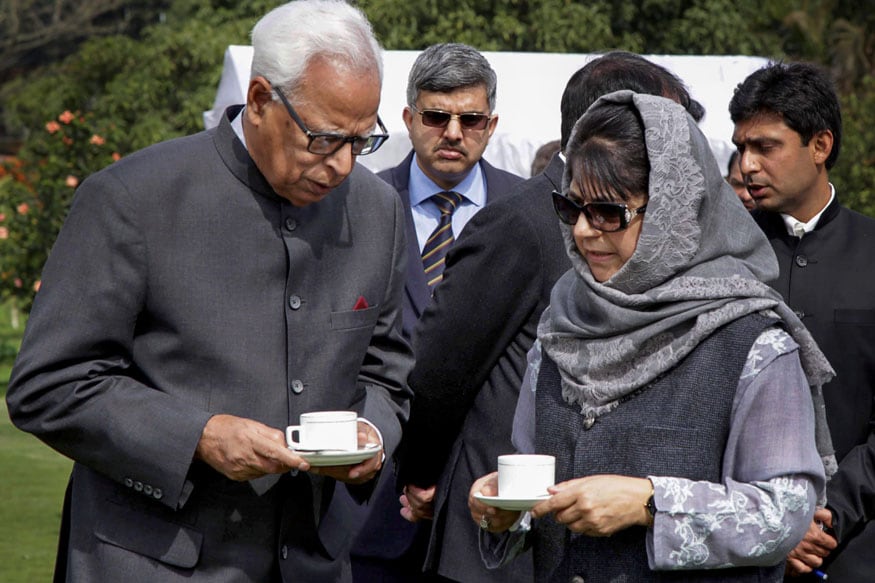 In this file photo, Governor NN Vohra speaks with former CM of Kashmir Mehbooba Mufti. (PTI Photo)
New Delhi: The state of Jammu and Kashmir is heading towards Governor's Rule with the Bharatiya Janata Party (BJP) pulling out of the alliance with the Peoples Democratic Party (PDP).
As NN Vohra's term is about to end, there are other faces that can find themselves in the race for the post.
However, according to sources, the change in Jammu and Kashmir Governor in the wake of threat to Amarnath Yatra is highly unlikely. While it looks like Vohra will get an extension for at least three months till the Yatra ends, the speculations around a new Governor are also rife.
Lieutenant General (Retired) Syed Ata Hasnain
Former Commander of Srinagar-based Chinar Corps Lieutenant General (Retired) Syed Ata Hasnain could be among the favourites to be the new Governor of Jammu & Kashmir.
General Hasnain has a legacy of connecting with the common masses. General Hasnain had, as General Officer Commanding in Jammu and Kashmir in 2010-2011, been at the forefront of Operation Sadbhavana, which in a way helped bring a relative calm to the Valley.
As a Brigadier, Hasnain served as Commander, 12 Infantry Brigade, on the Line of Control in Uri of north Kashmir. Having commanded 19 Infantry Division in Baramulla, Lieutenant General Hasnain was posted as General Officer Commanding 15 Corps in October 2010.
Dineshwar Sharma
The Centre's special representative on Jammu and Kashmir Dineshwar Sharma is also touted to be in the race for the new Governor in Jammu and Kashmir.
Former Intelligence Bureau (IB) chief Dineshwar Sharma, who was appointed as the government's special representative to carry forward a dialogue with all sections of the people in Jammu and Kashmir, is a 1979-batch IPS officer of the Kerala cadre and was appointed as Director, IB, in December 2014 for a fixed two-year term.
Sharma has earlier worked with Ajit Doval when the latter was IB chief. He headed the Subsidiary Intelligence Bureau of Uttar Pradesh when Home Minister Rajnath Singh was the Chief Minister.
Rajiv Mehrishi
Rajiv Mehrishi, the1978 batch Rajasthan Cadre IAS officer, who has worn many caps during his nearly four-decade journey as a bureaucrat, is also seen as the next possible Governor of Jammu and Kashmir.
Mehrishi is the current Comptroller and Auditor General of India (C&AG) and Chairman of United Nations Board of Auditors.
AS Dulat
Amarjit Singh Dulat, former chief of the Research and Analysis Wing, had time and again hinted that the PDP-BJP coalition would not survive 2018. Many political pundits in Kashmir say that Dulat could be the next Governor.
AS Dulat has worked in Kashmir for several years having served as the Intelligence Bureau's (IB) special director in Srinagar during former prime minister Atal Bihari Vajpayee's tenure. Not only did he supervise the intelligence network during this period, but he was also advisor on Kashmir in the PMO during Vajpayee's tenure. He went on to write an insightful book titled 'Kashmir: The Vajpayee Years', providing details about how Vajpayee handled this challenging state, and 'The Spy Chronicles: RAW, ISI and the Illusion of Peace'.
Get the best of News18 delivered to your inbox - subscribe to News18 Daybreak. Follow News18.com on Twitter, Instagram, Facebook, Telegram, TikTok and on YouTube, and stay in the know with what's happening in the world around you – in real time.
Read full article