Women who feast on chocolates enjoy sex more: Study
Desire, arousal, satisfaction better among women who love chocolates.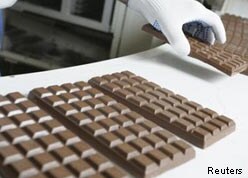 Desire, arousal, satisfaction better among women who love chocolates.
New Delhi: Women who feast on chocolates enjoy sex more—no this is not the plot of an erotic film but the finding of a scientific study.
Women who eat chocolate regularly have a better sex life than those who don't. They have the highest levels of desire, arousal and satisfaction from sex, says a study by researchers from San Raffaele Hospital in Milan.
The researchers led by Dr Andrea Salonia, author of the study, questioned 153 women about their consumption of chocolate and their experience of sexual fulfillment.
Salonia's group at the hospital asked the women to fill out questionnaires on their sex life and lifestyle. The women were between 26 and 44 years old, with an average age of 35. It turned out that 120 women, average age 35, reported they ate chocolate frequently, compared with 33 women whose average age was 40.4.
Salonia told the 'Health Day' website that both overall sexual function and sexual desire were greater among woman who ate chocolate than those who were more likely to spurn the sweet.
"Women who have a daily intake of chocolate showed higher levels of desire than women who did not have this habit. Chocolate can have a positive physiological impact on a woman's sexuality," notes Salonia's study which will be presented at the European Society for Sexual Medicine in London in February:
Salonia though warned that the link between chocolate and sex was not an established fact. "It seems alluring to hypothesise that chocolate can have a physiological positive impact over women's sexuality," he told 'Health Day'.
Salonia believes chocolate could help women who shun sex because they are suffering from premenstrual tension.
"Chocolate is not like a food, it is like a drug. Women who suffer mood swings as a result of their menstrual cycle may also suffer a dip in their sexual function. I strongly believe eating chocolate may improve their sexual function," Salonia told the website.
Get the best of News18 delivered to your inbox - subscribe to News18 Daybreak. Follow News18.com on Twitter, Instagram, Facebook, Telegram, TikTok and on YouTube, and stay in the know with what's happening in the world around you – in real time.
Read full article