Women's Day Special: Celebration of womanhood in 'Gulaab Gang', 'Queen'
This week's Bollywood releases truly celebrate the spirit of womanhood with films like 'Gulaab Gang' and 'Queen'.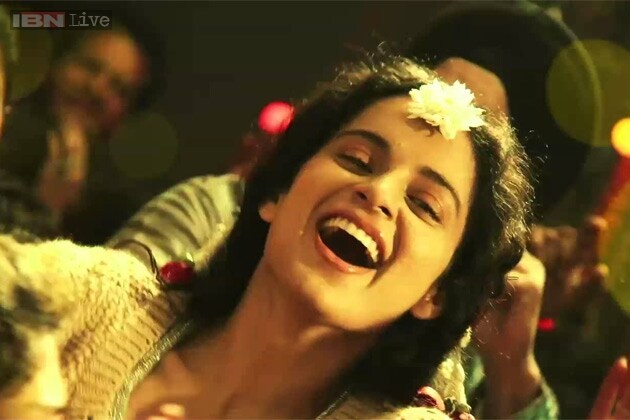 This week's Bollywood releases truly celebrate the spirit of womanhood with films like 'Gulaab Gang' and 'Queen'.
New Delhi: Women can be each others greatest strength and also their greatest enemy. Soumik Sen's latest Gulaab Gang highlights that how women in their own way can make a society more conducive for peace and harmony and can also harm it.
Playing a social vigilant in 'Gulaab Gang', Madhuri Dixit as Rajjo is symbolic to 'stree shakti'. She can be the caretaker, the calming factor in your life and also be aggressive when there is a need for it. As a matriarch who asserts empowerment of every girl in her village, she also tends to be messiah to women who have been shunned by their family, by the society. She insists on making them self reliant and urges them to draw strength from each other.
While the entire village, men and women alike, look up to Rajjo and her gang of girls and often go to them to seek justice, it is another woman who has problems with Rajjo's growing popularity and respect she gets from people around. As the shrewd politician Sumitra Devi, Juhi Chawla plays the antithesis to Madhuri's Rajjo. While Rajjo is compassionate and stands for what is right, Sumitra arm twists people to command respect and instills fear in them with her shrewdness. A poignant scene in 'Gulaab Gang' shows the stark contrast between the two characters well when Rajjo goes to Sumitra to seek justice for a rape victim and in return, the politician just offers a hefty compensation to end the case. The scene highlights how women can themselves be their biggest enemy and how it's not always a man who is to be blamed. In fact Soumik Sen's film barely follows the usual path of male bashing. Instead it focuses on two women, one who along with her group, is an agent of positive change in society, and other who has struggled in a male dominated world and has earned power and respect in her own ways and she doesn't mind crushing others, including women, who block her way to success.
While Soumik Sen's 'Gulaab Gang' shows a woman stand against another woman, director Vikas Bahl's 'Queen' takes you through the journey of self-discovery. Kangana Ranaut plays Rani, a girl from Delhi whose London returned fiancé decides to call it quits just a day before their wedding. Shocked and shattered, she decides to go on her honeymoon all alone to Paris and Amsterdam.
A woman, who always complies with her parents and fiancé demands, suddenly finds herself alone on foreign shores and the journey of self-discovery begins. In order to run away from her crumbling reality, she gets to taste the word freedom in the truest of its form. Rani meets Vijay Lakshmi (Lisa Haydon), a free spirited Parisian who helps Rani live life to its fullest. From breaking into the quirkiest of dance in a club in Paris to making pole dancers dance to her steps in a strip club, Rani tries to find her true self through each of the event that happens on her foreign journey. She very subtly brings the nuances of the way a woman is expected to behave in an Indian society, but interestingly, the subtly speaks volumes in 'Queen'.
In a scene, Rani while standing in a club in Paris remembers how her fiancé created a scene when she danced on her own ladies sangeet and then breaking away from the shackles, she dances her heart out. 'Queen' is not just Rani's journey of self-discovery but also makes every woman discover herself through the well-carved character. It's time to take the journey to live life on your terms and take the reins of your life in your hands.
Get the best of News18 delivered to your inbox - subscribe to News18 Daybreak. Follow News18.com on Twitter, Instagram, Facebook, Telegram, TikTok and on YouTube, and stay in the know with what's happening in the world around you – in real time.
Read full article