World Bank Team Visits Amaravati to Probe Allegation of Farmers
Several farmers from Amaravati complained that Andhra Pradesh government is forcibly taking away their lands and demanded that World Bank should not lend money to the new capital project.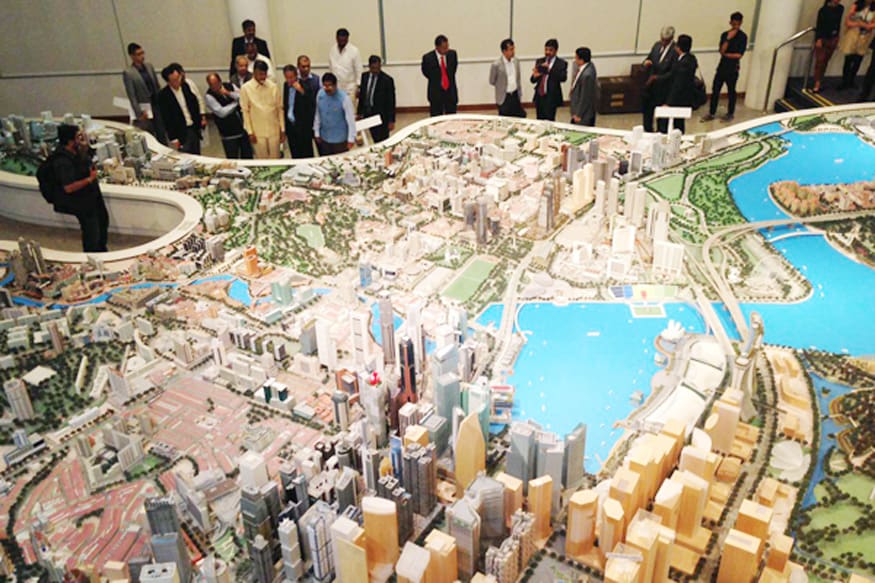 A model of Andhra Pradesh's new capital Amaravati.
New Delhi: A team of World Bank is on a three day visit to Andhra Pradesh's new capital Amaravati, after several farmers raised complaints alleging that the state government is forcibly taking away their lands and demanded that the bank should not lend money to the project.
The team is touring those villages who raised objections and speaking to farmers to ascertain facts before releasing the loan. The approval by the Board is scheduled in October 2017.
One of the farmer who is not willing to give up multi-crop agricultural land told the team, "We only know agriculture work and cannot do anything else. In a year, we grow 3 crops on these fields. There are over 300 people who work on my field. Where will these people go ? So I have refused to give my 30 acre land".
The complainants also alleged that the government is going ahead with the capital project without conducting environment and social impact assessment.
On May 25th, the World Bank Panel received "Request for Inspection" sent by landowners from the area proposed for the construction of Amaravati capital city in Andhra Pradesh, alleging harm from Land Pooling Scheme related to their livelihood, environment and food security.
Interestingly, on May 27th, the panel received another communication from a large group of farmers in support of the development objectives of the proposed project.
Taking into consideration both side, the panel registered the Request for Inspection, which concerns the Worlds Bank's proposed Amaravati Sustainable Capital City Development Project in India.
During the visit the world bank team is speaking to farmers from both sides, those who are objecting and also who have willingly given up their lands under land-pooling scheme for the new capital.
The ruling Telugu Desam Party has called it an attempt to derail the work of the capital by the opposition.
| Edited by: Bijaya Das
Read full article