World leaders pay homage to Nelson Mandela -'giant of history'
<p>Nearly 100 world leaders including President Pranab Mukherjee and US President Barack Obama came together in an unprecedented act of homage to Nelson Mandela describing him as a "giant of history".</p>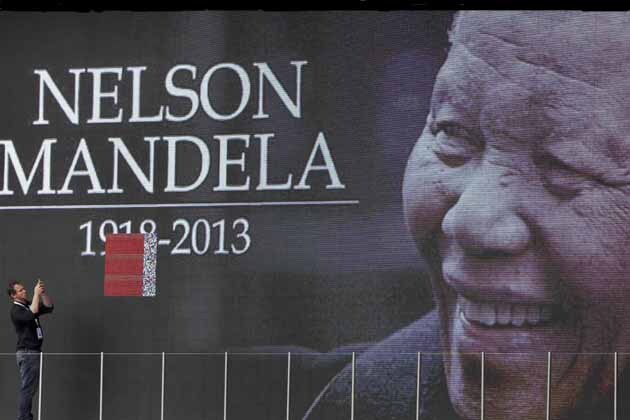 <p>Nearly 100 world leaders including President Pranab Mukherjee and US President Barack Obama came together in an unprecedented act of homage to Nelson Mandela describing him as a "giant of history".</p>
Nearly 100 world leaders including President Pranab Mukherjee and US President Barack Obama came together in an unprecedented act of homage to Nelson Mandela describing him as a "giant of history".
Sanskrit shlokas were read out from Hindu scriptures in a moving ceremony in the FNB stadium in Soweto, the nerve centre of his campaign, as tens of thousands South Africans gathered to pay homage to the anti-apartheid icon and first black President who died on December 5.
"It is hard to eulogise any man...how much harder to do so for a giant of history, who moved a nation toward justice, and in the process moved billions around the world," Obama said in a 20-minute speech punctuated by reference to the struggle for racial freedom in Africa and America.
Pranab Mukherjee, who headed a high level Indian delegation including Sonia Gandhi and Sushma Swaraj, in his eulogy, called Mandela an icon of irreversible social and economic change who never diminished his commitment to his kind of 'satyagraha' against injustice and inequality.
Obama also referred to Mahatma Gandhi when he said that Mandela, like Gandhi, led a resistance movement that at its start held little prospect of success.
UN Secretary General Ban ki Moon, African leaders including Robert Mugabe, the last white President F W de Klerk, Chinese Vice President Li Yuanchao and Afghanistan President Hamid Karzai were among the other leaders present.
The other world leaders on the stage included present and former Prime Ministers of Britain, French President Hollande and former Presidents including Jimmy Carter, George Bush, Bill Clinton and Nicolas Sarkozy.
As multi-religious prayers were said, a person of Indian origin recited Sanskrit shlokas to say that Mandela has attained immortality and that people were offering their humble worship so that he leads the world from darkness to light.
Mukherjee, who received a thunderous welcome when he entered the stadium, highlighted the strong political links between South Africa and India especially through Mahatma Gandhi having started his career here before leading India to freedom.
Mandela's widow Graca Machael, separated wife Winnie Mandela, children and grand children attended the ceremony that virtually into a long celebrations of the late leader. Songs of the anti-apartheid movement were sung as heavy rains pounded the stadium where he had made his last public appearance a few years ago.
One of the speakers that the rains signified that God welcoming him to heaven. Mandela's funeral is scheduled to be held in his childhood home, Qunu village in the Eastern Cape on December 15 and it will be a private affair.
Get the best of News18 delivered to your inbox - subscribe to News18 Daybreak. Follow News18.com on Twitter, Instagram, Facebook, Telegram, TikTok and on YouTube, and stay in the know with what's happening in the world around you – in real time.
Read full article