Would Have Held Dialogue With Burhan Wani if he Was Alive: Congress Leader
Saifuddin Soz said the Hizbul commander was a "symbol" of militancy in the border state and called for starting talks with separatists to resolve the Kashmir issue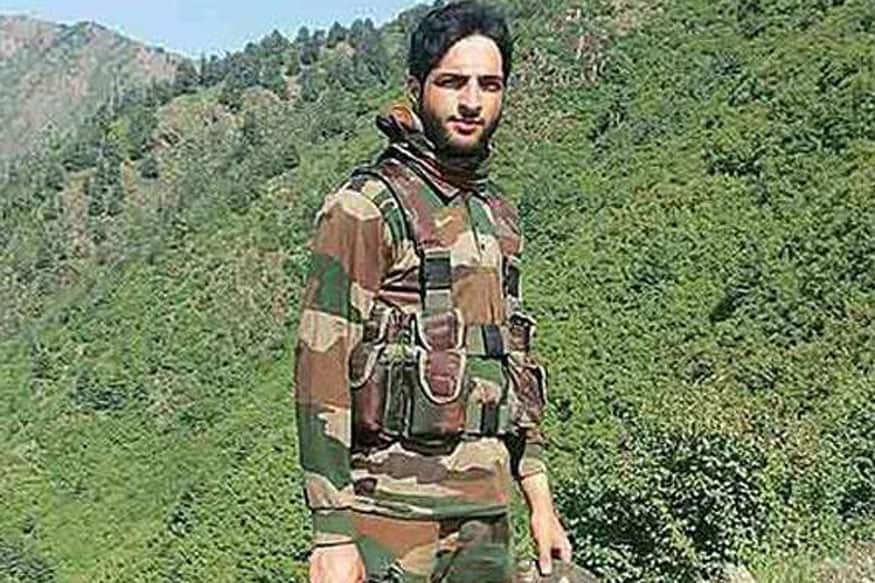 File photo of slain Hizbul commander Burhan Wani. (Picture courtesy: Twitter)
Mumbai: If veteran Congress leader Saifuddin Soz had his way, he would have held a dialogue with Hizbul Mujahideen commander Burhan Wani if he was not killed by security forces last year.
"Burhani Wani should have stayed alive so that I could have had a dialogue with him. I would have explained to him that Kashmir can become a strong bridge of friendship between India and Pakistan and he (Wani) could also be of help (in achieving it). But he is dead now," he told a TV news channel.
Soz's controversial comments came on the sidelines of a conference on the situation in Jammu and Kashmir organised by the Observer Research Foundation (ORF) here. Wani was killed by security personnel on July 8 last year. His killing had triggered violent protests in the Kashmir Valley that continued for months.
"Those who believe that he was a martyr can continue to believe so and those who believe he was murdered may do so. The incident has already taken place. We should try and increase friendship between India and Pakistan now and understand the pain of Kashmiris," he added.
Soz said Wani was a "symbol" of militancy in the border state and called for starting talks with separatists to resolve the Kashmir issue. "And how to deal with militancy? Through a dialogue. I want the government to talk to the Hurriyat Conference. If you can open a dialogue with us, open with the Hurriyat as well," he said.
Earlier, he said Kashmiris cannot be won over by the military force, asserting that the youths of the valley cannot be dubbed as "stone pelters" as they have a reason to revolt.
"The problem today is not in Jammu and Kashmir but in the minds of the people there, who feel alienated. Youth in Kashmir cannot be termed as misguided and stone pelters. Everyone wants to live in India but with dignity, love and affection, not with bullets," Soz said at a conference held here by the Observer Research Foundation.
Maintaining that it is impossible to run Kashmir using military force, Soz, a former Union minister, said "the RSS narrative" is totally unacceptable to the people of Kashmir.
The objective of the conference was to look at the 'Problems of Kashmir' through the prism of 'Kashmiriyat, Jamuhriyat, Insaniyat' and national integration.
Nasir Aslam Wani of the National Conference said Kashmiris still have to prove their Indian identity to the nation every single day. "Discussions on cow protection, intolerance is the order of the day. Hold discussions over these issues with us, also to make us feel included," he said emphasising on the need to hold discussions with all stake holders, including the hardliners.
"Holding talks hasn't hurt anybody except egos. Remember (former Prime Minister Atal Bihari) Vajpayee ji initiated talks with the Hurriyat. There should be composite talks with everybody to understand the minds of Kashmiris including the hardliners," Wani said.
TCA Raghavan, former high commissioner of India to Pakistan, who also took part in the discussion, said the 'k' in Pakistan stands for Kashmir.
"Kashmir is Pakistan's unfinished agenda. The sense of entitlement in Pakistan today has many dimensions," he said. Raghavan said during General Parvez Musharraf's tenure,
the capacity of the nation to bring about a consensus (over Kashmir) weakened and the most visible signs were violations across the Line of Control, terror attacks on suburban rail network in Mumbai and a number of terror strikes in India in a gap of 3-4 years.
Lt Gen (Retd) Syed Ata Hasnain, General Officer Commanding, 15th Corps, said that Pakistani military is an obstacle in the road to peace between the two neighbours.
"Unless its hold loosens, the situation cannot get any better. Pakistan's strength is not in its military but its strategic communication. They are able to entrench their opinion deep into the minds of Indians and Kashmiris," Hasnain said.
Gowhar Geelani, a journalist from Srinagar, said, "The problem is the mindset in Delhi vis-a-vis Srinagar which has remained frozen for seasons. Problems emanate from Delhi and Pakistan takes advantage of internal skirmishes," he said.
| Edited by: Aakarshuk Sarna
Read full article
Countdown To
Elections Results
To Assembly Elections 2018 Results