Yashwant Sinha Leads Farmer Protest in Maharashtra, Mamata Offers Support
The former finance minister, who has had frequent run-ins with the current BJP leadership, was detained on Monday evening while protesting against the state government's "apathy" towards farmers.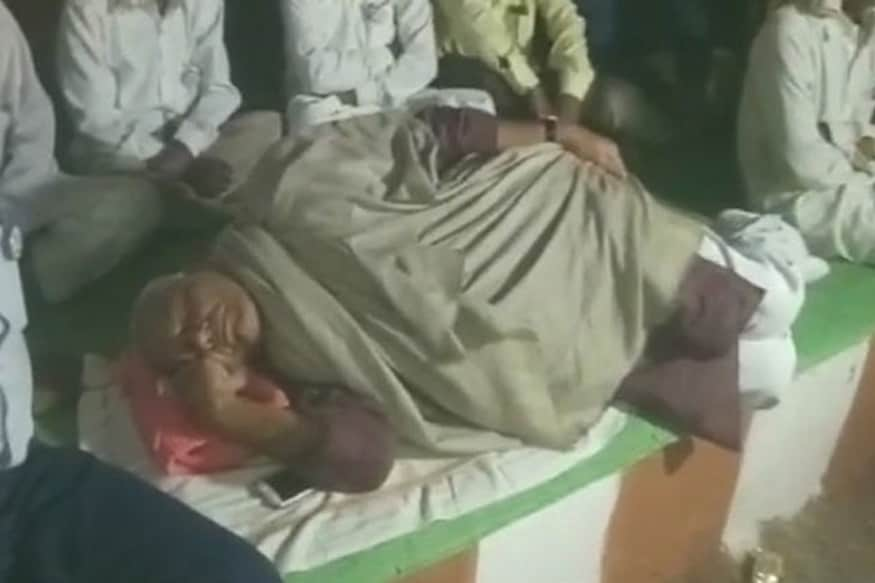 Yashwant Sinha spent the night with farmers at the police ground in Akola. (Image tweeted by ANI)
Mumbai: A defiant Yashwant Sinha on Tuesday vowed he would not budge from the Police Ground in Akola or end his protest till the demands of cultivators of Maharashtra's Vidarbha region get accepted.
The former finance minister, who has had frequent run-ins with the current BJP leadership, was detained on Monday evening while protesting against the state government's "apathy" towards farmers. He was taken to the district police headquarters and later released.
However, the 80-year-old leader refused to leave and spent the night with the farmers. Photos showed him sleeping on a wooden cot in the open ground.
"The district administration held talks with us till late last night but didn't accept our demands. We won't budge from this venue till demands of farmers are met," Sinha told reporters.
He has received support from West Bengal chief minister Mamata Banerjee. She said she was concerned about the BJP veteran and would send Trinamool Congress MP Dinesh Trivedi to meet him.
Sinha has also spoken to several local and national leaders about issues related to cultivators. He also talked with Shiv Sena president Uddhav Thackeray over the phone on Tuesday, Thackeray's media advisor Harshal Pradhan said.
Sinha said there has been no communication with Maharashtra chief minister Devendra Fadnavis over half-a-dozen demands of farmers.
"I feel the attitude of the administration and the government towards farmers' woes isn't serious. We are not a thing to be ridiculed, to be made fun of."
The district administration, however, claimed a majority of the demands raised by farmers have been accepted.
Akola Collector Astik Pandey said the authorities concerned have accepted six of the seven demands and requested the agitators to call off the protest.
The demands include compensation to cotton farmers for losses incurred due to pink bollworm infestation, action against companies manufacturing "bogus" biotechnologically modified seeds and 100 per cent payout for crop losses to moong, udid and soyabean farmers. They are also demanding that bank officials and administration execute loan waivers by personally visiting gram panchayats.
The other demands are uninterrupted power supply to agricultural pump sets, removal of "unjust" conditions from the gold mortgage waiver scheme of the government for farmers, and purchase of all farm produce at MSP by NAFED (National Agricultural Cooperative Marketing Federation of India).
"Except for the last one (related to MSP), which is a call to be taken by the Central government, we have accepted all six demands and have requested the protesters led by Sinha to call off their stir," Pandey said.
Sinha said the "excuse" about NAFED purchase is not valid as the BJP-ruled states like Madhya Pradesh and Gujarat have been procuring farm produce through their own systems. "Why can't the Maharashtra government (led by the BJP) then do it?" the bureaucrat-turned-politician asked.
Sinha, who arrived in Vidarbha three days ago to participate in the Kapus Soyabean Dhan (cotton, soyabean, paddy) Parishad, was detained, along with farmers, by police near the collectorate. Officials said after the detention of Sinha and 150-odd farmers, they were told around 9:30 pm that they were free and can go.
Since they decided to stay put, they were provided food, water, blankets and toilet facilities at the protest venue, Akola SP M Rajesh Kalasagar said.
(With PTI inputs)
Get the best of News18 delivered to your inbox - subscribe to News18 Daybreak. Follow News18.com on Twitter, Instagram, Facebook, Telegram, TikTok and on YouTube, and stay in the know with what's happening in the world around you – in real time.
| Edited by: Aakarshuk Sarna
Read full article