Yogi Government Stops Aid to 46 Madrasas Across Uttar Pradesh
Cabinet minister Laxmi Narayan Chaudhary said the decision to stop the grant to madrasas was taken as they were not up to the standards set by the government.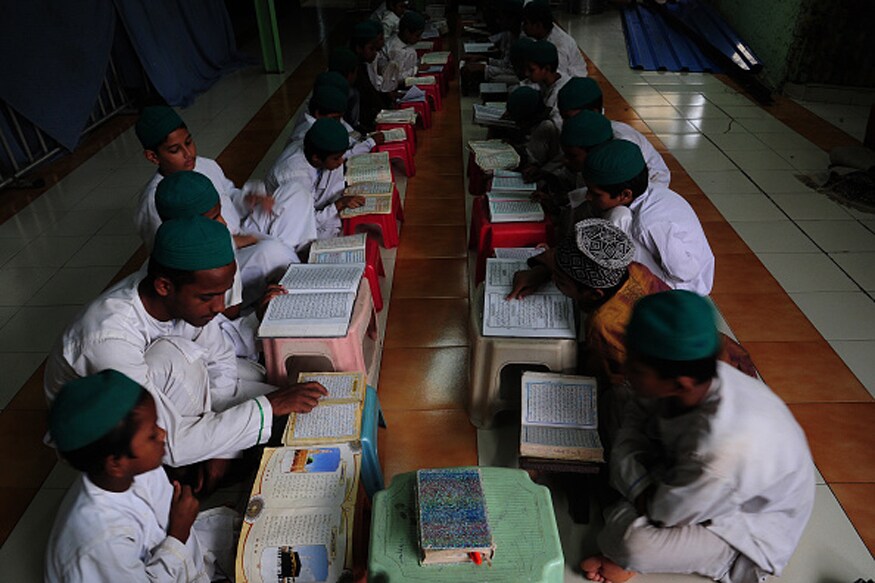 Photo for representation: (Getty Images)
Lucknow: After a detailed investigation for about two months, the Yogi Adityanath-led BJP government in Uttar Pradesh has decided to stop the grant given by the government to 46 madrasas, who were not as per the standards set by the government. At present, the state government gives grant to 560 madrasas across Uttar Pradesh.
A joint committee of District Magistrate, District Inspector of Schools and District Minority Welfare Officers was investigating the matter. The madrasas whose grant has been stopped by the government are from Kanpur, Kushinagar, Kannauj, Mau, Azamgarh, Maharajganj, Siddhartha Nagar, Mahoba, Shravasti, Banaras, Faizabad, Ghazipur, Jaunpur, Barabanki, Sant Kobirnagar, Jhansi districts.
The madrasas, on an average, get a grant of three to four lakh rupees per month, which includes the salaries of 15 to 17 teachers. The grant to the 46 defaulter madrasas has been stopped from April 2017, amounting to Rs 15-20 lakh.
Speaking to ETV, cabinet minister Laxmi Narayan Chaudhary said, "The government has decided to stop the grant to the madrasas who were not as per the standards set by the government. As of now, 46 madrasas have been barred from getting government grant after a detailed investigation was carried out by a committee which included DM, DIOS and DMWO."
The Yogi government also launched a portal for the registration of approximately 19,000 madrasas across state. Out of this only 3,000 madrasas have registered themselves on the portal till now. If the remaining lot fails to register their details on the portal then they could also face the action and could be derecognised from the madrasa board.
The move came in the wake up of complaints about irregularities in the madrasas, and it was aimed to bring more transparency in the working of madrasas under the madrasa board. On the launch of the portal on August 18, 2017, UP Waqf Minister, Mohsin Raza, had said, "There were many complaints of irregularities in madrasas and it was decided to make the registration online so that details of all madrasas, their management, teachers, etc are available online."
Get the best of News18 delivered to your inbox - subscribe to News18 Daybreak. Follow News18.com on Twitter, Instagram, Facebook, Telegram, TikTok and on YouTube, and stay in the know with what's happening in the world around you – in real time.
| Edited by: Aakarshuk Sarna
Read full article