Zeenat, Rehana, Sushmita - three clutter-breakers share same birthday
What's it about women born Nov 19 that makes them clutter-breakers of extraordinary dimensions?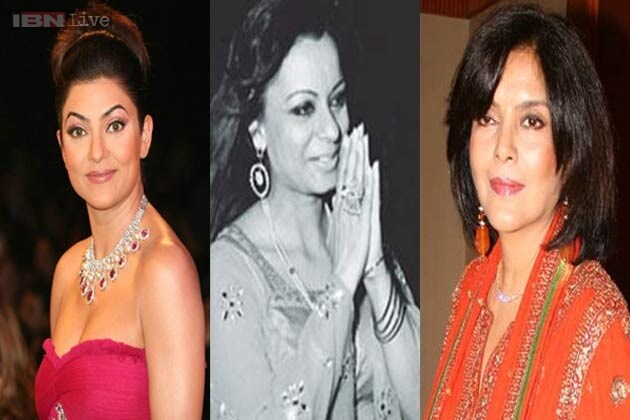 What's it about women born Nov 19 that makes them clutter-breakers of extraordinary dimensions?
Mumbai: What's it about women born Nov 19 - the birth anniversary of former prime minister Indira Gandhi - that makes them clutter-breakers of extraordinary dimensions? Actresses Zeenat Aman, Rehana Sultan and Sushmita Sen are perfect examples - fiercely independent, they redefined the Hindi film heroine and ushered in a new-age post-feminist female protagonist, who could look after herself quite well.
Here's a list of the five roles from the trio that broke the mould, and how!
Zeenat Aman's five ground-breakers:
1. 'Hare Rama Hare Krishna': Starting out your career as the heroine's sister? No way! Many leading ladies said no to the role of Dev Anand's hippy sister. Zeenat grabbed the part and added 'dum' to her career.
2. 'Satyam Shivam Sundaram': With her face scarred and her body more exposed than any mainstream heroine dared, Zeenat romped across this epic film with a couldn't-care-less grace that most heroines only dream about.
3. 'Manoranjan': Here, Zeenat played a full-blown streetwalker in Shammi Kapoor's directorial debut. She oozed oomph in the shortest of dresses.
4. 'Pyaas': She played a sweeper, yes you heard right, in this film, directed by her discoverer O.P. Ralhan.
5. 'Roti Kapada Aur Makaan': Another unconventional role where the heroine dumps her middle-class jobless boyfriend to marry wealth. Sharmila Tagore had refused the role.
Rehana Sultan's five ground-breakers
1. 'Chetna': A prostitute who can't adjust to a life of a normal housewife. It couldn't get any bolder than that.
2. 'Dastak': A Muslim housewife who moves into a home earlier occupied by a prostitute and must deal with leery men knocking on her door all day long. Even today, heroines who pride themselves on their unconventional choices, would shudder at the prospect of doing this one. It won her a National award.
3. 'Prem Parbat': Playing a 20-year-old woman married to a 75-year-old man, Rehana was assigned the thankless role of a woman whose sexual needs were frankly addressed by the script. She rose to the occasion.
4. 'Savera': Here's the thing. Rehana Sultan could play against conventions and get away with it. In this film, she plays a girl pregnant with her dead lover's child. She hides the pregnancy to the man chosen for her marriage, only to discover later that he's incapable of siring children. Can't get any bolder than that.
5. 'Sajjo Rani': A prostitute's daughter looking to break away from the family profession. Finally, it was her bold eschewal of stereotypes that destroyed Rehana Sultan's career.
Sushmita Sen's five ground-breakers
1. 'Sirf Tum': Imagine playing the other woman in a Sanjay Kapoor-Priya Gill love story! But Sushmita took the risk. She never cared about the length or the impact of her role.
2. 'Biwi No 1': While Karisma Kapoor got into a sari, Sushmita again played the other woman, but with a certain elan.
3. 'Chingaari': As a hard-hitting village prostitute, Sushmita tried hard to eradicate her chic and svelte personality. Full marks for trying.
4. 'Samay: When Time Strikes': Another gritty unconventional part of a cop and a single mother tracking down a serial killer.
5. 'Filhaal...': In this film, Sushmita played a surrogate mother to her onscreen best friend Tabu's baby.
Get the best of News18 delivered to your inbox - subscribe to News18 Daybreak. Follow News18.com on Twitter, Instagram, Facebook, Telegram, TikTok and on YouTube, and stay in the know with what's happening in the world around you – in real time.
Read full article