Recipe Alert: 'Shakshuka' all the way from Middle East for Egg Lovers!
A sumptuous recipe for that awesome satiety.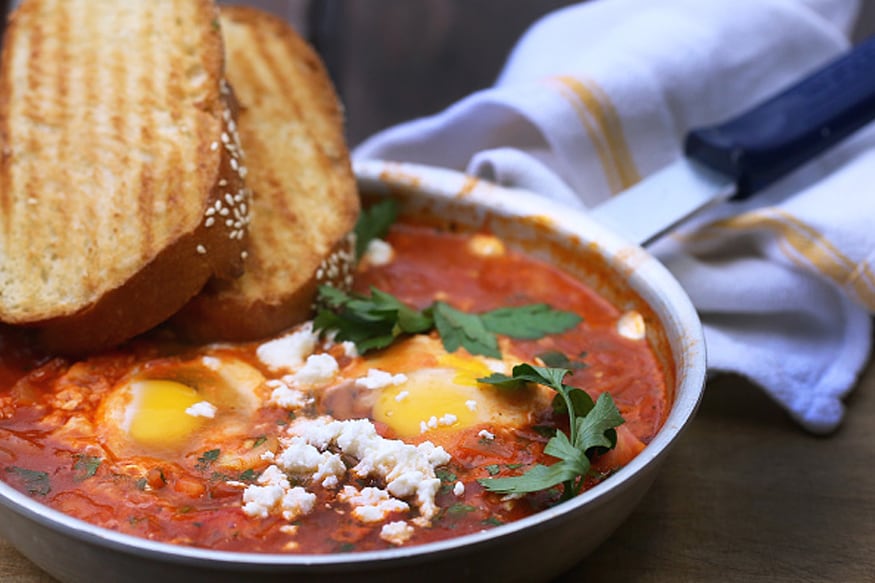 Egg lovers can find all the good reasons to include eggs in their spring breakfasts, evening snacks, or post-workout dinners. However, why settle for just boiled or scrambled, when you can toss a sumptuous recipe for that awesome satiety filled every bit with nutrition. Here's 'Shakshuka' all the way from Middle East for you:

All You Need for Shakshuka:

6 Eggs
6 medium tomatoes, diced
2 cups Swiss or red chard, chopped (can use spinach too)
½ cup chickpeas, boiled
1 white onion, diced
4 garlic cloves, minced
2 teaspoons paprika
1½ teaspoons cinnamon
1 teaspoon cumin
½ tablespoon red pepper flakes
Fresh basil for garnishing
1 tablespoon olive oil

How to make Shakshuka?

Step 1 – Preheat the microwave oven to 400°F
Step 2 – Heat olive oil in your ovenproof skillet over medium heat, add onion and garlic and sauté for 5 minutes, add chickpeas and stir for another 3 minutes.
Step 3 – Add diced tomatoes, cumin, cinnamon, paprika, red pepper flakes. Mix well and let it simmer for 10 minutes.
Step 4 – Add Swiss chard/spinach and stir for a minute or two.
Step 5 – Create 6 small wells in the prepared mixture and fill each with one egg without breaking the egg yolk.
Step 6 – Shift the skillet to the preheated oven, and bake for 15 to 20 minutes, until the egg-whites are settled.
Step 7 – Garnish with fresh basil leaves (add coriander to give an Indian twist), serve hot and enjoy in a company of 3.

Hi-Points:

Shakshuka gets a high five from fitness experts as this yummy meal packs 20 grams protein and 40% of your daily fiber need, all in 350 calories!

LIVE TV
indiwo_article_consumption_scroll