This Food Recipe is Sure to Evoke the Christmas Feeling in You!
Indulge in some sweetness, this Christmas.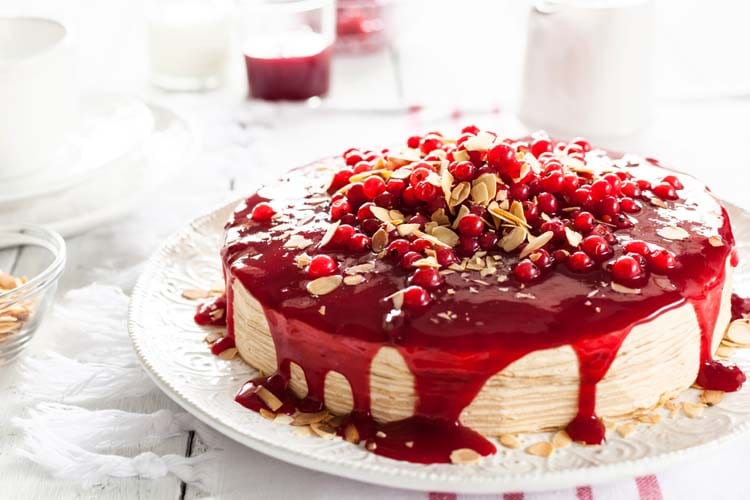 Christmas is just around the extended weekend, paving the way to an extended holiday of fun, faith, feast, and frolic. Foods are an important part of this festivity and a Christmas Fruit Cake surely evokes the Christmassy Feeling.
If you are delving into baking your own Christmas Fruit Cake at home, but haven't prepared as yet, then start out immediately, get hold of a load of dry fruits, soak them in a fabulous wine/rum/sherry and orange/apple juice mix, you still have a few days to lend that bitter-piquant flavor to your Christmas Cake!

What Do You Need?

1. 1 KG Dry Fruits & Nuts (Create a hale and hearty mix of dried black currants, raisins, cranberries, figs, prunes and cashew nuts)
2. 50ml Sherry/Wine/Rum + 250ml Orange/Apple Juice
3. Orange and Lemon Zest
4. 200gms Brown Sugar
5. 250gms Butter (softened)
6. 175gms Flour
7. 100gm Almonds (grounded)
8. 100gm Almonds (slivered)
9. 4 Large Eggs
10. 1 tsp vanilla essence
11. 1 tsp Cinnamon (grounded)
12. 1 tsp Cloves (grounded)
13. 1 tsp Nutmeg (grounded)
14. 1 tsp All Spices Mix (grounded)

How to Bake a Christmas Fruit Cake?

Step 1 - Soak the dry fruits in the liquid (wine + juice) and keep it in an air-tight jar for 2 days. Alternatively, if you are a last-second baker, then mix butter & sugar to the above two items in a large pan and put it up on medium heat. Bring it to a boil and simmer for about 5 minutes. And then let it cool.
Step 2 – Sift the flour and spices gently in a large bowl and keep aside
Step 3 – Whisk the eggs
Step 4 – Whip the butter and sugar for 2-3 minutes to work up a smooth mix, add whisked eggs slowly and continue blending for another 2-3 minutes
Step 5 – Stir the blended eggs in the flour mix slowly to let the air pass in
Step 6 – Mix the soaked dry fruits, orange and lemon zest to the above batter and fold slowly
Step 7 – Preheat Oven to 150C
Step 8 – Prepare a deep 20cm cake tin by first buttering it, then putting the parchment paper, buttering the parchment paper layer and then evenly spreading the cake mix followed by layering the parchment paper over the top
Step 9 – Bake for 2 hours
Step 10 – Let it stay inside the oven for another 30 minutes
Step 11 – Let it cool and serve!

Merry Christmas!

LIVE TV
indiwo_article_consumption_scroll