Why buy commercial Flavored Yogurt when you can make Your Own
Try these fruit yogurt recipes at home.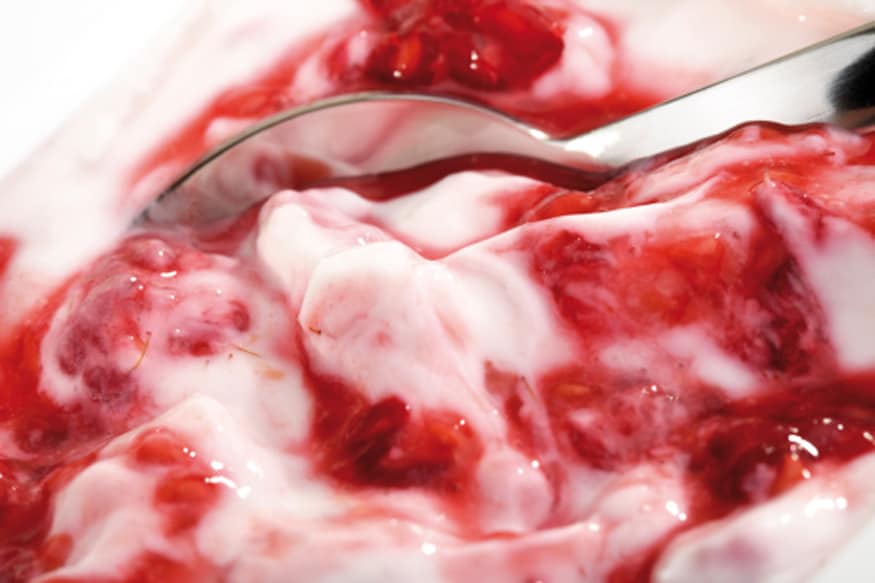 Strawberry and Mango flavored yogurts are a hit in the summer season. Flavored yogurt is a much better alternate to ice-creams given the rate of obesity and nutrition deficiency in children. However, if you are swapping the ice-cream with packed/store-bought flavored yogurts then mind it these packs contain oodles of refined sugar, artificial color/flavor and just traces of fruit. And, did you know that live cultures or the probiotics cannot survive in sugar. So the very purpose of consuming yogurt (a probiotic) fails when you consure commercial flavored yogurt.

So a simple question pops up here, Why buy readymade Flavored Yogurt when you can Make Your Own?

Homemade flavored yogurt is easy to make!

Retains probiotics of yogurt,
Adds micronutrients of fruits,
Is good for your health,
and easy on your pocket too.
How to make Flavored Yogurt at home?
.
Step 1 – To make 2 cups of flavored yogurt, take 1¼ cup of plain yogurt.

Step 2 – Dice strawberries/mango/raspberries/banana/#yourfavoritefruit and blend it with ¼ cup of yogurt for just about 20 seconds if you like bits of fruits in your cup or continue for a minute for a smoother texture.

Step 3 – Mix the blend with rest of the yogurt and whisk gently to combine.

Step 4 – Pour your healthy-real flavored yogurt in two cups or mason jars, cover and refrigerate for 2 hours or savor it right away.

These healthy homemade options are way better than their readymade counterparts that contain negligible amount of fruit and more of nature-identical flavors (read chemicals).

Gorge on real food to relish real flavors and enjoy good health!

LIVE TV
indiwo_article_consumption_scroll