Indiwo
»
Parenting And Family
»
news
2-MIN READ
Why and How to Manage Screen Time in Children?
Tell them when to ditch their mobile phone.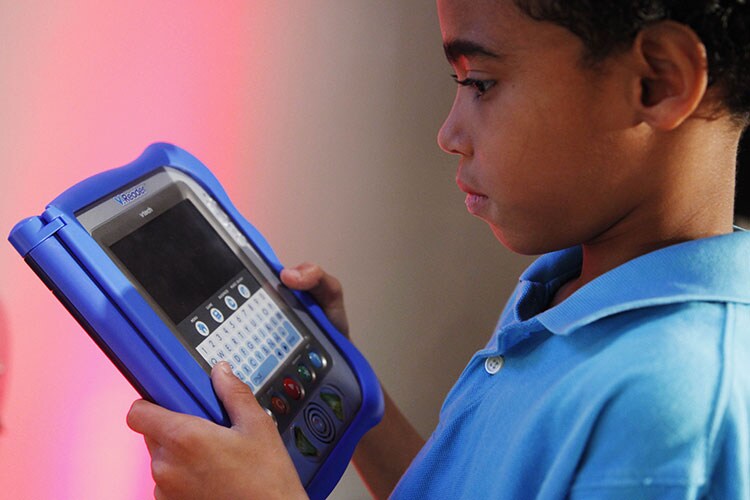 Technology has woven us in its web in such a way that we just cannot avoid it. Television, smartphones and computers have become an indispensable part of our lives. Our dependency on screen time has increased to the extent that toddlers do not eat until they see rhymes on a cell phone or their favorite cartoons on TV.

Why You Must Reduce Screen Time in Children?

1. An average adult head weighs about 4-5 kg and this weight is supported by tiny bones of our neck. When we slouch over at an angle of 45 degrees to look into our mobiles, it is equivalent to placing a 22 kg weight bar on our neck. The results are evident with cervical, backache and many more issues. Imagine these numbers with our children. Their bodies are still under development and this kind of stress can be really harmful to them as they grow.

2. Apart from the physical impact on their body, the blue light emitted by TV, smartphones and computers impact their eyes the most. The result is dry eyes. And if ignored for long, it adversely affects their eyesight.
3. Last but not the least, the neural impact of screen time cannot be ignored. Prolonged screen time leads to mental fatigue in children. The harmful radiation emitted by these gadgets too impact their body parts and functioning.

How to Manage Screen Time in Children?

Knowledge is power and parents can pro-actively use their knowledge and past experience to manage screen time in their children whether they are toddlers, pre-teens or teenagers.

1. Walk the Talk

If you want your children to lessen their time online, you must show them how. Ditch your mobile phone and computer and take a walk with them, play a game of football, teach them how to cycle or skate. Build a castle or read a storybook or just sit and talk about random things they experience at school. When they see YOU using less of technology, it reinforces the thought that you want to convey.

2. Set a Limit

Set screen time limit for your kids and mean it. Watching TV for about half an hour or playing one game on your mobile is not going to hurt. Switch off the television or take that cell phone as soon as the time gets up. If you do not follow what you say – the children will take these set limits for granted.

3. Engage your Kids

Most kids feel bored at home and hence turn to TV or mobile phones. Plan interesting activities like visiting a zoo or a museum or plan a picnic during weekends. Bring age-old indoor games like Carom board, scrabble, blocks, snake and ladder board games, cards, etc for your kids. Involve them in helping with household chores like watering the plants every evening or DIYs when kids are home during a weekend or holidays.

LIVE TV
indiwo_article_consumption_scroll