Hot Air Ballooning In Bagan Is a Magical Experience In Itself
Flying above the clouds!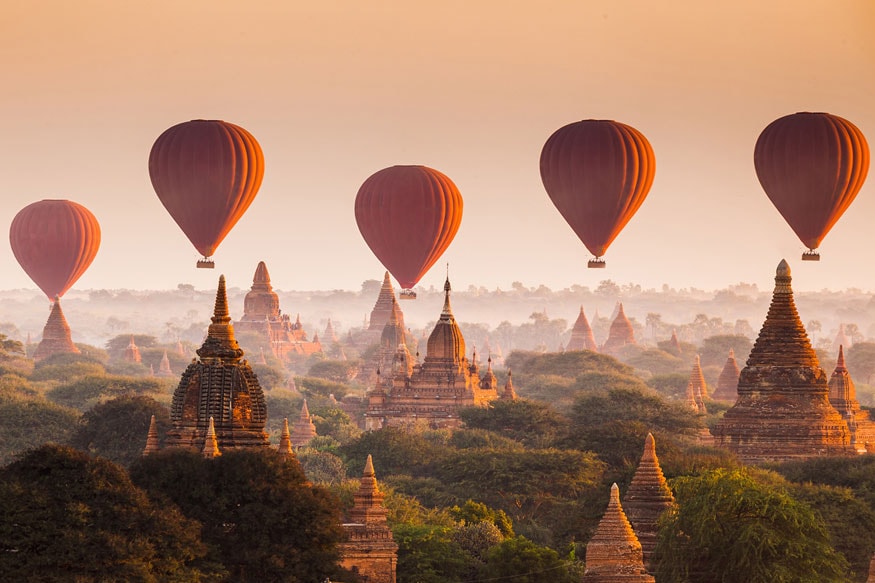 Bagan is the kind of place that God might pick to take a vacation at. When we were thinking about visiting Myanmar, I realized that a must visit place was Bagan. This was an ancient kingdom in central Myanmar. In the days of old, Bagan was a rich region, and everyone who was anyone in the kingdom decided to show their gratefulness to the Gods by building a Pagoda. And then the kingdom declined and there were earthquakes and Bagan was in ruins. Its hazy for me, about what happened between the 13th century to present day in the kingdom, but right now, more than 2000 Buddhist temples dot the green landscape.
If you throw a stone in Bagan, chances are you will hit a pagoda. Don't get me wrong, I don't mean to be disrespectful, but the town is full of pagodas. You might know them as Stupas. And by the end of a couple of days of looking at the variety and variation of Pagodas that exist in Bagan, you might begin (as we did) to call them pakoras! I almost feel like I need to apologize for that lame attempt at humor, except, it's true!!

Bagan is a photographer's delight. It's one of the prettiest places I have visited. There is something about the sunlight shining onto the thousands of brick pagodas that dot the landscape. We visited in December when the skies were a cloudless blue, the land was a shiny green and then you have the Pagoda's at every turn, a rich reddish brown brick color. It's breathtaking.

We did all important ones like Shwe-Zi-Gone pagoda and Ananda temple and Htilominlo before lunch. I know the names are difficult and they won't mean anything until you visit Bagan! We won't be offended if you cannot pronounce them! I think places and names only come alive when you visit them.

After lunch, we went to a Lacquerware museum to observe the process of making authentic Lacquerware and then we took a sunset horse carriage ride through the villages and fields of Bagan to climb to the top of a pagoda for sunset. It was glorious. So far, I have seen the sunset three consecutive nights in a row in Myanmar and each one has been inexplicably beautiful.


We didn't know Bagan was famous for Ballooning and I am not sure which sight is more breathtaking…the vista of the pagodas from the balloons or the vista of the balloon from the pagodas. It's a catch 22 deciding which one we liked better. The morning we decided to watch the sunrise from a Pagoda was one of the best mornings of my life. We woke at dawn and walked the dusty trail from the hotel to the chosen pagoda and scrambled up the steep-steep steps to the top. There were quite a few with the same idea and we jostled for the best views facing east. We waited and waited will the few clouds moved away and suddenly, we saw the first rays of the sun touch the very top of the pagoda. Slowly, slowly the sun rose and then we saw the balloons, first one, then two, then five, then sixteen. There were sixteen balloons dotting the sky, first mere shadows against the rising sun and then we saw them go higher and higher before gently coming into land.

If you ever get the opportunity to go to Bagan, don't waste the day by sleeping in. Get up and go watch the sunrise from a Pagoda. I promise that it will be worth every minute of lost sleep.

Happy travels!!

Author: Liane Ghosh, For Wonderful World Getaways
LIVE TV
indiwo_article_consumption_scroll