Kundali Bhagya: Karan Finds Out Sherlyn Is A Drama Queen
September 26th episode written update for you.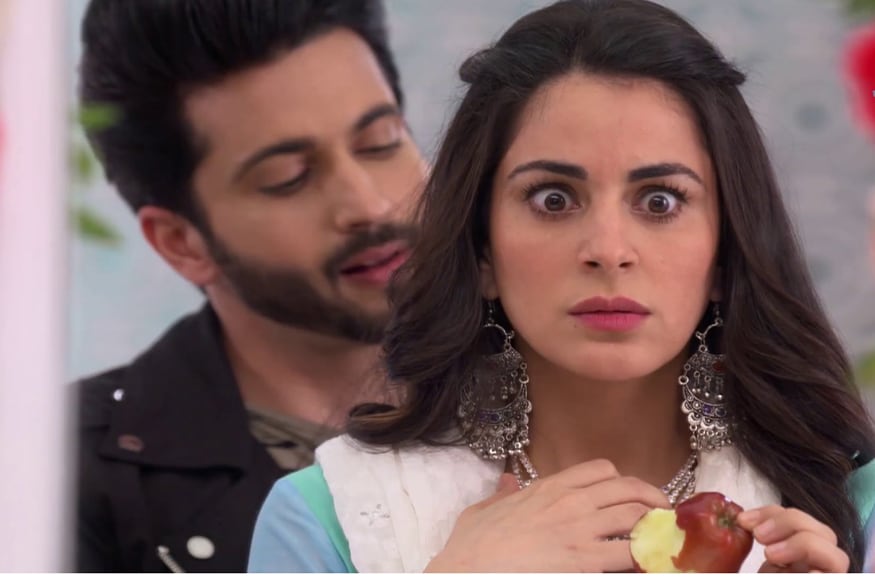 Kundali Bhagya September 26th Episode starts with Preeta telling Karan that she shares a strong bond of love with Rakhi Aunty and family. Preeta asks him to trust her for Sherlyn's conspiracy. Karan disconnects the call. Karan decides to talk to Sherlyn about all this so that he can save things from getting out of hands. Sherlyn comes to their house and Karan takes her to his room. Karan tells Sherlyn that it sounds stupid but according to Preeta, Sherlyn is the culprit behind whatever happened at the engagement.

Sherlyn responds slyly and tells Karan that Preeta is just a narrow-minded middle-class girl who thinks that Sherlyn is jealous of her closeness with Rishabh, but in high-society these things are normal. Sherlyn blames Preeta for being jealous of her and trying to malign her by saying such things. She drags Kareena between the discussion and says that even Kareena Aunty feels the same for Preeta. She suggests Karan to stay away from Preeta.

Karan observes Sherlyn's expressions carefully. Karan further tells her that Preeta was trying to find her last night at their home and she was not there. Karan plays smart and doesn't tell Sherlyn about all the allegations Preeta had raised against her. Sherlyn gets unnerved and says that she was here in Rakhi Aunty's room only. Karan thinks that if Preeta was here, there must be some proof of that.

Karan recalls Preeta's words about Sherlyn's role in food poisoning and her boyfriend. Then he thinks if Sherlyn was here then Preeta must have been lying.

Sherlyn goes downstairs and tries to restore her calm. She thinks that if Preeta had gone to her home and seen her with her ex, then she must have created a ruckus about the same until now. But nothing of that sort happened. Therefore, Preeta doesn't know about anything and she must relax and stop getting anxious.

Srishti is lost in Sameer's thoughts. Dadi asks what she is thinking about. Srishti says there's nothing. Dadi insists and Srishti asks that is it possible to tell your problems to someone you hate. Dadi suggests that it is not possible to share your problems with someone you truly hate. But at the time we may perceive that we have someone but in reality, we don't.

Karan goes in Rakhi's room and she tells him that the whole night his dad was here, taking care of her. Karan feels surprised and tells that Sherlyn was here last night in her room. Rakhi tells him that she wasn't here at all and in fact, she just came here two minutes ago and asked her to take rest and just left without sparing some quality time with her. That's it. Karan gets into the dilemma that if Sherlyn wasn't there in Rakhi's room last night then what Preeta is saying, could be right. He thinks of asking his father.

Srishti and Dadi ask Preeta about her conversation with Sherlyn last night. Preeta thinks of not divulging details as yet. She says that Sherlyn wasn't there. Srishti doesn't trust her and asks why she was so tensed if Sherlyn wasn't there. Preeta says that they must focus on getting mom released from the prison first.

Rishabh could not concentrate on his work and recalls how Preeta asked for his help and he just could not do anything. He thinks of calling Preeta and apologizing. He takes out the phone to call Preeta and Sherlyn arrives.

Dadi asks Preeta to go and give the packet to Police and lodge a complaint against Sherlyn. She says that police won't agree as they are powerful people. Preeta tells them she will rather hire a good lawyer to get Sarla out of jail.

Rishabh asks Sherlyn if she had reached home comfortably last night. Rishabh is lost in Preeta's thoughts and Sherlyn feels annoyed.

Meanwhile, Karan meets his dad and he also repeats that Sherlyn wasn't in Rakhi's room last night and had left soon after they reached home.

Karan reaches porch where Rishabh and Sherlyn are standing together, Sherlyn doesn't realize that Karan is there and to attract Rishabh, she drags the rug near her and purposely falls so that Rishabh holds her in his arms. Karan comprehends that Sherlyn is a drama queen and a big liar as becomes aware of her cunning personality.

LIVE TV