Kundali Bhagya: Rakhi Comes to Rescue Karan
September 29th episode written update for you!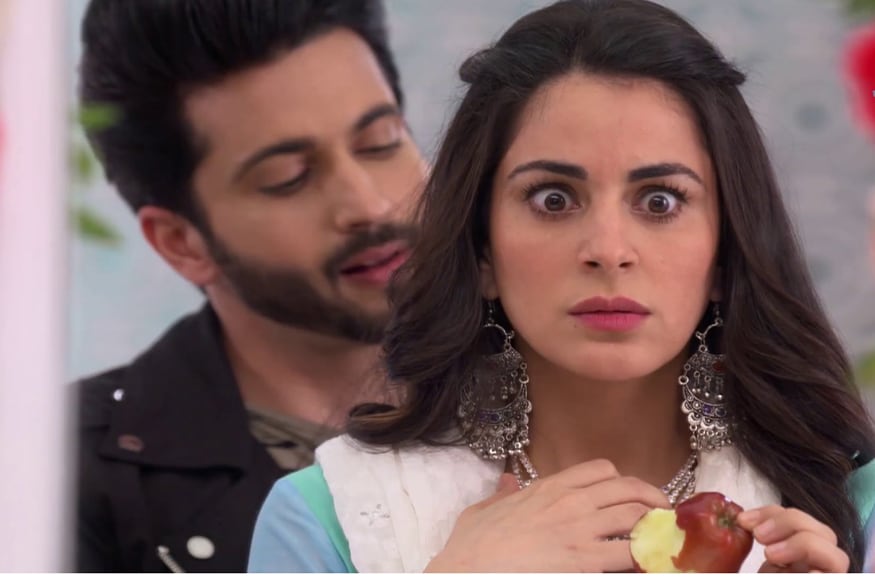 Kundali Bhagya September 29th Episode starts with Karan driving back home and thinking what he will answer to Kareen bua if she questions him for helping Sarla get out of jail. He thinks of a lot of answers and then decides that he will just say what he thinks right at the moment.

Everybody is gathered in the main hall. Kareena calls Rishabh and asks if he respects his mom, he says yes. He asks why she has called everybody here. She makes Dadi and Mahesh emotional and brings them to her side before saying that when Preeta didn't get help from Rishabh, she tricked Karan and he's taken the case back from the Police station. There's a sigh of relief on Rishabh's face as he tries to hide his smile. Kareena further blasts that because of the lady due to whom his mother had to go through so much pain, he has withdrawn the case against her without consulting anyone in the family.

Preeta is anxious and Srishti blames her that she must have fought with Karan again. Sristhti goes on scolding Preeta. Preeta stays quiet and Srishti tries to walk out, Preeta calls her back. Preeta then tells her that I've just told mom about Sherlyn's role in mixing toxics to the food. Srishti asks Preeta if there's more to Sherlyn than just that. Preeta doesn't tell Srishti about Sherlyn's ex and tries to deviate the discussion.

Karan arrives home and Kareena says that he has shocked everyone. Sherlyn interferes and Karan tells her to stop. Mahesh asks Karan to behave with Sherlyn as she is going to be his badi bhabhi. Karan asks Rishabh to speak. Rishabh tells Karan, that does he carry more sympathy towards Preeta than him. Sherlyn and Kareena feel jealous. He goes on to say that seeing Sarla ji and Preeta in pain, no one was as hurt as him. But still, even after Preeta's requests, he didn't help her, because family comes first. And we need to follow the rules of keeping the family first always.

Sherlyn plays another ploy and tells Karan to lodge the complaint again and this time lodge another charge of 'attempt to murder'. Rishabh asks Sherlyn to relax.

Preeta and Srishti discuss about Karan and Srishti tell her that they must help him as he doesn't stand a chance in front of Kareena and Sherlyn's cunningness. Preeta tells her that Karan has asked to handle all this himself. Srishti says that they need to unveil Sherlyn's reality in front of everyone and show the packet. Preeta asks her to hold on before making any move. Srishti calls Sherlyn a psychotic who has impressed Kareena with her superficial goodness.

At the Luthra house, Kareena backs Sherlyn, she says that Karan needs to prove his love for them only then they will forgive him. Karan says that he never asked for forgiveness and he will not do anything like that. Everybody is surprised to get a blunt answer from Karan. Karan's father asks him to do as Kareena says and scolds him for being rude to bua.
Sherlyn asks why he's going against everyone. She insists Karan to tell the reason. Karan is about to say something and suddenly Rakhi comes and says that she is the reason. She says that she's really angry with everybody here. And Karan has not done anything wrong, it was her decision to take the case back and take Sarla ji out of jail. She says that I had given this responsibility to Karan.

Karan's father is about to say that it was Rakhi only who wanted Sarla to be in jail, but before he could say, Kareena intervenes and says that you are attached to Preeta that's why you are forgiving them now, otherwise earlier when everybody was critical in hospital, even you were upset.

Sherlyn pitches in that due to Preeta and her family, the biggest function of her life was spoiled. Rakhi interrupts her that this function could not have happened in the first place if Preeta wasn't there. She further adds that from the last 3 years, everybody was trying to convince Rishabh to get married but he agreed only after Preeta's request. Kareena intervenes and Rakhi shuts her up by saying that as if in Kareena's supervision no function had ever failed. She reminds her that on Rakhi and Mahesh's anniversary, Kareena had forgotten to order the cake itself and the whole function had flopped. On another occasion, when the boy-side had come to see Rishabh's sister, Kareena had arranged candlelight dinner and a candle fell and burnt the whole house. So did she do all this intentionally to burn the whole family?
Kareena boils and says that enough has been said. Rakhi then apologizes to Kareena and says that the whole family knows that Kareena could never do anything like this intentionally and she always wanted the functions to be celebrated well. But mistakes happen, accidents happen. And same happened with Sarla and Preeta too. They wanted to do their best but something went wrong.

Rakhi suggests the family to dump the issue here itself as it was no one's fault. She asks the family to allow Preeta and Srishti come back in the house. Kareena feels dejected while Sherlyn leaves.

LIVE TV
indiwo_article_consumption_scroll