Mahakali Ant Hi Aarambh Hai: Will Karva Be Able to Save Her Husband?
Episode 24 October 8th 2017 episode written update for you.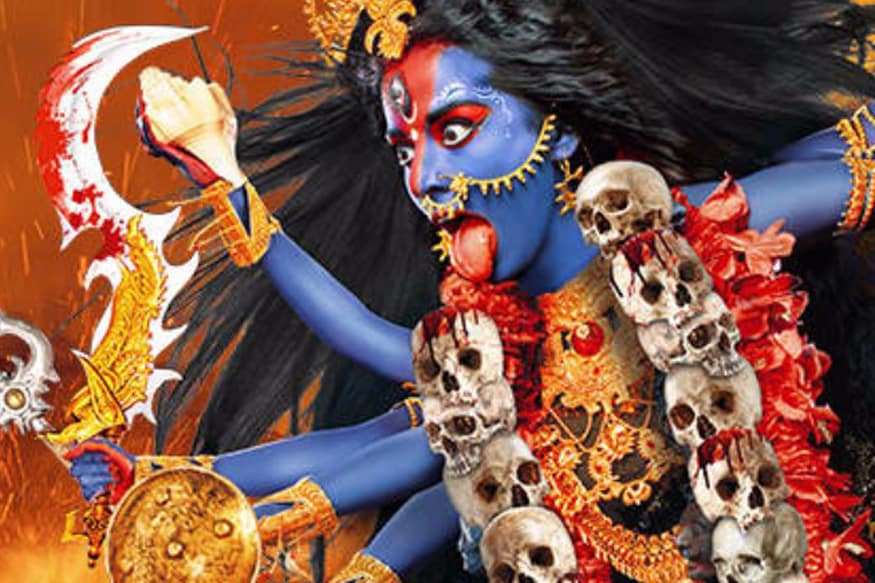 In the October 8th episode of Mahakali Ant hi Aarambh Hai, Shumbh falls in Parvati's ploy as she asks him to decide whether he wants to win immortality yet lose his dream or win the battle and win her too along with immortality. Shumbh says that this will be your prarabdh (fructification) Parvati. He agrees to fight her.

Kartikeya is irate on Shiva for stopping Mahakali from killing Shumbh. Shiva says that sometimes for higher accomplishments small sacrifices are required. Kartikeya says that if she's not able to complete her promise then he will leave Kailash forever. Shiva asks him whether or not to trust his father, but he must trust his mother.

Asurs (demons) tell Shumbh that Mahakali is deceiving him into fighting. Kaal Ratri asks Shumbh to clarify his stand that nobody has pushed him to fight and it is his own decision. Shumbh insults asurs and says that it is not his sole responsibility to fend asurs, he wants to get Parvati and nothing else. Shumbh challenges Kaalratri to fight him and 7 others avatars of Navdurga appear. Shumbh says that Mahakali got fearful from him and sent these devis.

All devis take shape of Mahakali and immerse in one. Mahakali appears in her elaborate avatar and Shumbh attacks her. In one blow, she throws him away. Shumbh says that Mahakali has tricked him but he will not let her kill him till sunrise. He runs but Mahakali chases him everywhere.

Mahakali tells him that if a woman is Parvati then she's Mahakali too. Shiva says that this is the punishment one gets for insulting a woman. Mahakali severes Shumbh's head. Mahakali recalls Shiva's words when he had said that she must help herself to overcome her fears. She thanks Shiva for even making her kill Shumbh's deception before killing him so that nobody could raise fingers at her.

Shiva asks her to accompany him and return to Kailash.

Kartikeya asks them to stop as he wants to welcome them with an aarti as they return to Kailash together after several years of separation. He thanks them for making him learn life lessons with their own story and thanks his mother for giving him siddhi (attainment). Shiva says this is the most important and ninth avatar of Navdurga – Siddhidatri.

Kartikeya says that the world must know this period and must worship the nine avatars of Navdurga from time to time. Parvati says that my son's wish will be granted and this month will be known as Kartik month. Shiva says that in this month, all nine devis will be worshipped to remember the power of womanhood in the ages to come. Narayan says it will be an important month for him too and his followers must revere Nardurga's nine forms.

Nandi says that this day must be celebrated will full zeal as Mata-Pita have returned to Kailash. Parvati starts preparations for a feast. Indra Dev says that today is a great festival as a festival is enjoyed the most only when there is no fear. Shiva looks at Narayan with uncertainty.

Kartikeya comes and asks Shiv if Kartik month will safeguard the nari shakti or purush shakti. Indra says that off course nari shakti because purush doesn't need a nari's protection. Parvati appears and Indra says that Mahakali is different but a woman in human form always needs to be protected by a man.

Shiva says that Shakti doesn't have a gender. Indra dev looks in a dilemma. Shiva says that before the feast let's go on a trip to earth. Everyone hears cries of a woman. Parvati asks Shiv if he can hear the wailing woman. Shiv says that someone must be asking for her help, he's just a traveler.

Everyone reaches earth and see a woman crying for her deceased husband. Kartikeya says that if the man is dead then his antim sanskaar (last rites) must be performed. Parvati goes and talks to her. Kartikeya tell the woman that her husband is dead so she must do his antim sanskarar. The woman questions that they had vowed to live together and if he is dead then she will also not take even a drop of water or grain so that when Yamraj comes, he can also take her along with her husband. Indra dev argues that every living being who has come on this earth has to die one day and leave. Parvati intervenes that a woman has the power to protect her husband with true dedication.

Parvati asks her name, she tells 'Karva'. Shiva says that it is the karm which are bigger than janam. Parvati asks her to get water and a paatr (container) as the human body is just like a paatr and human soul like water. Karva doubts if she goes to bring the paatr and water, then Yamraj may come and take her husband's soul. Parvati tells her to have faith on Shiv and Parvati.

Indra tells Parvati that if Mahakali wants then she can do any miracle, but a human cannot save someone's life on her own. Parvati says that she will not help Karva with her divine powers. Karva will get through the test on her own. Shiv tells Indra that Parvati is encouraging a human being but Indra dev has all the liberty to use his discretion if he feels that this man needs to leave for yamlok.

Karva prays to Mahadev to help her find the things that Parvati asked her to arrange. Indra says that where will she find a kumbhkaar (potter) to get a paatr and fill water in it in this forest. Karva finds a kumbhkaar. She asks for a paatr. The lady potter asks if she'll be able to pay the price. Karva says that she doesn't have money but she can always give her blessings and wish that the kumbhkaari stays sada saubhagyavati. Kumbhkaari allows her to pick any paatr.

Shiva asks Indra dev that he can still use his powers if he feels that there's something wrong in what's happening around. Indra dev uses his powers and the paatr breaks from Karva.

LIVE TV
indiwo_article_consumption_scroll