Mahakali: Kamakhya Devi Brings Narakasur to Death, Calls for Laxmi Pooja on Narakasur Chaturdashi
21st Oct 2017 episode 27 written update for you.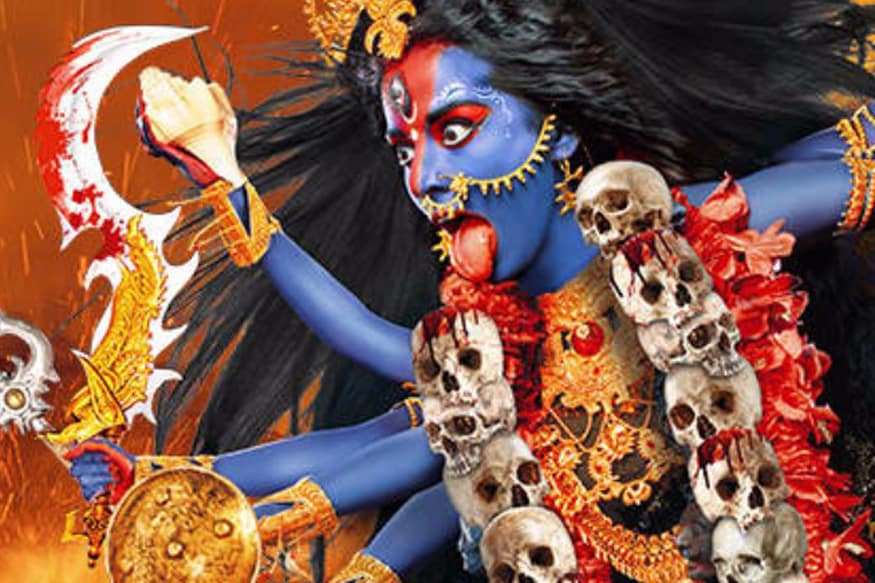 In the 21st October episode of Mahakali Anth Hi Aarambh Hai, Parvati tells Shiva that there are two things to consider at the moment. First, that she will end Narakasur in Devi Kamakhya's avatar and secondly, Shiva doesn't need to come under her feet. Parvati assures Shiva that she will get Goddess Laxmi freed from Narakasur's cavern.

Narakasur performs tantra and calls upon a devi who can fulfill all his desires. Parvati readies up for Kamakhya Devi avatar. Shiva calls upon a lion so he can absorb Devi Kamakhya's excessive energy under Devi's feet. Lord Shiva goes and lies upon the lion. Parvati steps over him, and Devi Kamakhya avatar is born on a lotus above Shiva.
Devi Kamakhya appears at Narakasur's cave with a Trident, however she doesn't walk in. Narakasur repeatedly calls her but she doesn't show her face. Narakasur gets angry and marches towards her, while his father Hrinyaksh warns him. Narakasur tries to attack Devi Kamakhya. Mahadev tells that wherever there is a Shakti peeth and a devi, his Bhairav roop is always there to guard her.

Shiva takes the bhairav roop and warns Narakasur to stay away from Devi Kamakhya. Narakasur tells him that he has summoned Devi and nobody can stop him from fulfilling his desires. Bhairav and Narakasur fight with each other. Narakasur is unable to stand in front of Bhairav's strength. Kamakhya Devi intervenes and shows her elaborate avatar.

Devi Laxmi feels happy and Bhairav sets aside. She takes a step forward and creates a crater with her enormous strength. Narakasur tells her that earlier he wanted to get sons from 16000 women but now he just desires Devi Kamakhya herself. Kamakhya Devi laughs that she is the anth (his death) and he has himself desired her; and recalls Shiva's boon as per which Narakasur will call his end himself.

Kamakhya warns him that either he frees Devi Laxmi and 16000 women and get a boon from her or he must get ready to die. Hrinyaksh counsels him but Narakasur challenges Devi. Devi Kamakhya keeps a condition as per which, if Narakasur is able to create a bridge to reach her before dawn, he will win. He starts building the bridge stone by stone.

Kartikeya and Indra doubt that he may win. Mahadev assures Kartikeya to trust his mother's strength.
Devi Kamakhya ploys a rooster to crow, and declare dawn. Narakasur gets annoyed at Devi Kamakhya and tells her that she has to bear the consequences. He blames her of deceiving him with Chall (trick). Devi Kamakhya counters that it is he who has done Chall with Mahadev. He had worshipped Mahadev not out of dedication but with a kaamna (desire) in mind.

Devi Kamakhya frees all the women from Narakasur's spell and gives them the power to fight with asurs. Narakasur says that she can use her power on 16000 women but he will use his power on just one. He moves forward to attack Devi Laxmi and Bhairav comes to her rescue. Bhairav declares that he will kill Narakasur. Devi Kamakhya intervenes that he has insulted a woman - a devi, so he'll be killed by a Nari (woman) only.

Narakasur recounts his 5 boons. Devi Kamakhya reiterates that according to his first boon, he got the abhay daan. According to second boon, his children would also be undefeatable; however whether he will definitely get sons was never acknowledged.

She counts the third boon for getting Shri till he is alive. She tells him that as he's going to die soon, even Shri will leave him.

She counts the fourth boon that said any dev or asur cannot kill him. She tells him that she is the yoni (womb) and he's summoned her himself. Narakasur pleads her to go. She reminds of his fifth boon, that till the time he doesn't desire his death, he will not die. And reaffirms that he has himself just desired her.

She shows him the Mahakali roop and is about to attack. Narakasur pleads to her and apologizes that he's always been Shiva's bhakt (worshipper) and he must be remembered as Shiva's bhakt after his death not an asur. Devi Kamakhya gives him the boon that this day will be known as Kali Chaudas.

Narakasur pleads for Mukti and Devi Kamakhya brings him to death with her trident.

Devi Kamakhya goes and frees Devi Lakshmi and everyone hails her. She then performs the Aanand Tandav. Lord Shiva and Narayan appear there and Parvati separates from Devi Kamakhya.

Devi Laxmi meets Narayan and both of them rejoice the moment that brought them together again.

Lord Shiva tells that from this day, Devi Kamakhya will stay in this land and Bhayanand Bhairav will stay here as a guard of the people of this place and Devi too. Devi Kamakhya tells 16000 women that they are free and can leave. However, they urge to let them stay here with her.

Devi Parvati tells everyone that Narakasur had contemplated that he will make everyone Shriheen, so people must perform Lakshmi Puja on this day, to save their wealth.

LIVE TV
indiwo_article_consumption_scroll