Udaan: Chakor Tells Rann Vijay About Preeti and Eklavya's Love Story
September 29th episode written Update for you!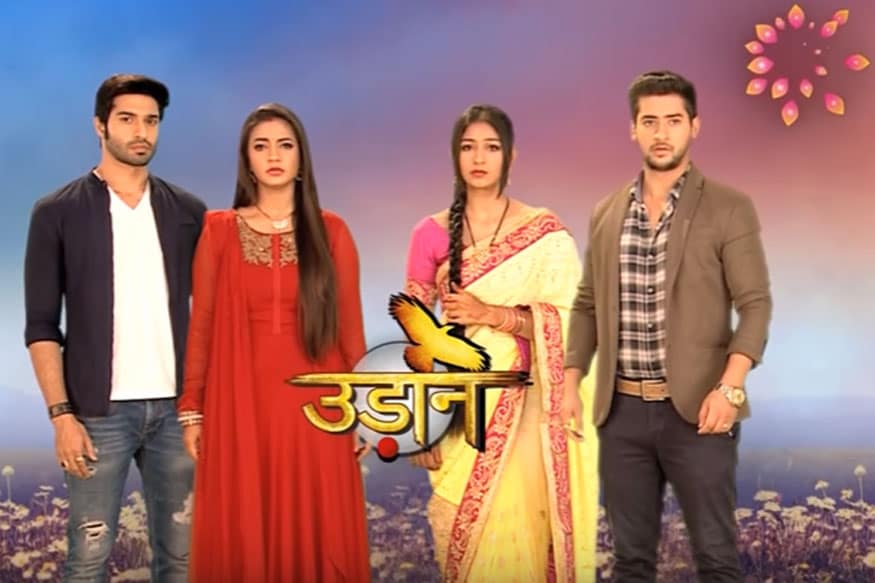 Udaan September 29th Episode starts with Preeti taking Chakor to Eklavya. Eklavya tells her that he has become a security guard so that he can stay around Preeti.Eklavya asks Chakor to speak to Rann Vijay about their marriage. Chakor tells Preeti that she's really lucky to have a lover like Eklavya. Preeti, Kavya, and Chakor go out for a movie but return without watching as they didn't get tickets. Chakor feels homesick and misses her parents and Suraj.

Preeti plays the music loud to change Chakor's mood and Kavya and their mother worry that if Rann Vijay comes, he will get annoyed. Chakor and Preeti dance while in Azadganj Suraj dances with little Pakhi. Suraj sees Chakor's photo. Both of them think about dancing with each other on Jab Koi Baat Bigad Jaaye.

Rann Vijay arrives and everybody sits for dinner. Rann Vijay feels happy that her family has taken good care of Chakor. Rann Vijay asks what she has decided. Chakor says that till the time she's not fully sure of her husband, she would stay here only. Rann Vijay says that she has taken the right decision. Chakor tells Rann Vijay that she wants to do something for his family especially for Preeti.

Rann Vijay looks annoyedly at Preeti and Chakor tells him that Preeti loves a boy called Eklavya and they want to get married. Rann Vijay gets infuriated and asks Preeti if what Chakor is saying is true. Rann Vijay asks the boy's full name. Preeti tells Eklavya Khanna. Rann Vijay changes his expressions and says it's a good name. Rann Vijay tells Preeti that she has used a guest and he would have been happy if Preeti had confided this to him, herself.

Rann Vijay asks Chakor if the boy is good. Chakor says that he is a nice guy. Rann Vijay says that if Chakor is saying then he must be a good boy. He asks his mother to arrange a meeting with Eklavya's parents. Preeti feels happy and leaves to tell Eklavya the good news. Kavya and her mother are worried and Kavya says that Chakor has not done right. Chakor says Rann Vijay has agreed and accepted their love, isn't this good. Kavya says you can't understand this now but you will regret later. Chakor asks what and Kavya leaves. Chakor then asks Rann Vijay's mother and she says whenever something good is about to happen, something inauspicious happens and destroys their happiness.

Suraj recalls Chakor's voice calling his name on Imli's phone. He sees a pregnant woman taking water out from a well. He helps her. The lady blesses her and says that may he be blessed with a son. Suraj scolds the lady and says there's no one who will call him papa. She says that he must not worry, one day a baby will come who will call him Papa. She leaves and Suraj recalls Imli's words that Chakor is Pregnant and carrying Rann Vijay's child.

Chakor misses Suraj and speaks to his photo that she wants to discuss a lot of things about her child with him. She says what does he think, it's going to be a boy or a girl. She asks with whom can she share her feelings, there's nobody.
Rann Vijay goes out of the house holding an Asthi Kalash and Chakor follows him secretly.

Suraj meanwhile takes down Chakor's new number from Imli's mobile and writes it on Chakor's photo. Imli comes and asks for her mobile, seeing it his hands, she takes it and says thank you. Suraj feels frustrated for not being able to take down the complete number.

Rann Vijay says that Chakor you were not able to stop yourself and you have come after me. He asks her to sit with him and tells the story of his father's murder. He says that he was killed the next day of Dussehra. He tells her that he comes here every year and scatters a few ashes in Ganga every year.

Chakor says that he must immerse all ashes in one go. He says no, this is to remind him of his father's death. And one day he will kill the murderer's son and put him in darkness, the way he has killed his father and put his family's life in darkness. Chakor says that you are a police inspector, you should not think like this. He says you are right, I must not kill the murderer, I will kill his son as he has killed his father so he can feel the same pain.

Suraj was able to write only 9 numbers so he feels sad, Pakhi tells her to try all numbers from 1to 10 and he will definitely get the number right. Suraj tries all numbers and at last when he tries 0, Chakor's phone rings.

LIVE TV
indiwo_article_consumption_scroll