Social Media Divide on AR Rahman's Comment Defending Daughter's Pic Speaks A Lot
On the occasion of 10 years of "Slumdog Millionaire", A.R Rahman's daughter, Khatija, accompanied the maestro on stage clad in a Niqab with only her eyes visible.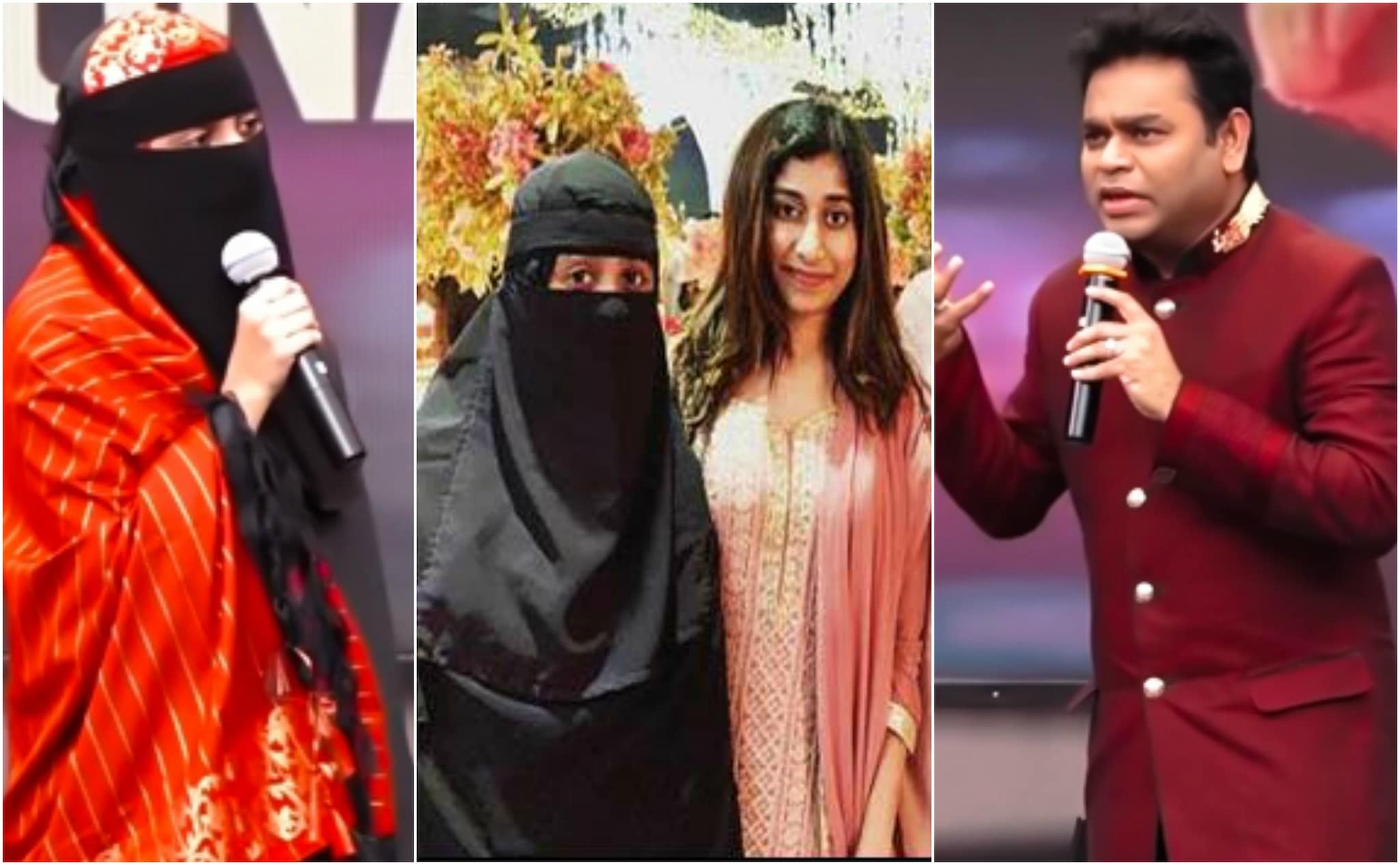 A.R Rahman's Daughter Khatija trolled for wearing Niqab.
Oscar-winning Indian music composer AR Rahman, who was trolled on social media as his daughter Khatija wore a niqab at an event, defended her "freedom to choose". Rahman recieved flak on social media after a celebratory for 10 years of Slumdog Millionaire, which had won him the Academy Award.
His daughter had shared the stage with him during the event. She wore a black saree and her face was covered in a 'niqab' with only her eyes visible. Photographs from the event led a section of social media users to raise questions.
Rahman on Wednesday took to Twitter to shut the trolls with another photograph, which featured Khatija, his other daughter Raheema, wife Sairaa and Nita Ambani — from the event. "The precious ladies of my family Khatija, Raheema and Sairaa with Nita Ambaniji. Freedom to choose," wrote Rahman in a subtle yet strong response.
The precious ladies of my family Khatija ,Raheema and Sairaa with NitaAmbaniji #freedomtochoose pic.twitter.com/H2DZePYOtA

— A.R.Rahman (@arrahman) February 6, 2019
However, this whole episode saw Twitter divided into two sides. while some supported Rahman's idea of 'freedom to choose', others found it regressive.
Here are some of the reactions:
What's the point of wearing any dress if one has to hide it? I repeat : Freedom is when one has option to choose & Not when one doesn't have option

— 🇮🇳#Chanakya🇮🇳 (@ChankyaBihar) February 7, 2019
Sad, sir!Wasting a precious life behind curtains, not experiencing the breeze, the sunlight, God's creation on one's skin.#PrisonerForLifehttps://t.co/Py2tJCtyUr

— DharmicFundoo (@DharmicFundoo) February 7, 2019
Great !!! 👍🏾👍🏾Really appreciated to sister.Khadija for her brave attitude.. indeed religious obedience s utterly held to personal choice. Dear sister, I am appreciating u for not caring the senseless criticism... May the almighty reward u best for ur deeds...

— Usam Mubarak (@MubarakUsam) February 7, 2019
Dear Rahman,Even if ur daughter wants to cover her face at her own will - u as a father shld not allow that & explain her the freedom of Free & liberty.

— influencer (@Purple_Truth) February 7, 2019
Why should anyone questioning Khatija wearing Hijab? Who the hell are they? It's her choice.Great Reply @arrahman

— QH (@Qamar_Noida) February 7, 2019
Get the best of News18 delivered to your inbox - subscribe to News18 Daybreak. Follow News18.com on Twitter, Instagram, Facebook, Telegram, TikTok and on YouTube, and stay in the know with what's happening in the world around you – in real time.
Read full article