A Sneak Peek into Five Years of the Boldest MTV VMA Looks
We look back at some of the beauty looks that stole the show in recent years.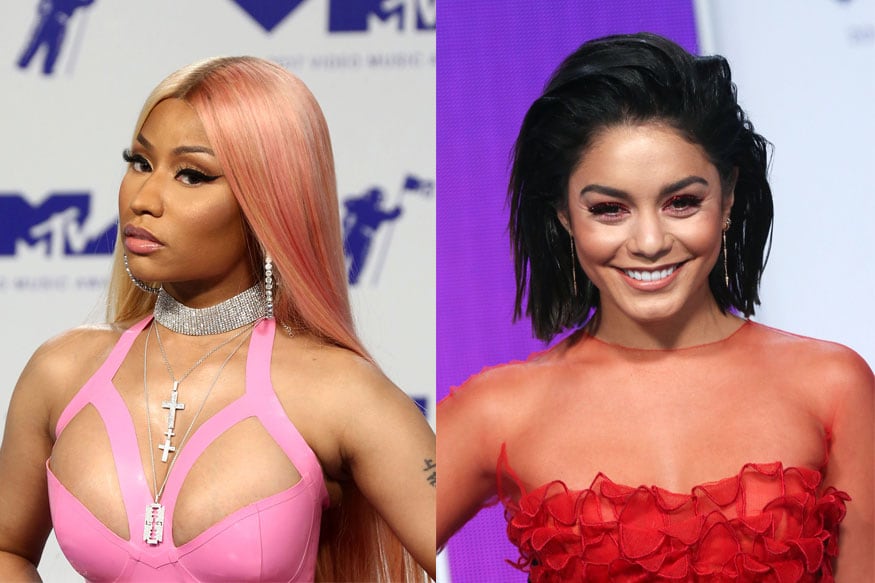 Nicki Minaj and Vanessa Hudgens (Photo courtesy: AFP Relaxnews/ TOMMASO BODDI)
The red carpet at the annual MTV Video Music Awards never fails to disappoint. In honor of this year's ceremony, which will take place tonight in New York, we look back at some of the beauty looks that stole the show in recent years.
Nicki Minaj
Hip hop star Nicki Minaj indulged her love of pink at the 2017 ceremony, debuting a sugary-sweet half-and-half hair color that was rose gold on one side and platinum on the other.
Vanessa Hudgens
Vanessa Hudgens offered up a masterclass in monochrome makeup at the 2017 MTV VMAs, with a scarlet-themed beauty look that perfectly matched her vivid red outfit.
Alicia Keys
Alicia Keys made a bold red carpet statement at the 2016 awards, when she rocked a beautiful barefaced look and a huge, textured loose bun.
Beyonce
Beyonce served up one of her most iconic looks at the 2016 ceremony, with this sleek ponytail, feline eyeliner and pink lipstick combination.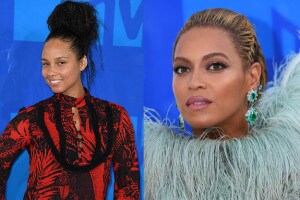 Alicia Keys and Beyonce (Photo courtesy: AFP Relaxnews/ Angela Weiss)
Miley Cyrus
Sky blue eyeliner? Check. Hot pink lipstick? Check. Quirky, pig-themed hair accessory? Popstar Miley Cyrus nailed it at the 2015 awards.
Britney Spears
A multicolored ponytail gave Britney Spears's beauty look a fairytale-like charm back in 2015.
Miley Cyrus and Britney Spears (Photo courtesy: AFP Relaxnews/ FREDERIC J. BROWN/ MARK RALSTON)
Demi Lovato
A sleek buzzcut and a powerful red lip was all that was required for Demi Lovato to cause a stir on the red carpet at the 2014 MTV VMAs.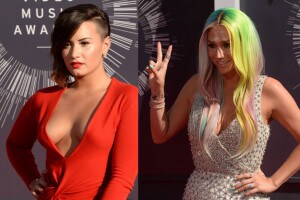 Demi Lovato and Kesha (Photo courtesy: AFP Relaxnews/ MARK RALSTON)
Kesha
Kesha was another star who stole the show back in 2014, thanks to an eye-catching unicorn hairstyle that incorporated yellow, green, pink and blue hues.
Taylor Swift
Taylor Swift shook things up at the 2013 ceremony, stepping out with a head of tight ringlets, razor-sharp eyeliner and, of course, her signature red lip.
Taylor Swift and Rihanna (Photo courtesy: AFP Relaxnews/Emmanuel DUNAND/ Frederic J. BROWN)
Rihanna
Rihanna's 2012 MTV VMAs look was flirty and gamine, with her short, cropped hairstyle contrasting with a sexy scarlet lip.
Get the best of News18 delivered to your inbox - subscribe to News18 Daybreak. Follow News18.com on Twitter, Instagram, Facebook, Telegram, TikTok and on YouTube, and stay in the know with what's happening in the world around you – in real time.
| Edited by: Manila Venugopal
Read full article