ICW 2018: Aditi Looks Ethereal as She Turns Showstopper for Tarun Tahiliani; See Pics
Aditi Rao Hydari turns muse for Tarun Tahiliani on Day 1 of India Couture Week 2018. Take a look.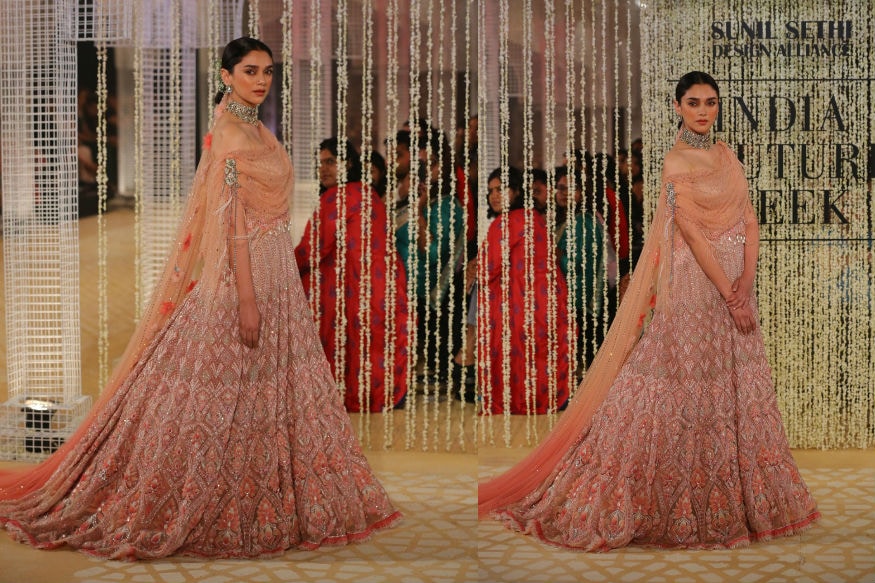 (Aditi Rao Hydari turns muse for designer Tarun Tahiliani at ICW 2018/ W Five Communication)
Actress Aditi Rao Hydari upped the glamour quotient at India Couture Week 2018 by confidently sashaying down the runway in a shimmery Tarun Tahiliani ensemble -- a soft pastel coloured Swarovski-embellished lehenga with a gossamer veil -- as she closed the first show on Day 1 of the 5-day long fashion extravaganza.
Noted Indian designer Tarun Tahiliani opened the fashion week with his collection 'Elysium' that exemplifies an India Modern aesthetic.
Speaking about turning muse for Tarun and her thoughts on the collection, Aditi, in an exclusive interaction with News18.com said, "Firstly I really like what the collection is called and what it stands for. I think a Tarun Tahiliani bride is rooted in heritage and tradition, there is a timeless, ethereal quality to her but at the same time she has a very modern and free-spirited outlook and an attitude that is very today. And I think that is very important for all of us. I would like to say I am like that personally. I love history, culture and tradition but I love to be free-spirited too."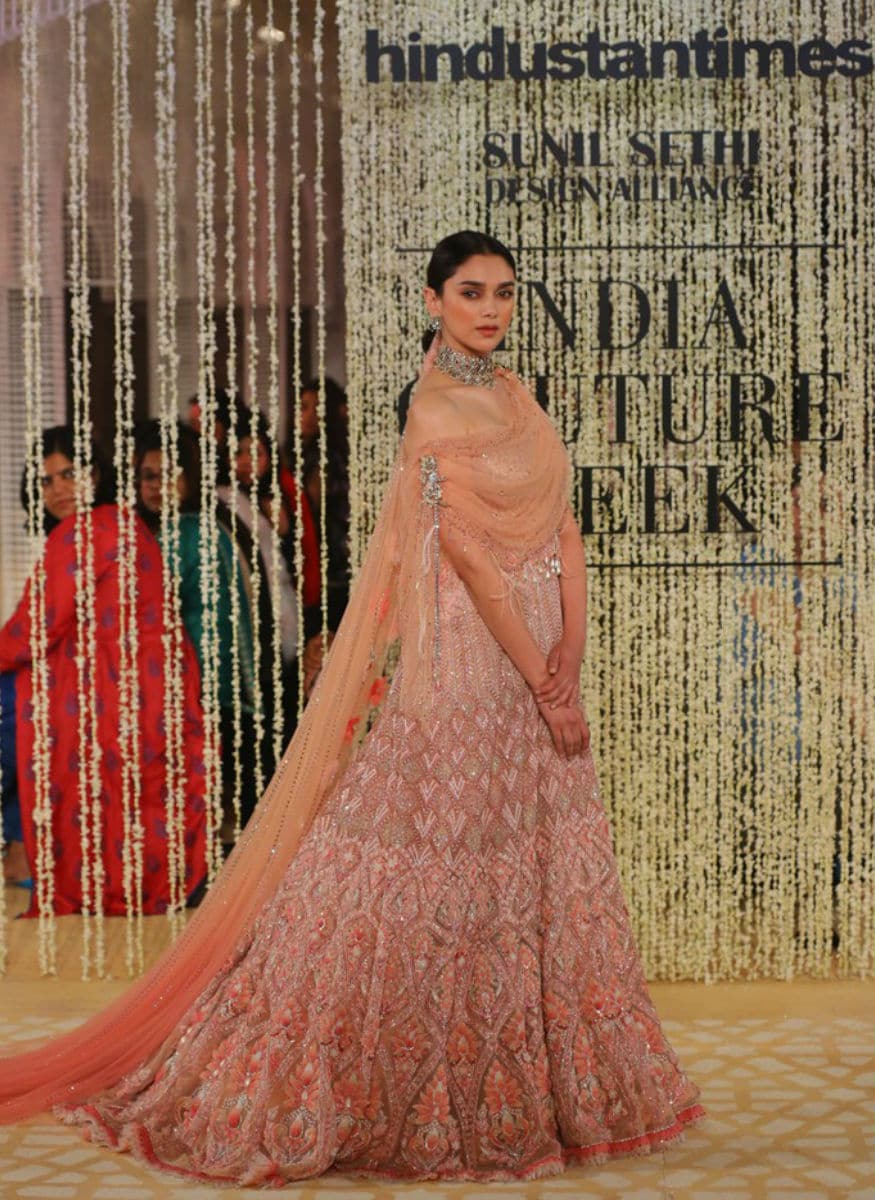 (Aditi Rao Hydari turns muse for designer Tarun Tahiliani at ICW 2018/ W Five Communication)
Tarun's couture and occasion wear collection Elysium celebrates the modern Indian goddess, one who embraces luxury as a way of life and encapsulates all the beautiful influences of India, today.
Talking about what his collection stands for, Tarun told News18.com in an exclusive interview, "You know when you think of gods, Greek mythology and Mount Olympus, it's all very ethereal, almost like you see in a dream. So, for me it represents lightness. In the structured lightness of every drape is the embodiment of a new voice of tradition. One that proudly carries a rich heritage into a modern way of life."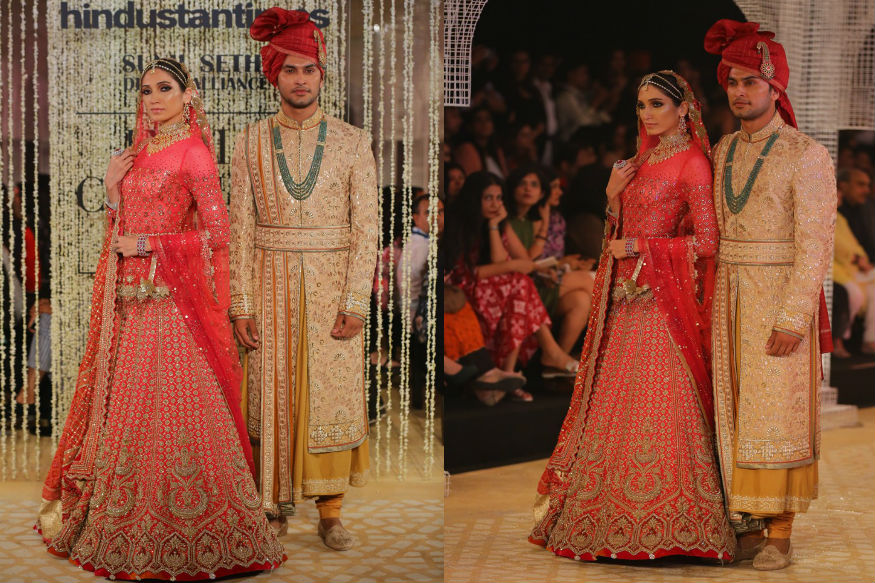 A juxtaposition of European construction with classic Indian styles and embroideries, shimmering florals and weightless drapes recreated the mythical paradise of Elysium and evoked the images of paradise and angelic gardens, where gods and goddesses wander, gossamer panels are rendered in an ethereal lightness of being.
Speaking about the fabrics that were used in the line, Tarun said that they obviously used fabrics that were light although there were some brocades, cut-works. He also mentioned that he worked a lot on Italian tulle, silk chiffon, silk georgette and did a lot of velvet laser-cutting.
"Classic Indian embroideries of zardozi, ari, gota-patti and chikankari were elevated from their traditional forms and innovated to anchor the ethos of lightness. The fine threadwork of traditional Indian embroidery formed the textured canvas for myriad layers of embellishment and drape. Luxurious Swarovski gems were woven into traditional embroidery techniques of chikankari, zardozi, ari and shadow-work. Opals and Swarovski crystals were meticulously soldered onto transferred fabrics as they twinkled surreptitiously through sheer layers, fringes and tassels. Vivid bursts of three-dimensional florals spanned the collection in the innovative crafting of ribbon-twisted organza, chiffon couching, twisted sheer silk, laser-cut textiles, and detailed applique - each panel of bridal and cocktail lehengas, concept saris, gowns, jackets, and modern saris layered in multi-dimensional detailing," the designer was quoted as saying in a press statement.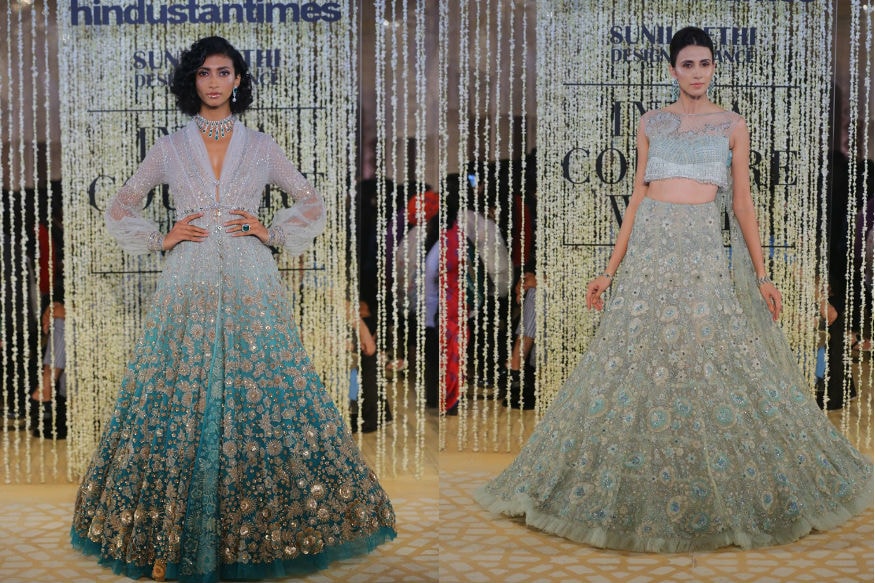 On being asked why he needed a Bollywood diva as his muse this time around (he has always maintained that his collection is his star and his models his muse), Tarun said, "I needed that collar and that shoulder, I couldn't do it (the showstopper attire) on anybody else. We fitted it on nine different girls, I said no we need Aditi because she has that translucence, only for that reason."
Tarun ended the interaction by stating that it is for the press that stars were needed. He said, "Globally now it's the most important thing, I can't fight it anymore."
Read full article