AIFW AW '18: Vaani Kapoor Turns Showstopper for Gauri-Nainika And Ashish N Soni, Sets the Ramp on Fire Twice
Vaani Kapoor sizzled on the ramp twice as she sashayed down dressed in Gauri & Nainika and Ashish N Soni ensembles at Amazon India Fashion Week Autumn/Winter '18's closing show on Day 1.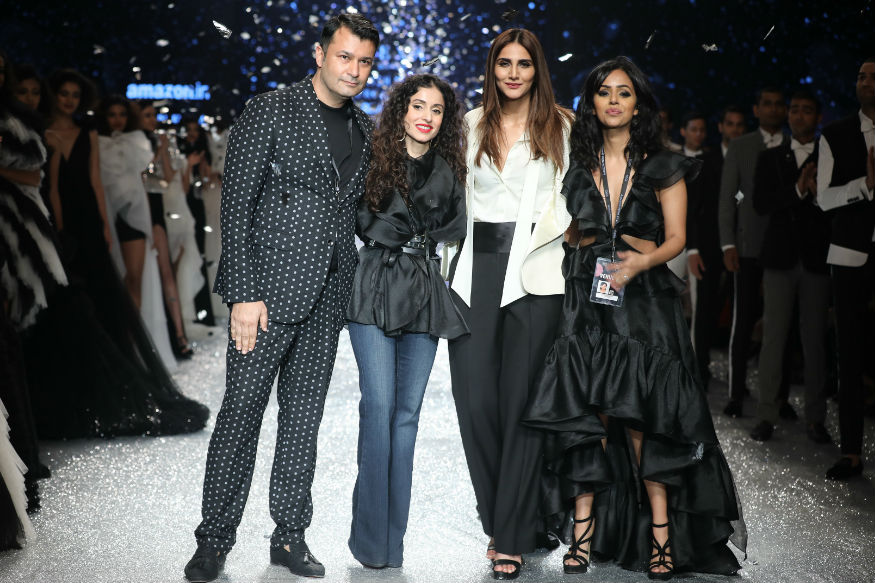 (Photo: Vaani Kapoor turns showstopper for Gauri & Nainika and Ashish N Soni at AIFWAW18/ Yogen Shah)
Amazon India Fashion Week Autumn/Winter '18's closing show on Day 1 was an absolute delight to watch.
In a first, while showstopper Vaani Kapoor set the ramp on fire twice, designers Ashish N Soni and Gauri & Nainika came together to showcase their Autumn/Winter '18 line at the fashion week.
Vaani sizzled on the ramp twice as she opened the show, sashaying down the ramp dressed in a Gauri & Nainika white ensemble and then again towards to end, when she donned a black and white Ashish N Soni pantsuit, exuding the sexiness and class of a 'Bond girl'.
Vaani, who turned heads in both the attire's, in an exclusive chat with News18.com revealed that Ashish's pantsuit ensemble was something that totally resonated with her personal style.
Speaking about walking the ramp for two designers at one go, Vaani told News18.com, "I walked for two brilliant designers I have been watching and admiring for years. I had this whole Met Gala feel that made me feel special."
When asked about her style quotient, Vaani said, "I like to keep it clean, classy and comfortable."
Talking about who she takes fashion inspiration from, Vaani said that a lot of women, both in real and reel life inspire her, and she admires their work, however, there isn't anyone in particular who she looks up to for style inspiration.
While Ashish's menswear only collection focused on palette extremes of pitch black and pure white and was a reflection of a modern take on the white tie dress code for men, Gauri & Nainika designed for women who flourish in their femininity.
Ashish's menswear was a collection for gentlemen that would aspire to attend the met gala or any other occasion that required an overt display of class and sophistication, while Gauri & Nainika's collection was full of dramatic textures, full skirts, enormous 3D hand embroidered flowers, delicately pleated tulle all in black and white.
Get the best of News18 delivered to your inbox - subscribe to News18 Daybreak. Follow News18.com on Twitter, Instagram, Facebook, Telegram, TikTok and on YouTube, and stay in the know with what's happening in the world around you – in real time.
Read full article