GET Stock

Quotes


AIFW Spring Summer Edition '18 Set To Roll Out From Today
New season of Fashion Week is back in the capital city with Amazon India Fashion Week.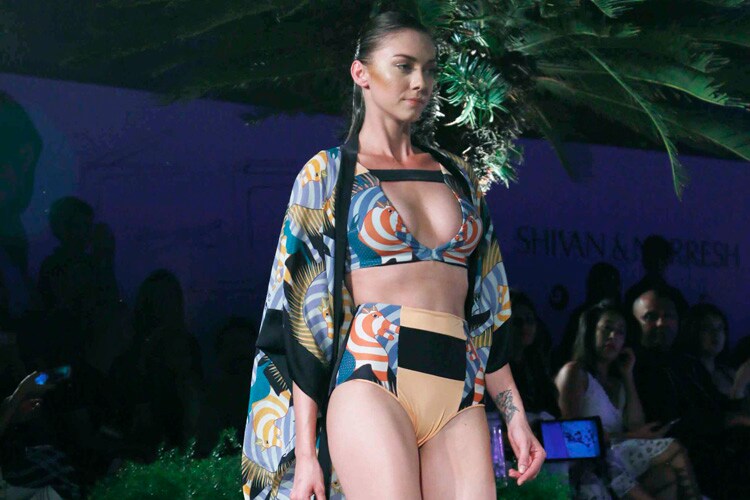 Representative Image: Yogen Shah
The spring-summer 2018 edition of Amazon India Fashion Week (AIFW) is going to roll out from Wednesday. The season promises many highlights -- it's Season 30 of the organising body Fashion Design Council of India (FDCI); it will mark the celebration of milestones of industry veterans; there will be a two-phased finale and New York-based designer Kara Ross will showcase her creations.
"We are celebrating many historic moments this season as it is the 30th edition of FDCI's India Fashion Week and it completes an important milestone," said Sunil Sethi, who is also celebrating his 10th year as the President of FDCI, India's apex fashion body.
"Fashion is an evolving sphere, but it has a fulcrum on which it rotates. And this nerve centre is the fashion industry's legends, who have contributed to its growth in more ways than one. This season, we salute them in our unique way," he added.
Starting on Wednesday, it will be held at the NSIC Grounds here and will have established names like Suneet Varma, Rina Dhaka, Madhu Jain, Ashish N Soni, JJ Valaya, Rohit Gandhi + Rahul Khanna, Rajesh Pratap Singh and more showcasing their works.
Almost 100 designers will present their creations on the runway and exhibit area, marking the trends for the season through creative thinking and pushing the proverbial envelope.
Designers like Abraham & Thakore, Anju Modi, Ashish N Soni, JJ Valaya and Payal Jain are celebrating their 25th year in the industry. FDCI will pay a tribute to their contribution by giving them a platform to celebrate the occasion. Two designers, Madhu Jain and Suneet Varma, who are celebrating their 30 years, will be a part of the celebration too.
The opening show of the gala by Rimzim Dadu will showcase advanced technology highlighting the new age power in today's time, while the two-phased finale by Amazon Fashion will bring pret and couture together on one single ramp for the first time ever.
Opening the finale show, names like Ashish Soni, Krishna Mehta, Pankaj & Nidhi, Rina Dhaka and Rohit Gandhi + Rahul Khanna will present ready-to-wear capsules and for the first time, the title sponsor Amazon India is introducing the 'See Now Buy Now' concept that allows the audience to purchase the garments fresh off the runway.
The collections will be instantly made available for purchase at The Designer Boutique at Amazon.in.
"The is part of our move to make designer wear affordable, available and accessible. We look forward to making this festive season even more exciting for our customers," said Arun Sirdeshmukh, Business Head, Amazon Fashion.
Rounding off the finale on a festive note, one of India's foremost couturiers, Suneet Varma will celebrate his 30 years in fashion with 30 limited edition line.
Designer Rajesh Pratap Singh will be showcasing a collection inspired from the NEXA's color palette with defining hues of black, white and chrome. Not to miss will be a show by Ross, who will be showcasing the '(un)Common Thread', supporting the Indian artisans at the FDCI and Elle First Cut Show.
Also, designer Charu Parashar will showcase a collection titled 'Immortelle'.
"I derive the inspiration from the Victorian glass house through its lush flora and fauna and the undying spirit of a woman. Keeping strong to her signature style. This collection signifies the beautiful nature captured inside a Victorian glasshouse. The collection muse is a liberated woman, a special individual in many ways," said Parashar.
EKRU By Ekta and Ruchira will showcase a line that takes its inspiration from the life within the brute yet beautifully charged eco-system and tries to raise awareness to the crisis of global warming.
All in all, this season promises to leave an impact with the latest trends and concepts.
Also Watch
Read full article