Ajay Devgn to Angelina Jolie: Stars' religious tattoos that'll have you looking at the art in a completely different way
Take a look on the spiritual and religious tattoos, celebrities has engraved. Follow it with your wide opened-eye as these designs could be next on your list!
When it comes to flaunting a religious tattoo, celebrities are considered to be role models to their followers. But, have you ever wondered, whether these celebrities consider this as a vogue or are they really religious? Whether they are Indian actors or Hollywood stars, spiritual tattoos top the list of the most sought after tattoo designs.
Lets have a look at the spiritual and religious tattoos, these celebrities have engraved:
1. Angelina Jolie
Hollywood superstar Angelina inked her right shoulder with a Buddhist prayer. It says, "May your enemies run far away from you. If you acquire riches, may they remain yours always."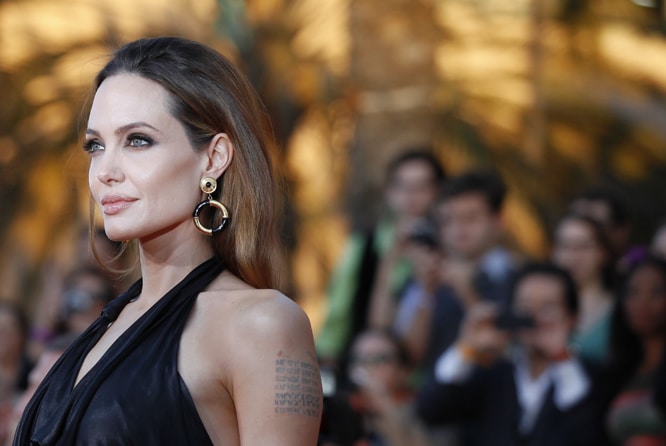 2. Sanjay Dutt
'Sanju Baba' of Bollywood has several tattoos. His obsession for them is evident from the big spiritual tattoo of lord Shiva with some written scripture, on his right forearm.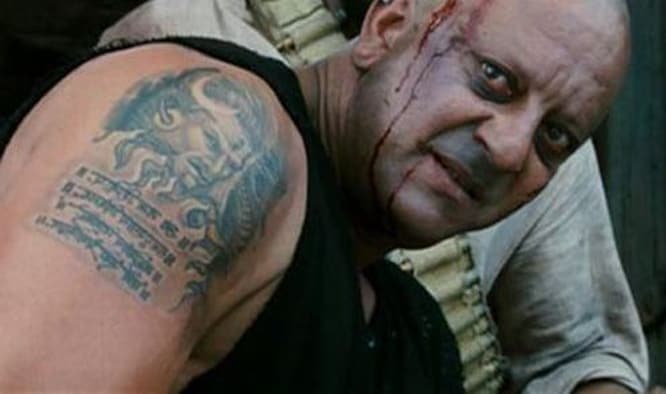 3. Katy Perry
Singer Katy has a simple and subtle design of 'Jesus' written on her left wrist. The most interesting fact about being inked is that she got the tattoo done when she was just 18.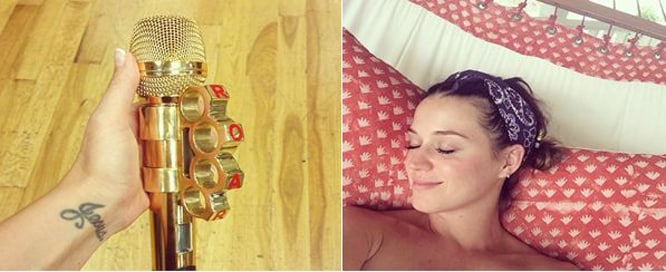 4. Mandira Bedi
Beautiful TV anchor and sports anchor, Mandira Bedi has her own style to flaunt. She has two tattoos inked on her body. Being a hard core Punjabi, she got a tattoo that read 'Ek Onkar' inked.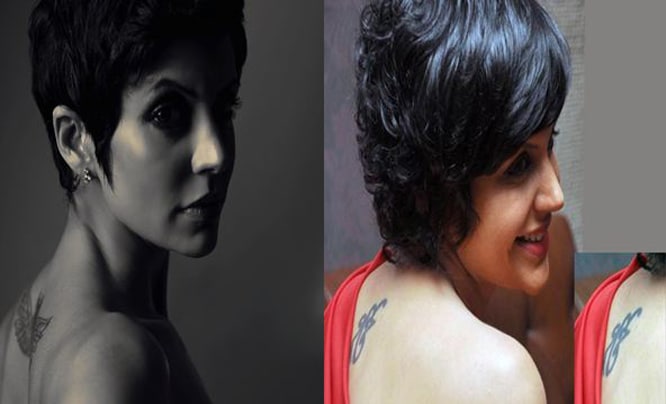 5. Jessica Alba
Hollywood fame Jessica has the word Padma which means Lakshmi, on her inner wrist. Padma also stands for a lotus flower.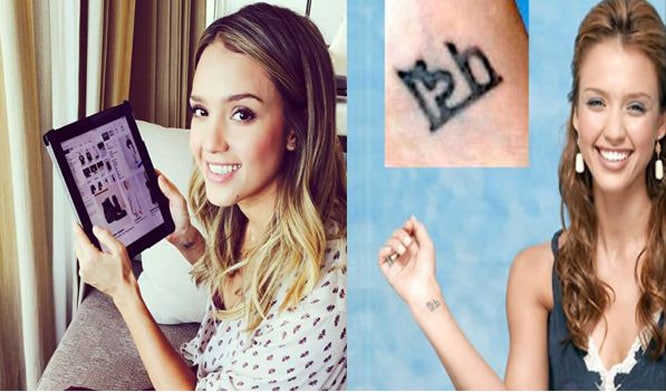 6. Shruti Hassan
Kamal Hassan's daughter didn't make it big in Bollywood but her love for the industry is never ending. This leading lady of South cinema has a got herself a tattoo of a Tamil scripture.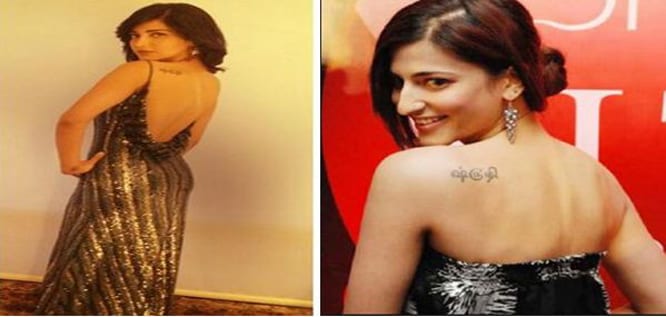 7. Rihanna
Popstar Rihanna was criticised for her tattoo was in Sanskrit and misspelled a part of a Bhagwat Gita. She has a sign of Cross tattooed on her neck.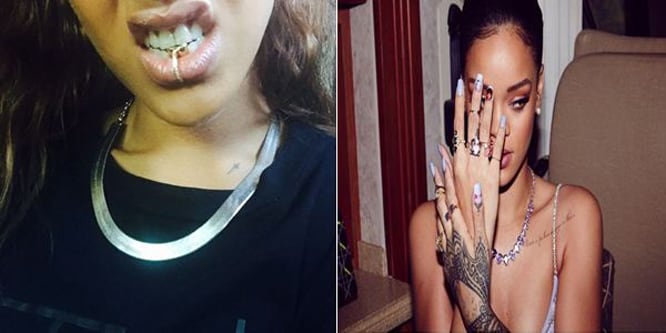 8. Esha Deol
Hema Malini's daughter Esha got Gayatri Mantra inked on her shoulder. This mantra indicates energy, positivity and happiness.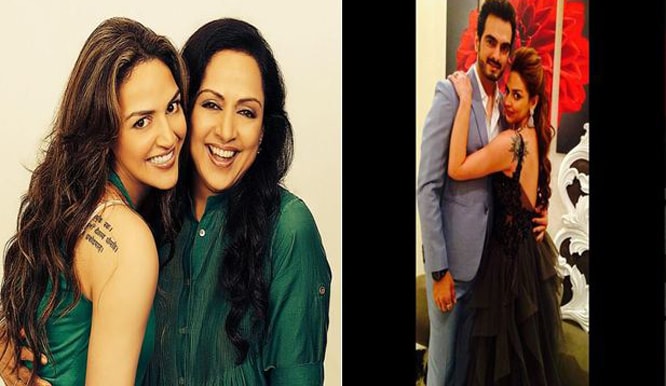 9. Nicole Richie
This Hollywood bombshell has engraved an amazingly beautiful anklet shaped tattoo. This ankle bracelet tattoo has cross sign with it.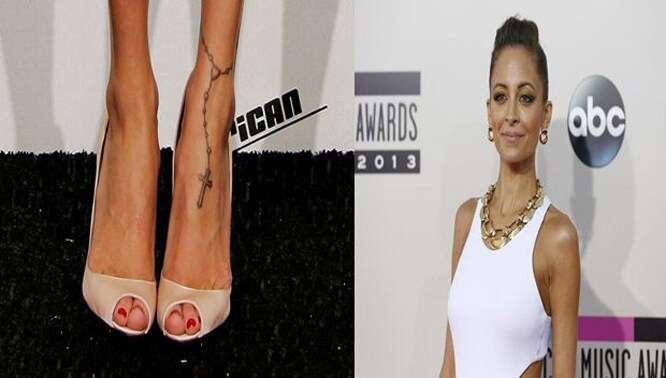 10. Ajay Devgn
The 'Singham' of Indian cinema too has a fetish for tattoos. The macho man of Bollywood seems to be a staunch follower of Lord Shiva. He has a big tattoo inked on his chest which is Shiva's face along with the sign of OM.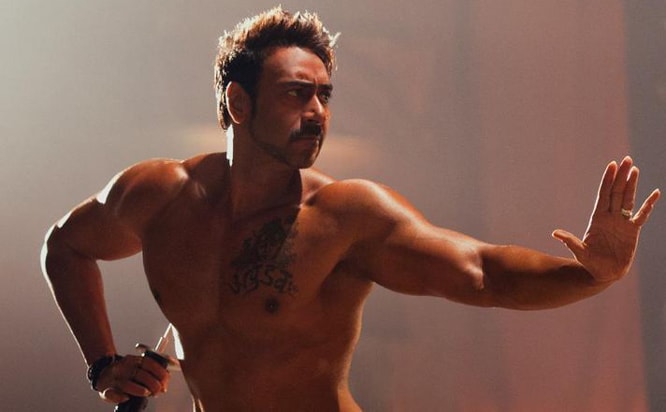 (Image Courtesy: Twitter, Instagram and Reuters)
Get the best of News18 delivered to your inbox - subscribe to News18 Daybreak. Follow News18.com on Twitter, Instagram, Facebook, Telegram, TikTok and on YouTube, and stay in the know with what's happening in the world around you – in real time.
Read full article