Alia Bhatt-Ranveer Singh Set The Ramp Ablaze With Their Sizzling Chemistry At Manish Malhotra's Show At ICW 2017
Alia Bhatt and Ranveer Singh upped the glamour quotient as they turned showstoppers for designer Manish Malhotra at the grand finale of India Couture Week 2017.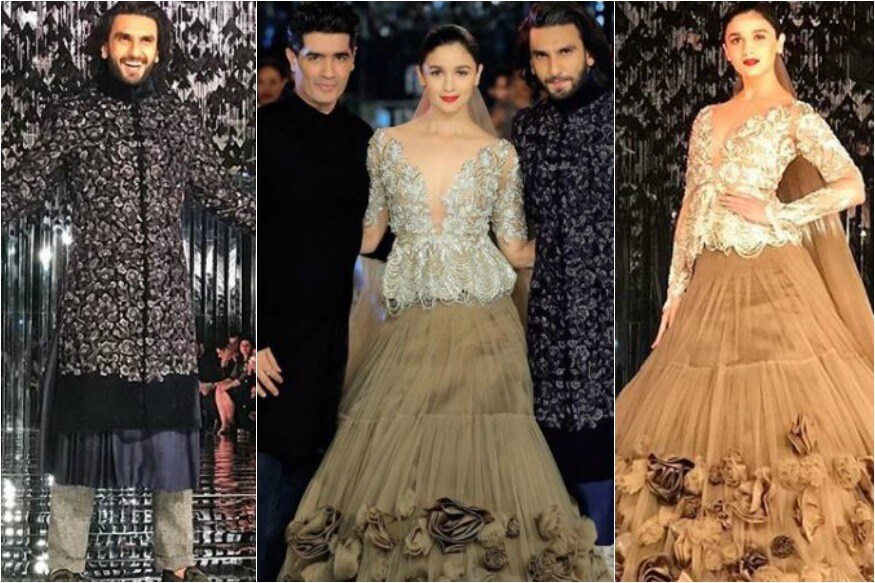 (Photo: Alia Bhatt, Ranveer SIngh turn showstoppers for Manish Malhotra at ICW 2017 grand finale/ FDCI)
Bollywood diva Alia Bhatt and B-town's charismatic rockstar Ranveer Singh set the ramp on fire with their crackling chemistry and individual personas, as the two turned showstopper for ace fashion designer Manish Malhotra at the grand finale of FDCI India Couture Week 2017 held in the capital.
Credit: @FASHIONDESIGN COUNCIL OF INDIA
Credit: @FASHIONDESIGN COUNCIL OF INDIA
#AliaBhatt #RanveerSingh set fire on the ramp @ManishMalhotra show #ICW2017 #GrandFinale #ADecadeofCouture @thefdci @MMalhotraworld pic.twitter.com/O7Cek7QLdJ

— News18 Lifestyle (@News18Lifestyle) July 30, 2017
Manish showcased his collection titled 'Sensual Affair' on the final day of the week-long gala in New Delhi. The collection was a translation of his definition of feminism - where the modern woman embraces and fearlessly expresses her sensuality, a realm that has always belonged to a man.
Manish Malhotra's eponymous label refined its silhouettes to accentuate the curves of a woman's body. The couture line featured three-dimensional embellishments, layered motifs and elaborate juxtaposition of texture. The collection also featured flowing silhouettes and infinite skirt trails. Manish's line weaved together the subtle nuances of modern artistry with the intricacy of true couture; voluminous, billowing skirts with embroidery art, fitted corsets and shimmering cascades. The collection was an elaborate selection of 85 exquisite outfits, where Manish Malhotra married craftsmanship with glamour for the modern Indian woman.
The dynamic duo, Alia Bhatt and Ranveer Singh, upped the glamour quotient with their style and swag at the couture week closing show. Their stunning appearances combined with their sizzling chemistry and versatility in pulling off any attire with panache, made the grand finale a show that will be remembered for a very long time.
Credit: @FASHIONDESIGN COUNCIL OF INDIA
Stars #AliaBhatt #RanveerSingh turn showstoppers for @ManishMalhotra #ICW2017 #ADecadeOfCouture @thefdci @MMalhotraworld #ManishMalhotra pic.twitter.com/buP2WWjKaB

— News18 Lifestyle (@News18Lifestyle) July 30, 2017
While the Udta Punjab actress looked spectacular and nothing less than a modern day princess in the Manish Malhotra ensemble that featured crystals, roses and an endless trail, Ranveer grabbed all the attention as he entered the ramp blowing away kisses to those seated in the audience. The Ram Leela actor exuded royalty as he took to the ramp for the acclaimed couturier.
Bollywood diva #AliaBhatt Turns Showstopper For @ManishMalhotra at the #GrandFinale of #ICW2017 #ADecadeOfCouture @thefdci @MMalhotraworld pic.twitter.com/QF49xkCcGn

— News18 Lifestyle (@News18Lifestyle) July 30, 2017
Bollywood star #RanveerSingh turns showstopper for @ManishMalhotra at #ICW2017 #GrandFinale #ADecadeOfCouture @thefdci @MMalhotraworld pic.twitter.com/JWqyW3d4gp

— News18 Lifestyle (@News18Lifestyle) July 30, 2017
"It does feel fantastic every time to work with Manish because he is like family and he is just amazing and so inspiring," said actress Alia Bhatt in a post event interaction with the media.
When asked what was it like walking with the very charming Ranveer Singh, the stunning diva said, "Of course it's my first time walking with Ranveer. Whenever I am with him, I go on a different level of energy and enthusiasm because he just has that inside him."
Talking about Alia and her amazing outfit, Ranveer said, "she is looking like a princess."
Sharing his experience of walking for one of Bollywood's most loved designers, Manish Malhotra, the Bajirao Mastani actor said, "This is very special. There's a lot of prestige attached to walking for 'The Manish Malhotra'." "All credit to him. His creativity is always flowing, he is always evolving his art and his craft, and it's here to see. It's a Manish Malhotra show, unlike any other," Ranveer added.
Manish's collection, which featured fabrics such as micro velvet, silk tulle, satin organza, satin velvet among others, oozed sensuality, sexiness and was filled with truckloads of glitz and glamour.
From his signature glamour to detailed craftsmanship and the integration of traditional Indian and western silhouettes, the collection presented bridal couture with a global appeal for a wider audience. The line was also reflective of how the designer's eponymous label has evolved over the years.
(Photo: Manish Malhotra's collection titled 'Sensual Affair', showcased at ICW 2017/ W Five Communication)
"I wanted to do something different, I din't want to do a quintessential bridal collection. For me, when you think young, when you are thinking different, you can only think of these two names," Manish said pointing towards his showstoppers Alia Bhatt and Ranveer Singh at a post show media interaction. "They are eclectic, fabulous, talented, they are getting better day by day and they are just superb," added the distinguished designer.
Credit: @FASHIONDESIGN COUNCIL OF INDIA
The colour story ranged from ivory, soft grey, vintage rose, burgundy and teal.
Talking about the color story, especially monochromes for men and women, Manish told News18.com at a post show interaction, "I just think because there's so much embroidery, there's a lot of pearl work, there's a lot of zari and thread work in this collection, lace, tulle and we have kind of reinvented our can-cans, it's different...and so many things, so I thought that it would be nicer to go monochromatic because there was so much of embroidery and flair, drama and glamour."
Manish's show was certainly high on glamour with several stars in attendance including Shweta Bachchan Nanda, Huma Qureshi, Sophie Choudry among others.
Get the best of News18 delivered to your inbox - subscribe to News18 Daybreak. Follow News18.com on Twitter, Instagram, Facebook, TikTok and on YouTube, and stay in the know with what's happening in the world around you – in real time.
| Edited by: Mugdha Kapoor Safaya
Read full article