Legendary Singer Asha Bhosle Unveils Her First Wax Figure At Upcoming Madame Tussauds Delhi
Asha Bhosle's life-like Madame Tussauds Delhi wax figure was crafted from over 150 measurements and photographs.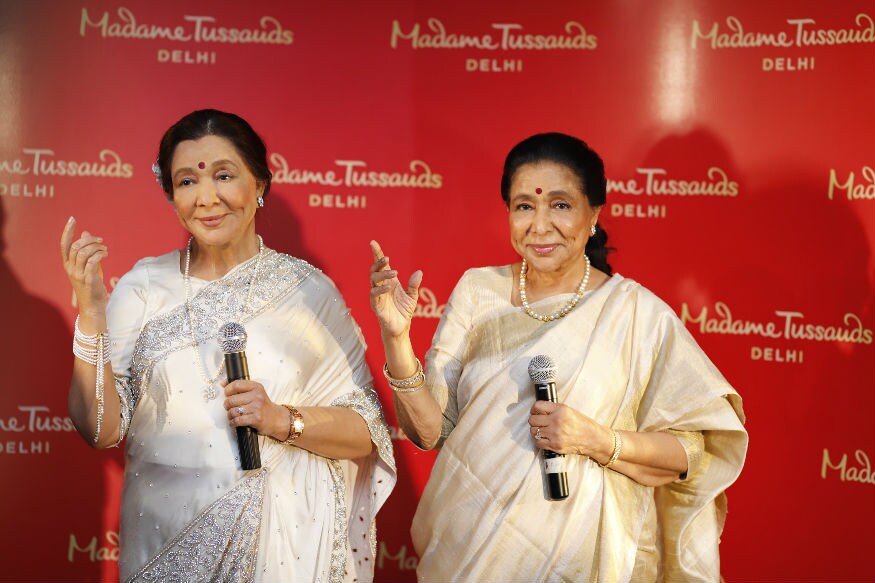 (Photo: Legendary singer Asha Bhosle unveils her wax figure at Madame Tussauds Delhi's event in the capital/ Perfect Relations)
Legendary singer and queen of melody Asha Bhosle, who has enthralled listeners with her evergreen and mesmerising voice in the last six decades, on Tuesday, unveiled her first wax figure at a Madame Tussauds Delhi event held in the capital.
The beautifully crafted life-like wax figure will be displayed at the upcoming Madame Tussauds Delhi's Bollywood music zone alongside other leading singers in an interactive themed environment.
The special music zone at Madame Tussauds Delhi will display renowned icons from the Indian and International music industry including wax figures of Shreya Ghoshal, Sonu Nigam, Beyonce, Michael Jackson and Lady Gaga.
"It (wax figure) has been beautifully made. Everything is perfect. It seems like I am looking at myself in the mirror," said Asha Bhosle at the event.
The phenomenally detailed wax figure of Asha Bhosle was crafted from over 150 measurements and photographs.
When asked if she had inputs or suggestions to give when the Madame Tussauds team was taking her detailed measurements, the melody queen told media persons, "I did not give them any inputs. The team worked very hard on getting everything right. They captured every bit in detail and did so beautifully."
At the event, the legendary singer appreciated the efforts and incredible work that had undergone in making the wax figure a reality and added that the figure was a result of the love and support of her fans.
Mr Anshul Jain, General Manager and Director, Merlin Entertainments India Pvt. Ltd. said at the event, "We take tremendous pride in unveiling Asha Bhosle's figure in Delhi. During our various researches, we noticed Ashaji has admirers from all generation and she is the perfect choice for the music zone. Madame Tussauds Delhi has got a chance to have the figure of Ashaji at the attraction, which is well-renowned for immortalising icons and constructing a mesmerizing domain for its audience to be able to taste a whole new version of entertainment."
Madame Tussauds Delhi is an attraction that truly portrays the fascinating world of Bollywood & Hollywood, renowned sports, history and political personalities under one roof, through planned themes and interactive areas. The attraction is all set to open its doors to the public on December 1, 2017.
Get the best of News18 delivered to your inbox - subscribe to News18 Daybreak. Follow News18.com on Twitter, Instagram, Facebook, Telegram, TikTok and on YouTube, and stay in the know with what's happening in the world around you – in real time.
| Edited by: Mugdha Kapoor Safaya
Read full article