TIPPLING POINT | Cheapest Not Meanest: Vietnamese 'Bia Hoi' Beer That Comes in Barrels Instead of Bottles
The world's cheapest Vietnamese beer, bia hoi doesn't come in bottles or cans. Instead they arrive in metal barrels, just like our milk, and should be consumed on the same day itself, before it goes off.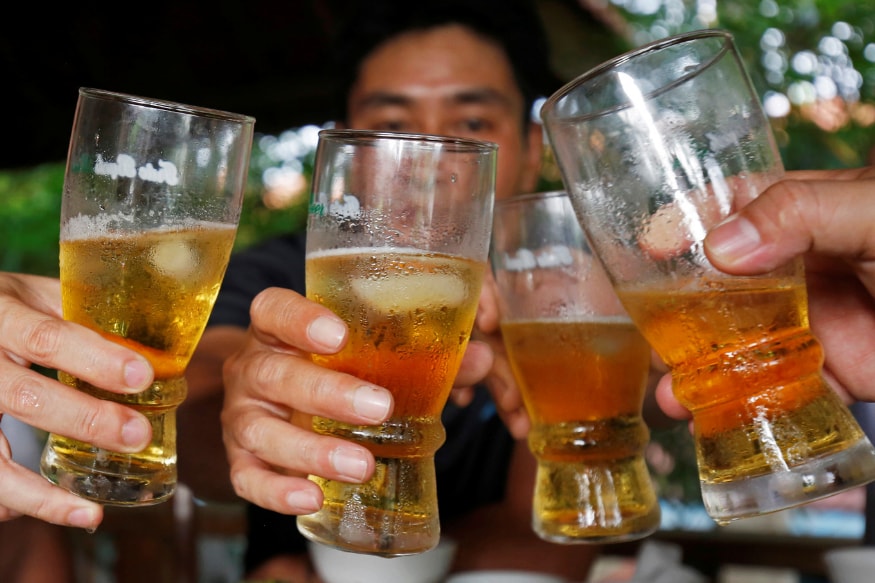 Representative Image (Reuters)
So if you are cash-strapped this Christmas and can't spend a fortune on beer, where'd you head to (Please forget airfare)?
The best option in the world is Vietnam where you get the cheapest beer in the world. Cheapest doesn't mean a bit the meanest.
Thanks to the French colonisers, the Vietnamese learned the art of beer making even in the nineteenth century itself. Once the latter shook off their colonial shackles, they started brewing for themselves. But one particular skill, for good or bad, has remained elusive to the local brewers - bottling.
So Vietnamese beer, bia hoi doesn't come in bottles or cans. Instead they arrive in metal barrels, just like our milk, and should be consumed on the same day itself, before it goes off. Even bars won't take in more than what they could shell out on the same day.
Bia hoi is the name of their beer. Bia Hoi is the name of the place as well where you drink your beer.
In old days, workers, who toiled around in the backround of the big wars their country fought, found relief in the the street corners where they got plenty of bia hoi. A new drinking culture apart from what their French colonisers taught thum began.
Take a stroll through the streets of Hanoi. Join the group waiting for their daily order to arrive. Or find a stool, (extremely low ones that spill on to the road from the restaurant) on the streetside and wait for the bearer to bring your stuff. Remember, there is hardly any particular brand to choose from, for it is nearly impossible for you to trace a beer back to a brewer who built it.
The crispinesss of Vietnamese bia hoi speaks about a surfeit of rice in the brew. There are also some pale barley, some sugar and a trace of hops. Bia hoi is that simple. And what complicates the drink is the varying standards different brewers set in making it and even among different batches of boi hoi from the same brewer.
Don't look out for fizz when the beer is poured straight from a keg. There wouldn't be any gas. The rudimentary refrigeration comes from a wet towel they might have draped over the metal barrel containing the beer. But when it gets too hot and humid in Vietnam, you may catch your beer cold with a few chunks of ice floating on it.
With 3-4% ABV, bia hoi is not going to upset the applecart. You need to drink a lot to find the world interesting. But tourists to Vietnam swear that it is a ethereal experience downing bia hoi on the sideskirts of a street in Hanoi, watching the human drama pass by.
Don't say no to the convivial mood bia hoi generates. The fellow-drinkers, locals are always eager to strike up a conversation and may join in you in their broken English with their broad, soulful smile. They may want to buy you a few rounds in exchange for friendship and a chat in English.
Bia hoi pairs well with Vietnamese food like Banana flower salad (nom hoa chuoi), barbecued chicken (ga nuong) and fried rice (com rang) etc. At a restaurant they may also serve you cakes if you have sweet tooth.
But like every other tradition in the world, bia hoi also fights a losing battle with big international brands nowadays. The dilapidated restaurants and the old-world corners of the city may put you off the moment your eyes are weaned off by the scintillating and noisy commercials of the big imported beers now flooding the market.
But the seasoned traveler would still say, if you ever make a trip to Southeast Asia, the bia hoi pub crawl in the Old Quarter of Hanoi in Vietnam is one experience, umissable.
(Manu Remakant is a freelance writer who also runs a video blog - A Cup of Kavitha - introducing world poetry to Malayalees. Views expressed here are personal)
Get the best of News18 delivered to your inbox - subscribe to News18 Daybreak. Follow News18.com on Twitter, Instagram, Facebook, Telegram, TikTok and on YouTube, and stay in the know with what's happening in the world around you – in real time.
Read full article