LIFESTYLE
Chicago's Driehaus marks final season of 'Downton Abbey' with special exhibition
The Driehaus Museum in Chicago is marking the sixth and final season of the television series "Downton Abbey" with a special exhibition entitled, "Dressing Downton: Changing Fashion for Changing Times". Featuring more than 35 costumes from the popular British period drama, the exhibition opens on February 9 and runs through May 8.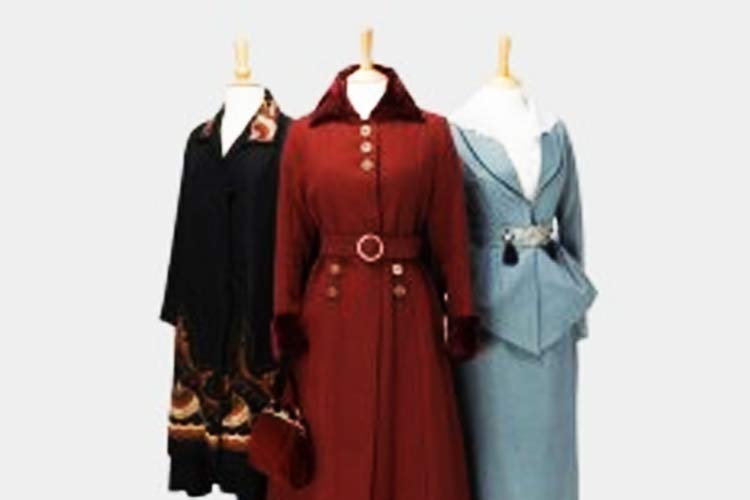 L to R: Black coat with English Arts and Crafts embroidery, burgundy coat, and blue/green suit and hat, worn by the Crawley sisters. © Costumes courtesy of Cosprop.
The exhibition highlights changes in fashion over the course of four seasons of the series set in England in the early 20th century and based around the aristocratic Crawley family and their servants. The award-winning costumes were created by London costume house, Cosprop Ltd. Many of the garments were made with original fabrics and embellishments from the early 20th century. Cosprop creators also used photographs, paintings, patterns and magazine pictures to re-create the period looks. The garments will be presented in an immersive context in the luxurious interiors of the Driehaus Museum, which was once the home of the affluent Nickerson and Fisher families of Chicago.
"It's fascinating to see the evolution of fashion over the course of four seasons of Downton Abbey," says Driehaus Museum Guest Curator Ruta Saliklis. "Throughout the exhibition, visitors learn about the historical and cultural influences evident in these visually stunning costumes. These remarkable costumes imbue the Museum's galleries with a powerful sense of that life, reminding us of what it was like for the Nickerson and Fisher families to socialize and entertain in grand Downton Abbey style right here in Chicago."
The Driehaus museum is also hosting a series of public programs to coincide with the 'Dressing Downton' exhibition. On February 27 Driehaus presents the 1926 film 'The General' at the 'Mix and Mingle at the Movies' program. A session entitled 'Author Encounters: Carol Wallace' will take place on March 5: it was Wallace's novel, "To Marry an English Lord" (1989) that was 'Downton Abbey' creator Julian Fellowes's inspiration for the show's character Cora Crawley. The program also includes a 45-minute presentation followed by a Q&A and book signing with the author. On April 7, the museum hosts 'Downton Abbey' set designer Judd Farr who will present a behind-the-scenes lecture followed by a Q&A.
'Downton Abbey' the series has already come to a close in the UK, with the final episode having aired on December 25, 2015. The show was first broadcast in the United States in January 2011 and the sixth season began airing last month on PBS. The show's final episode will get its US broadcast on March 6.
Support the daily wage earners who have been hit the hardest by the COVID-19 crisis. Click here to contribute to the cause. #IndiaGives
The daily News18 Coronavirus COVID-19 newsletter - Get your copy here.
Subscribe to News18 Daybreak. Follow us on Twitter, Instagram, Facebook, Telegram, TikTok and on YouTube
Read full article