Dominos, McDonald's, Other MNCs' Indian Customers: It's a Bug's Life
After a Domino's outlet in Gurgaon was discovered to have live insects in their seasoning sachets, the company in question, like many other of its counterparts' Indian operation, doesn't seem to concerned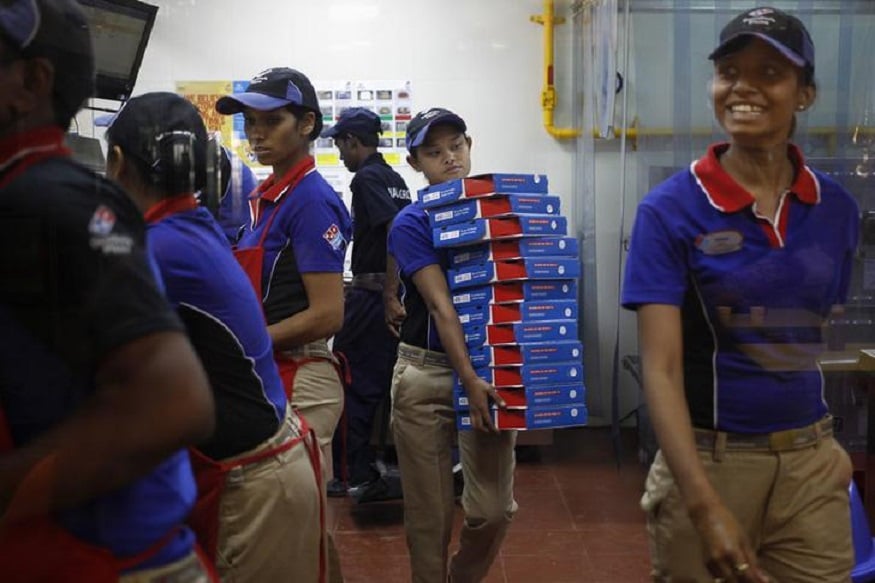 (Representative Image: Reuters)
One of the great joys of growing up in the '90s was that every packet of Lays contained - apart from the chips and all that free air that the company so generously provides – a Tazo. And therein that joy lay one supreme moment suspense: would it be one you always had, or would it be a new one to add your collection? Duplicates could be traded, of course, but there's no denying the thrill of anticipation was a large part of the whole experience. This joy could also be had, to a lesser extent, from the prizes slipped into the packets of other consumables. The surprise in the prize was the main thing: you never knew what you'd get.
Last weekend when Rahul Arora opened a sachet of oregano left over from an order of Dominos' Pizza from the previous night; he was definitely surprised. Not in a good way. Upon further examination, each of the remaining three packets also contained live insects, something he documented and subsequently posted on a Facebook video, tagging Domino's, Domino's India and the Department of Consumer Affairs, as well as mentioning the actual outlet. Domino's responded to the online post within an hour and since then Arora has received two calls (once from the outlet and once, oddly, from the social media team) which offered an apology, a gratis replacement, and a promise to look in to the matter.
"At Domino's Pizza, we maintain the strictest hygiene and quality standards in all our products and processes. We would like to reassure you that we have thoroughly checked oregano sachets in our restaurants and across our value chain. We have found them to be safe for consumption. We value you as a customer and assure you of best quality and hygiene in our products. We understand that our consumers love our oregano seasoning. We request everyone to please store any leftover sachets under proper storage conditions," was the statement given by a company spokesperson to News18.com, identical to those issued to other outlets. Further queries on how such an incident could then have occurred have so far not been addressed. The matter is clearly considered closed.
Arora has filed a complaint with the DCA, but as he himself points out, it's difficult to tell with whom the buck stops. Domino's India, operated by Jubilant Food Works Pvt Ltd purchases the oregano sachets from a company named Dry Blend Foods Pvt Ltd, presumably under the international quality standards set by the parent Domino's USA, and are certified fit for consumption by the FSSAI. So whom do you blame?
While doubtless that's a fascinating legal quandary, the point is that none of those parties had insects in their pizza seasoning. Presumably. The customer did, and the customer isn't getting squat but a generic apology and the offer for a replacement to the meal, this time with the freebie of a new unhappy suspense. Therein lies the rub, and I'm not talking seasoning.
As Indians, we get a bad rap for our hygiene. And despite the ironic reality of our ancestors having developed the first urban sanitation works the world had seen millennia ago, it's pretty true that it hasn't been much of a prem katha of late. We're the country where the nationalized trains' food is considered unfit for human consumption and where sweat and other biological ordure are considered a legitimate addition to street food. Who cares about a bug here, a worm there, right? Hell, insect cuisine is en vogue.
Even the last line of the statement issued by the company regarding the company rubs in this perception. "We request everyone to please store any leftover sachets under proper storage conditions." It's probably our fault and the crusted petri dish of our surroundings and homes. That in this particular case the sachets were "leftover" from less than 18 hours ago, packed on May 30 and are marketed as sealed with a six month warranty also has a probable explanation. Super bugs – they're the Ethan Hunts of the insect world, breaking into and sealing behind them the sachets overnight.
We care. The consumer is forking out X amount of money for any product from your shiny, corporatized institution with loudly extolled international hygiene standards. It doesn't matter if it's a small or large amount of money, the fact is a consumer is paying for the promise of quality, an assurance of safety and the guarantee of sameness. The earthy thelawallah outside offers a far more texturally exciting and flavorful meal than your insipid burger, or pizza, what-have-you but we pay you for the promise of quality and safety. And we don't get it a lot of the time. Let's not even get into the vast difference in quality between a McDonald's, Burger King or Domino's in India and anywhere abroad. That's another story entirely. But just take a moment to imagine if insects crawled out of an oregano sachet from a Domino's in Anytown, USA. Imagine the scandal, imagine the lawsuit!
It all comes down to money, of course. Because the aggrieved party from Anytown, USA, will immediately file a lawsuit, which will fetch him a settlement of anywhere between tens of thousands of dollars to a whole lot more, whether in or out of court. It's a lot cheaper to just make sure there are no insects in the oregano. More convenient too.
Meanwhile, in Gurgaon, a beacon of corporate India's firmament, just off the country's capital, a customer with live insects in his oregano sachet from a local Dominos gets, well, you know what he gets. And that's because he's not going to sue. Courts are overcrowded, the authorities are apathetic at best or paid off at worst, the legal process protracted, and time limited. It's a lot cheaper to just not care, really.
I'm not sure how one fixes the system, but surely these vast multi-national food conglomerates can fix their attitude towards Indian customers. Just a bit. On the same day that Arora opened his oregano sachet, with its extra proteins, the New York City Pizza Festival, a day long food-athon promising "the best pizza in NYC", was held, with reports of up to 30,000 patrons planning to attend. After paying up to $75 for VIP passes, they were treated to rapidly cooling slivers of pizza. Outraged by what passes for a pretty standard branded pizza delivery experience in this country, hundreds of New Yorkers took to social media to voice their complaints. On Monday, New York state's highest law enforcement officer, the Attorney General, has launched an investigation into consumer concerns. Meanwhile Arora's posts have hit a million views at the time of this writing and the reaction of both the organization and authorities has been tepid. To say the least So hey, Domino's India, maybe have a better response to a grievous complaint like this. Hell, just add some bread sticks to that replacement order. We'll skip the seasoning, though.
Get the best of News18 delivered to your inbox - subscribe to News18 Daybreak. Follow News18.com on Twitter, Instagram, Facebook, Telegram, TikTok and on YouTube, and stay in the know with what's happening in the world around you – in real time.
Read full article